One of my favourite authors, Giovanni Guareschi, of the wonderful Don Camillo tales, titled his autobiography How I got to be this way.
In his honour, and inspired by the fantastic Metropolitan Housewife, who asked how I learned to sew, and how long I have been sewing, here is a little background on my sewing life, and why I apply this skill to creating elaborate historical costumes.
I have always liked dressing up:
Exhibit A: 1st birthday party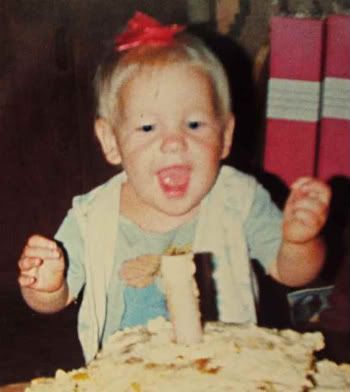 History and crafting are both in my blood. My grandfather was an archeologist and made all sorts of awesome and important discoveries about Native Americans and the California Gold Rush. My grandmother (on the other side) sewed amazing clothes and did every craft ever invented. We know, because she still had massive stashes for every single one of them when she died.
By the time I can remember anything my Mum was too overwhelmed with 4 daughters and a farm to sew, but she did have a beautiful antique treadle machine in a carved oak cabinet, and she had made her own wedding dress.
I don't know who, if anyone, first started teaching me to sew, but I do remember being about 8 and figuring out that if you put the wrong sides of fabric together and then sewed, your seam got hidden on the back. Eureka! I was hooked from then on.
When I was 12 a friend's mother gave the two of us sewing lessons together. I made a enormously full circle skirt and a blouse to match out of lilac fabric with roses on it. That was my first real outfit, but from then on I made a lot of my own clothes. And a lot of my own costumes:
At 12 I was a Victorian lady for Halloween:
The next year I was a Revolutionary war lady, and I made a jester costume for my little sister: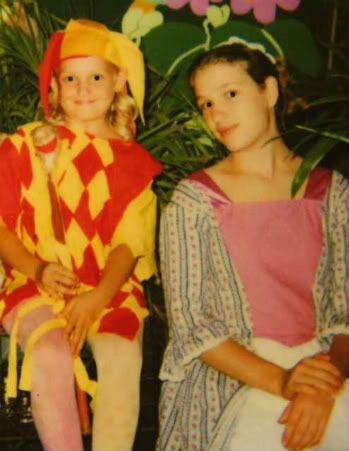 The year after that I dressed up as a crazy and colourful bird to hand out candy for the littler kids at the Baha'i holiday of Ayyam-i-ha: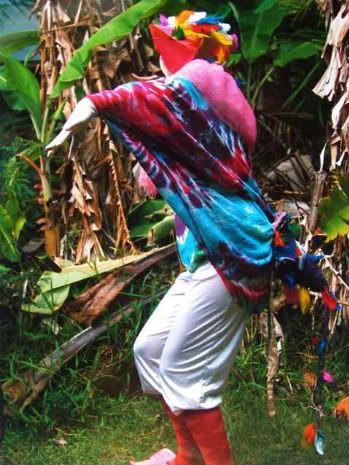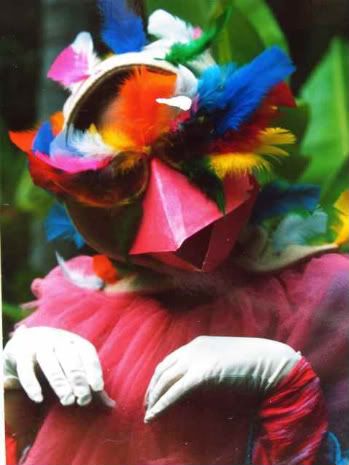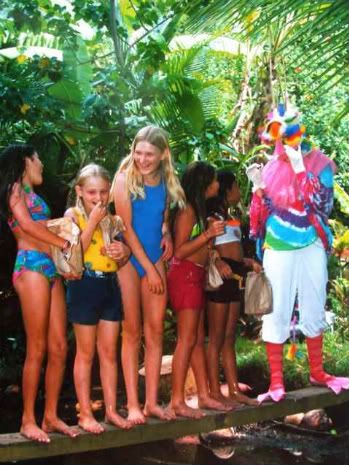 I made both of my prom dresses (but only have pictures of one):