I may have mentioned that I dance swing (Lindy Hop). The annual swing blowout in Wellington is a themed costume dance called Windy Lindy.
Last year the theme was Pin-ups and Poster Boys. I had just started swing dancing and was torn between being miffed that 2008's costume theme was "so not my thing" and thrilled that I had any excuse to wear a costume.
I was originally leaning towards a military themed confection with a pert little hat, until I saw these shoes: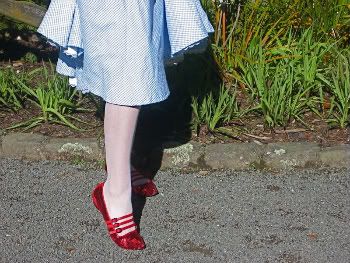 Yummy.
That settled it. I was going as Dorothy Gale from The Wizard of Oz. I leaned a bit more toward the movie rather than the book in designing my costume. The movie has more instant visual recognition, and of course, the shoes are ruby slippers, not silver slippers.
I actually managed to hold out on buying the shoes for five weeks (serious self control on my part!), though not long enough for them to go on sale. Darn!
I bought a ton of blue gingham (and drove my girlfriends crazy by dragging them to every fabric store in Wellington to debate the various aesthetic merits of the different ginghams that were available), and a few metres of red satin ribbon and some really fun ruffled white fabric.
The skirt is a circle and a half of blue gingham with a self petticoat of the ruffled white fabric. The ruffles of the white fabric went on the bias, so once I had cut out the skirt I cut out a whole length of ruffle and used it to bind the bottom edge of the petticoat. Yay for pre-made bias binding!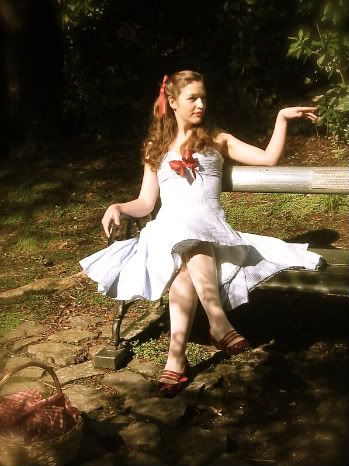 I had the most horrible time matching the gingham stripes on the princess seams and invisible zipper of the bodice, and an equally horrible time making the gathered bust work. This was in my pre-dressform days, and I had forgotten how hard it was to draft and sew without a dressform.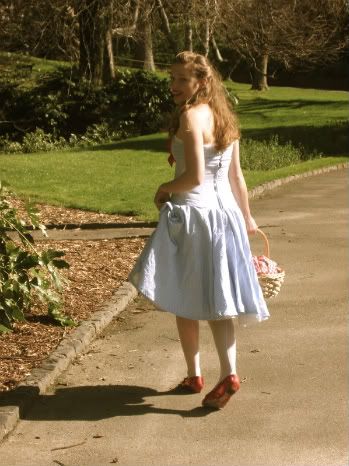 To top it all off, I found this amazing product that I had never seen before in Spotlight (like JoAnne's). It was a plastic boning that you could sew through. It was called Rigilene. It sounded fabulous. (I can hear the more experience costumers among my readers starting to snicker).
Now, you must know that I grew up in sheltered and rarefied sewing environs. My mother very rarely wears or sewn with synthetic fabrics. I had a huge collection of my grandmother's sewing notions, including metal bones, to play with. Once I started working as a professional costumer I went straight to costume shops where they only had metal boning and the best types of plastic boning. Basically, I didn't know how crappy some of the stuff out there was.
I found out. The Rigilene warped as soon as it was sewn into the dress, and little bits of it worked their way through the fabric and came out to poke me. I ended the evening with a dress that bumped out from my body in odd places, and a series of red rashy dots around my waist and bust where the Rigilene ends.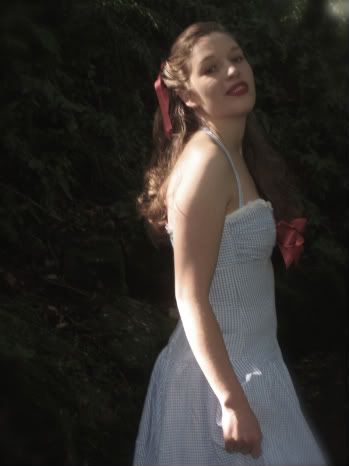 Anyway, the usual frustrations aside, the dress was really fun to wear and dance in and I got lots of really cute pictures of me as a sweetly sexy Dorothy Gale in it.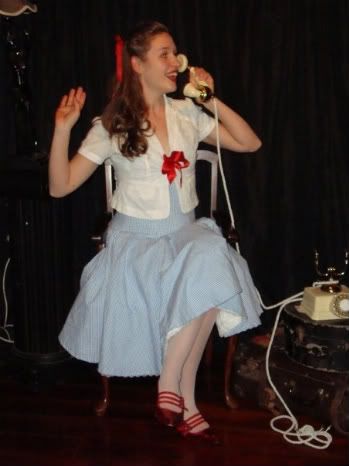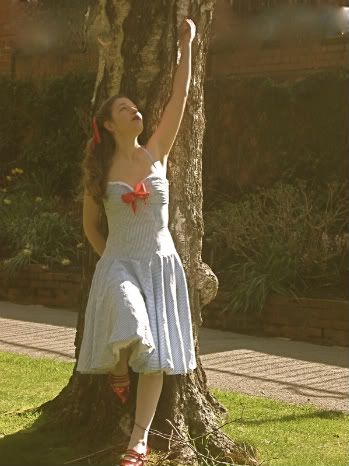 One of these days I am going to completely re-build the bodice of the dress to my high standards. (One of these days…)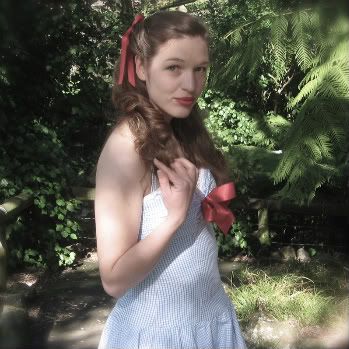 Funny story: A few weeks after the dance I dragged Mr Dreamy to the Botanical Gardens to get some more pictures of me in it. We lost track of time and I realised that I had a Baha'i event that I was going to be extremely late for unless I went in my Dorothy costume – so I did. The adults were amused, but the 3-8 year olds that I teach children's classes to thought that it was the most wonderful thing ever. One of them said, with great enthusiasm, "Oh teacher, you look beautiful!"
From the mouths of babes…