As promised (a long, long time ago), a post about the Frumpy dress.
This is the Frumpy dress as it looks now: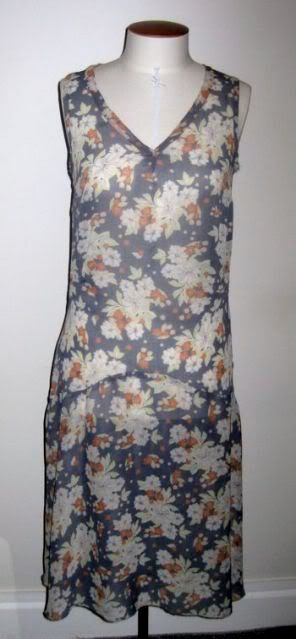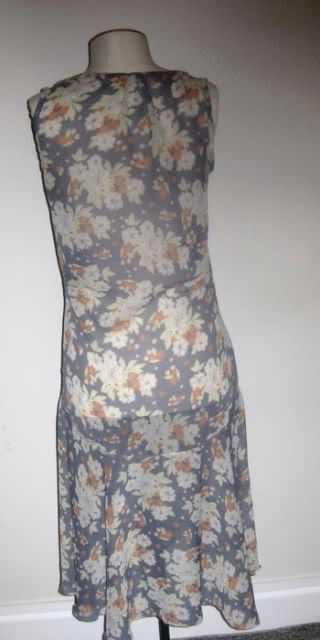 This is what it looked like at the Frumpy stage:
I'm sure, Dear Readers, that you are wondering why it is called the Frumpy dress. Good question. It's all Mr Dreamy's fault.
Nine months ago I got him to promise to take me to Napier's Art Deco Weekend. With this is mind, of course I needed a wardrobe of fantastic 1930s clothes to wear to all the fabulous events. We ended up not going because I got caught up in doing the Capturing the Mode talk.
I got this fabric on sale for $5 a metre at the wonderful Fabric Warehouse. It's polyester chiffon, which totally goes against my usual practice of only working with natural fibres. It was such a good deal though, and I was really on a budget, and it doesn't look too synthetic, so I decided to use it anyway.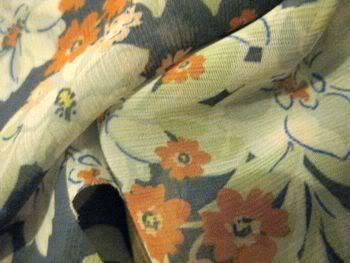 It's a fairly historically accurate print. In the 1930s the Great Depression was encouraging frugality all over the world. The small non-directional print of the fabric meant that the pattern could be laid out in any direction, using as little fabric as possible. The dull colours of the fabric hid dirt, and the simple cut allowed the dress to be washed. Real 1930s floral prints were almost always on a dark background, and would only use 3 or 4 different colours in the print in order to save money on dye. Synthetic fabric (and semi-synthetic fabrics like rayon) first began to be used in a widespread manner during the 1930s, and became very common during WWII.
I am lucky enough to have a small collection of actual patterns from the late 1920s and early 1930s, so I chose to use this one: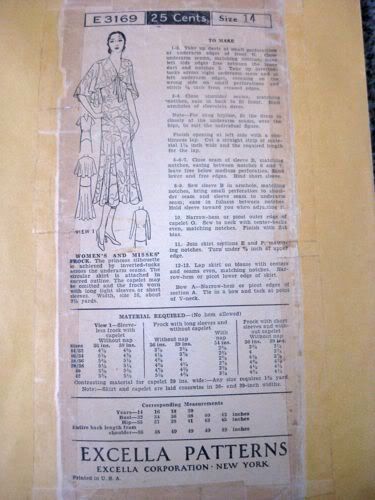 Check out the sizing on this thing! It really puts it in perspective when a modern retail size 2 is a 1930s size 14!
The pattern also encourages frugality. The skirt of the pattern can be cut on the straight of the grain, across the grain, or on a bias, depending on how much fabric the seamstress had.
I was very excited about this dress. My original plan was to make the version with the capelette, and no sleeves. I laid out the pattern, cut it out, sewed the whole thing together, and tried it on unhemmed, with the edges unfinished.
Mr Dreamy said: "You are an extremely talented sewer". This is man-code for "I hate that but I have to say something nice."
Being a glutton for punishment I said, "Thank you! What do you think of it". He gave in and said "It will be better once you cut a lot off the bottom". I persevered "How much." He indicated a line very high on my thigh (not going to happen! It's not a mini-dress!).
As you can imagine, Dear Readers, I foresaw trouble at this point, but I finished the dress. I cut off the capelette because I had to admit, it was frumpy. 
I hemmed the dress using a technique common in early 20th century sewing (you even see it on vintage Chanel evening gowns) but which seems like cheating these days: picot edges.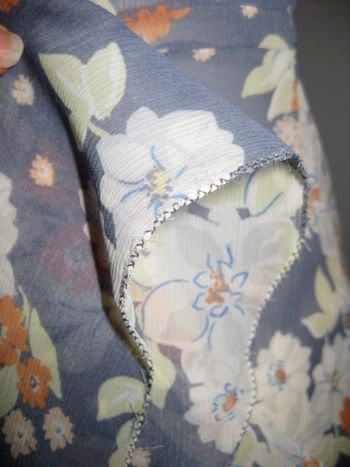 As you can see, they are just very small zig-zag stitches.
The fancy curved and zig-zag seams that you see on dresses of this period were often folded under, ironed, and then topstiched on to the other piece of fabric (rather than placing the right sides together to sew a seam).
When it was all done I put on the dress, pinned up my hair, slicked on some lipstick, slipped into high heels, and sauntered up to Mr Dreamy.
His reaction?
"It's done?!? It's going to look like that?!?"
I will let you imagine the dismay in his voice.
"Yes!" I said, somewhat affronted, "What's wrong with it!?!?"
His response: "It's dowdy and frumpy. It looks like something a grandma would wear."
I polled the Ladies Who Not Only Know Everything but are also Perfect (if you are one of them, you know who they are, if not, you have to find them on your own)…and they agreed.
Le sigh.
So I took the bow off the neckline and cut the sleeves a little higher on the arm to make it less frumpy.  I usually wear it with a belt and bright red lipstick, which I think helps. 
Despite Mr Dreamy's reaction, I do love this dress, and I have gotten masses of compliments on it.
It's got so many clever little details:
Little tucks at the waist that give the dress shape (particularly over my bottom!)