There are still some of my Capturing the Mode dresses that I haven't done detailed blog posts on, so I am trying to catch up on those.
This is Auguste Toulmouche's
The Reading Lesson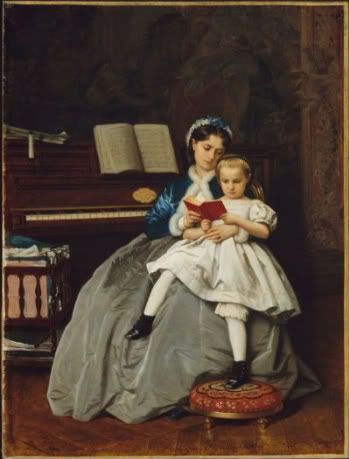 You will notice that it is not an Impressionist painting, because Toulmouche was not an Impressionist artist. He was, however, Monet's teacher for a brief period of time. This painting is included in Monet and the Impressionist. It is also a good example of the difference in the way Impressionist and traditional artists treated clothes and fashion, so I am recreating the mother's outfit for my talk.
I've made a very full cartridge pleated skirt out of (horror of horrors) polyester satin turned with it's crepe side out.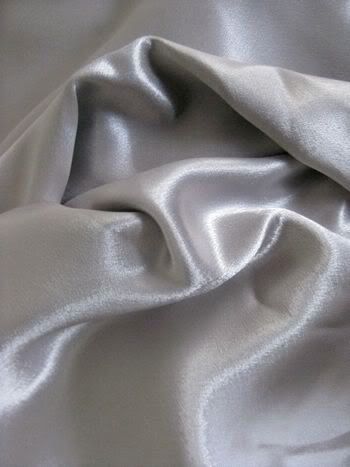 The skirt is also lined with an appaulingly ugly cotton fabric that I liked so much for the space of 7 minutes that I bought 20 metres of it before getting out of the store and realising that it was mostly hideous. Luckily was only $1 a metre so I don't feel too bad that I am going to have many many linings and mock ups in this fabric before it is gone. It does look great as the lining for my ottoman and for my couch.
I made a very simple lace-trimmed back-fastening blouse out of a lovely cotton lawn. Unfortunately I gave it away before I took a picture.
Mid-19th century blouses are extremely simple to make. I think of them as Victorian T-shirts. Really simple and basic and everyone owned and used a lot of them and no one thought to take care of them or give them to museums so there are very few extent examples of them (just as there will be very few T-shirts around 100 years from now in comparison to the millions that were made)
And I have made the most adorable little jacket out of peacock blue low-slub dupion silk. The jacket in the painting is heavy silk satin, but I couldn't find the right fabric so settled for a smooth dupion. I believe this type of jacket – fitted but with a bolero style front – was called a Spanish Jacket. It is similar to a Zouave jacket.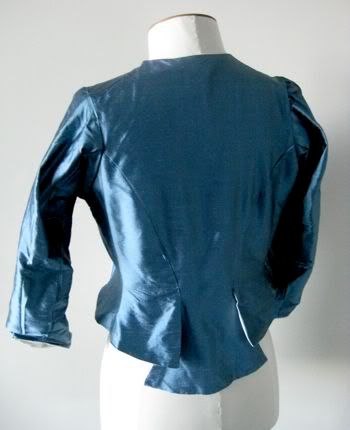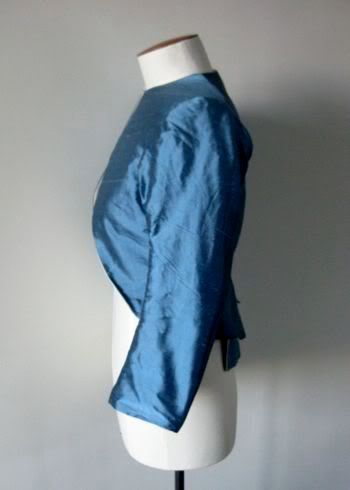 I'm totally in love with this jacket. I want one for me! The jacket is sized to a true size 8 or 6 (I'm more of a true 10-12) so there is no way I fit it. I might have to make another one that will fit me though. I would trim mine with black piping and jet though, rather than the white fur which is in the painting (I used white feathers instead).
The ensemble was worn for the talk by Natasha, who is far too young and pretty and tiny (she has a natural 24″ waist!!!!) to actually be a mother, but who looked adorable in it anyway: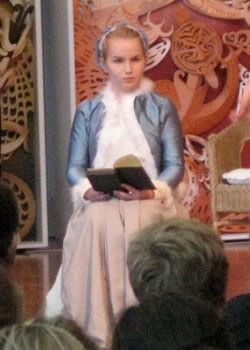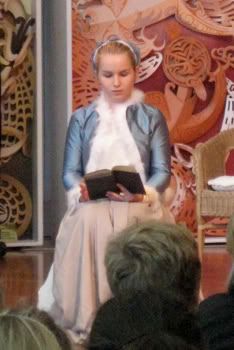 Natasha may have a tiny, tiny waist, but luckily she has the same shoe size as me, and I have the absolutely most perfect shoes to go with this outfit: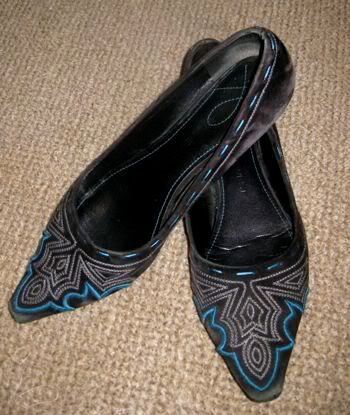 You can just see the tip of the mother's blue satin shoe peaking out from under her skirt in the painting.
While the jacket is adorable, I am not happy with the way the sleeves fit, and how the feather trim sat. It was also the only one of my Capturing the Mode costumes that was a beast to fit. I took it apart and put it back together so many times that there are permanent marks in the seams. And I may take it apart one last time (she says, fingers crossed) to re-sew in the trip and fix the sleeve issues.
I've already given away the skirt and the blouse, so I am probably going to end up re-making the whole outfit at some point. Sigh.