The Fabric Warehouse
25 Hutt Road, Thorndon/Pipitea Wellington
What it is:
One of Wellington's better fabric stores. FW stocks fabric (new season ranges, classic fabrics, and theatre and dance fabric), a fantastic selection of trims, buttons, and some notions. FW does not carry patterns, nor do they carry as many quilting prints as Spotlight or Arthur Toye (review coming soon).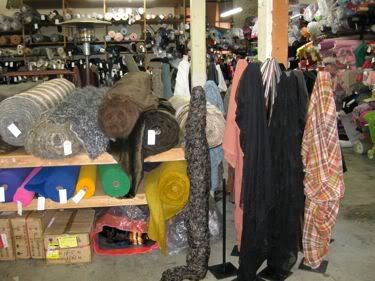 I love the colours in that madras plaid off to the right.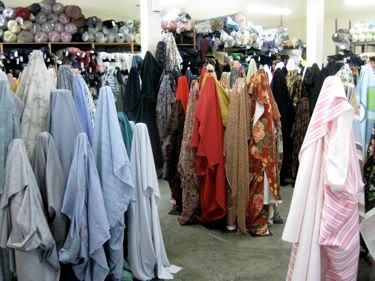 What is it about colour coded fabric that is so appealing?

The Good:
The customer service is excellent. The staff know their stuff in terms of fabric, sewing, and design, and if you ask them a particularly obscure question that they don't know the answer to (like if they carry coutil, and if not, what is the closest fabric they have, or where you would get pool table felt), they will look it up.
The staff also know what is in store, so if you need a specific type of fabric or print and don't see it in-store, ask, because they might have just the thing on a top shelf out of sight, in the back room, or in the newest shipment that just came in and hasn't gone on the floor yet.
The staff really will go above and beyond for you. I went in recently looking for one more metre of a specific print (the dots you see below), and they were sold out. I asked, and they recalled that there had been a leftover remnant from the last roll of fabric. It was a busy day (40% off sale, and a Saturday), but they checked all the remnant bins and the back room and a few other places, and spent a good 20 minutes on the search, before finally unearthing a 2 metre length – and selling it to me at half off because it was a remnant. What champions!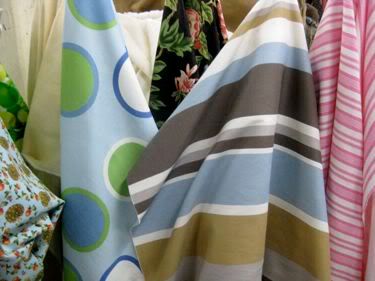 That's the fabric I covered my chairs in! And I'm doing curtains for the kitchen in the spots!

FW has a strong link with the professional costuming community (including the film community) and are known to give discounts to professional costumers.
The Bad:
Not bad so much as "not as good as other places". I find their silk selection uninspiring. It's adequate, but I've yet to see a silk there that I found the need to buy.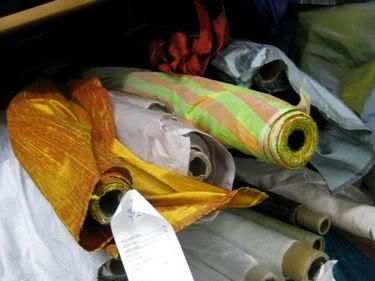 I admit, the orange and green striped silk shantung is pretty special.
Also, I know from experience that all things labelled silk at FW are not silk, but I don't think this is their fault – I bet the mis-labeling comes from the manufacturers and it happens at a lot of fabric stores and FW are one of the few honest enough to do burn tests if you (or they) are unsure. So this goes in the "bad but inevitable and they do their best to correct it" pile.
Parking is also a little hard – it's a funny driveway off Old Hutt Road, and getting back on to the road and facing the direction you want at certain times of day can be very tricky (of course, getting out of Spotlight, which is just down the road, is even worse). Sometimes I find it helpful to park on the opposite side of the road, brave traffic to cross the road, and shop that way.
The Ugly:
FW does feel a bit dusty and grubby, and the rolls of fabric piles high on racks can be a bit daunting and hard to handle and look through if you aren't built like a rugby player (huge and muscly). On the bright side, the dusty and grub are all clean honest dust and grub – so you end up a little dirty but (unlike Spotlight) without the worry of all the infectious diseases you might have caught from the germs.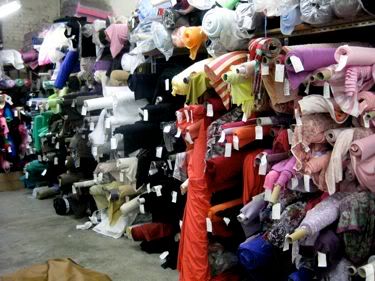 The obsessive perfectionist in me is having a little breakdown every time I look at this photo.
The Verdict:
Not as romantic as other stores that I have and will review, but a practical and indispensible resource for the costumer and anyone else who loves fabric.
It's worth knowing that FW's prices for most fabric are better than Spotlights, often by quite a lot if you consider the quality of the fabric. I would always make them my first stop if looking for simple cottons for garments or home furnishing or backing quilts, or for high-quality wool or bamboo and cotton quilt batting, or for the sort of bright synthetic fabric which I never use but which show up in theatre attire and Halloween costumes all the time. In fact, they should probably be your first stop for anything except silks and quilting prints – hows that for a commendation!
As a final tip, sign up to FW's e-mail list to be sure you get notifications when they do sales.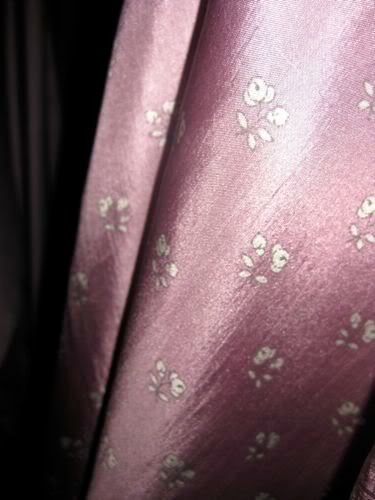 This might be the first silk I find myself buying from FW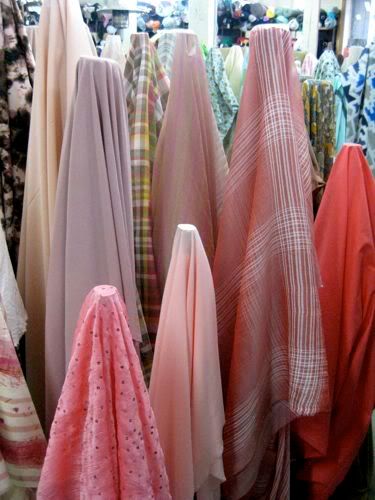 Aren't the pastel plaids just scrumptious?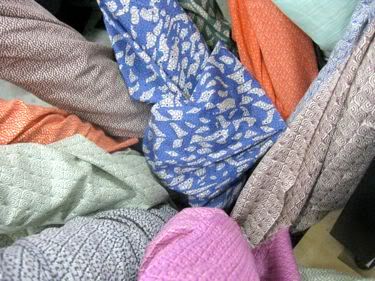 I love the 1940s feel of these fabrics – they remind me of an Avis Higgs designs. I did end up buying some of the green that you can barely see in the bottom left corner.
s