On Thursday night I finished hand sewing on all of the hooks and eyes for my 1850s evening bodice, and struggled into my corset and the hoopskirt and the petticoat and the skirt and then got Mr Dreamy (with lots of complaining on his part) to hook up the bodice.
Once I was all in the outfit, I discovered a number of minor problems:
1) I'd cut the skirt waistband to be comfortable and not much smaller than my normal waist, but my new corset is so effective that even with it laced loosely I'm going to have to take in a full three inches in the skirt's waistband.
2) All the taking in of my bodice did not take into account the enourmous skirt that it was going to go over, so I'm going to need to let the bodice back out a bit.
3) The bodice is going to need a lot of bones if the point is going to lie flat over the skirt.
4) Hooks and eyes aren't a good way to fasten this type of bodice because 1) Mr Dreamy complains too much about doing them up, and 2) they come undone. I might do lacing beneath a hidden placket, and then hooks over it to hide the lacing.
The major problem was that with the outfit on I had a grim suspicion that I looked a lot more like this:
than this: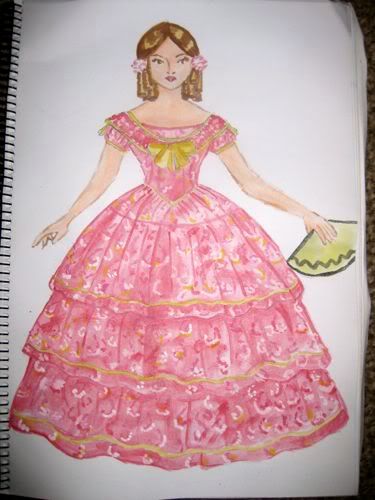 I just felt so big, and awkward.
I couldn't navigate around the furniture to actually look at myself in a mirror, so I got Mr Dreamy to take some pictures so I could figure out what the dress actually looked like on, and what I was going to have to do to it.
The good news is that I look much better than I thought I did! The dress has a really nice sweet 1850s belle thing going on.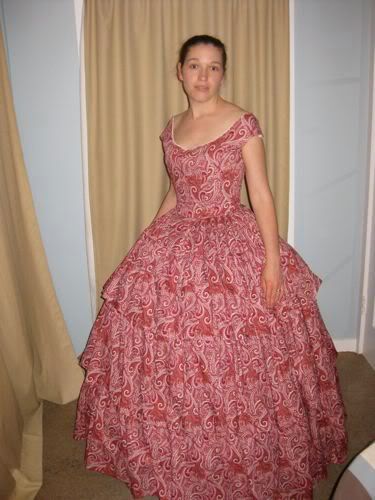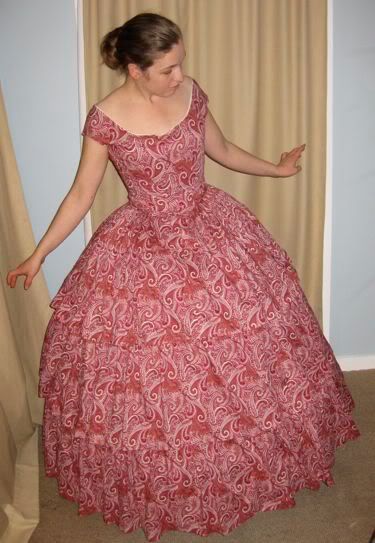 Would you like to come in?
Felicity liked it too: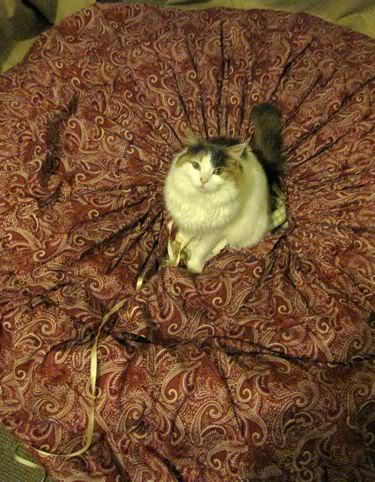 Yes, yes, this is a lovely skirt, and it will appeal.