I recently finished a super-cute retro inspired skirt that I thought you might enjoy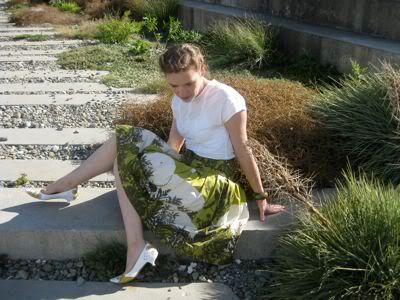 I used this utterly adorable retro fabric that
Nana
gave me for the skirt: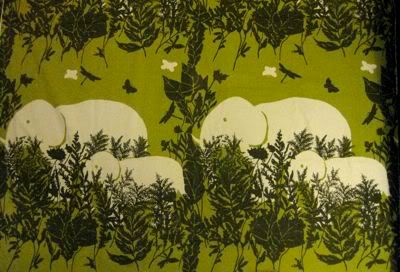 Look at the elephants! How could you not love it?
I didn't use a pattern: just drafted a quick waistband and then box pleated the fabric too it, and fussed with the pleat widths until it the fabric fit right.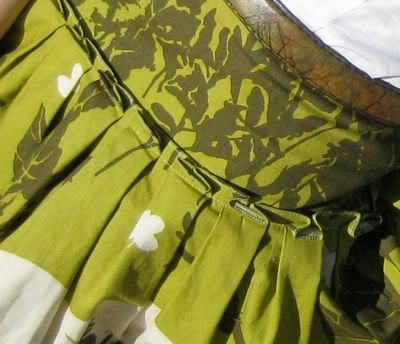 I indulged my taste for quirky finishes with bright pink binding around the inside edge of the waistband, and my taste for pedantically perfect and historical finishes with a hand-sewn in zipper (which is often easier than machine sewing, unless you use invisible zippers).
And then I realised that to give the correct vintage silhouette the skirt was going to have to sit quite a bit higher on my waist, so I got to unpick my beautifully sewn in zipper and a bunch of the pleating, take in the waistband, and re-pleat the skirt and sew in the zipper again.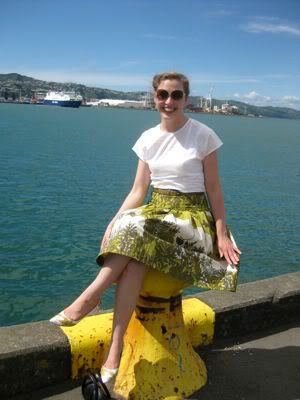 It's all about the vintage silhouette!
But now the skirt looks perfect, and it was clearly meant to be, because I went shopping on Saturday and found the perfect blouse, shoes, and belt to go with my skirt, all in the same vintage clothing store!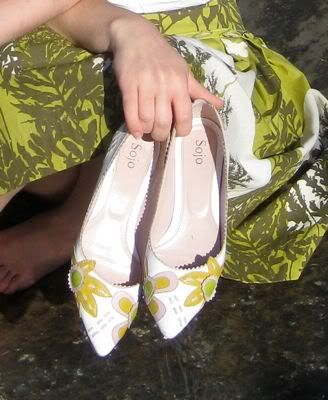 Those shoes! Just looking at them makes me happy! 
And, to make it even better, after four days of waiting I finally got weather good enough to wear it, and discovered that my friend Madame Ornata is a great photographer, and was willing to do a full on photo shoot with me (I was just hoping for a few snaps from someone who wouldn't complain!), so we spend a lovely evening rambling along the waterfront and taking pictures.
We ended up getting so many gorgeous pictures that I can hardly decide which ones to show you! Here is a slideshow of my favourites:
Skirt: by me, retro fabric from Nana's stash
Blouse: retro from Missy's Room
Shoes: 'Heather' by Sojo
Belt: retro from Missy's Room
Cuff: from Thailand
Sunglasses: DG