I've been promising Joie de Vivre a post on the history of calico and muslin, and why the same fabric is called by different names in different parts of the world.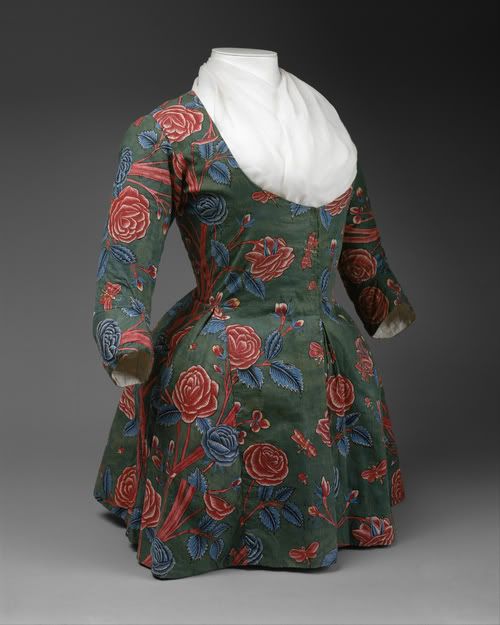 Calico, but not as we know it. A caracao made in Holland in the second half of the 18th century, from Indian chintz patterned calico. Collection of the Met
This is how calico and muslin are defined today (as far as I can tell, feel free to supply additional insight if you make further/different distinctions):
In the US & Canada:
Calico – cotton fabric with a small, all-over floral print
Muslin – simple, cheap equal weft and warp plain weave fabric in white, cream or unbleached cotton and/or a very fine, light plain weave cotton fabric (sometimes called muslin gauze, though this usually applies to the very lightest, most open weave of these fabrics).
Gauze – any very light fabric, generally with a plain weave
Cheesecloth – Extremely soft and fine cotton fabric with a very open plain weave.
In the UK, Australia and NZ:
Calico – simple, cheap equal weft and warp plain weave fabric in white, cream or unbleached cotton.
Muslin – a very fine, light plain weave cotton fabric. Sometimes called muslin gauze
Gauze – Extremely soft and fine cotton fabric with a very open plain weave. Used almost interchangeably with cheesecloth.
The word 'calico' comes from Calicut, the European name for the Indian city of Kozhikode.
When Dutch traders began to visit India in the 17th century they were very impressed with Indian textiles, particularly a simple, cheap, equal weft and warp plain weave cotton fabric block printed in multicoloured floral designs.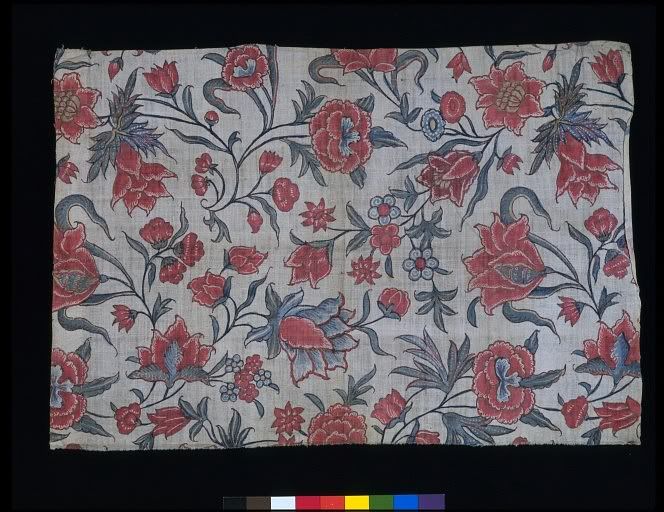 18th century block printed Indian calico with a chintz pattern – V&A
Cotton was a very rare fabric in Baroque Europe, and multi-coloured printed fabrics were also rare. The combination of the two made the fabric from Calicut an irresistible novelty to the Dutch traders, and their European market.
'Calicut' fabric quickly became a desirable commodity in Europe. By 1680 over a million pieces of calico fabric were being imported into England, France, and Holland, respectively, each year, where it was used for clothes, bed hangings, and other items of furnishings.
1725-1750 bed cover. The cream background indicates that the fabric was printed for the European market, but the floral designs are more Southeast Asian in taste, indicating that the Indian textile artists were experimenting with combining motifs from their different markets (Thailand and Europe)
In addition to importing 'calico' from Calicut, by 1680 European manufacturers had taken out patents to make their own 'callicoe' fabric.
1750-1775 banyan (man's informal robe) The outer fabric was made in India specifically for a banyan, the banyan was made up in Europe and lined with a European made calico type fabric. Collection of the V&A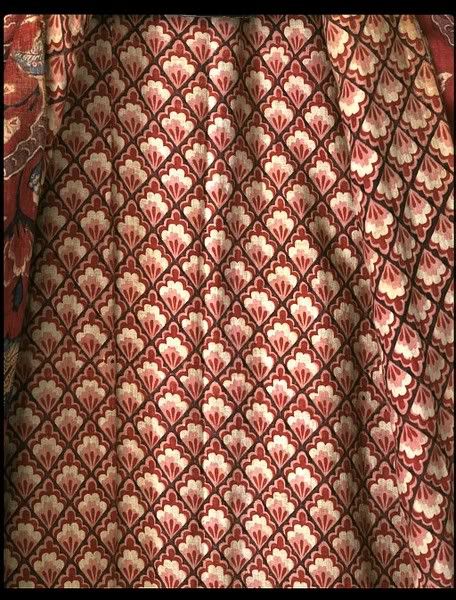 A detail of the banyan lining. Note the cream/red/black colour combination.
The commonest, easiest to produce (and thus cheapest) calico fabric was patterned in orange-red, black and cream, because this colour combination could be achieved in one alizarin dye bath with two different mordants, iron for black and alum for red, pre-positioned on the fabric. European traders called this fabric Indienne ordinaire.
ca 1680-1700 block printed Indian fabric for the European market. The classic red/black and cream colour combination (with the addition of purple) is clear, as are the European influences. The Stuart coat of arms is worked into the centre of this fabric (not visible in this fragment), and the pineapple visible at the bottom commemorates the celebrated introduction of the pineapple into Europe in 1680.
Late 18th century Caracao. The fabric is probably European, but the same techniques were used to achieve the simple and cost effective red/neutral colour scheme. Collection of the Met
A detail of the fabric
The distinctive red/black/cream colour combination was so prevalent that the name 'calico' was soon used to describe cats with this particular colour combination.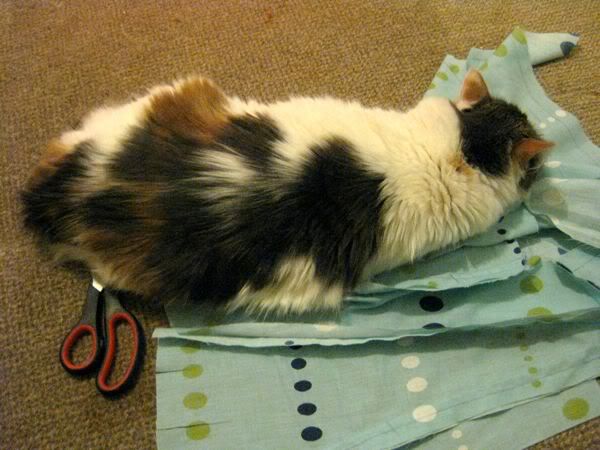 Felicity is a pastel calico: grey, orange and white.
While orange-red and black backgrounds were popular in India and other markets, Europe vastly preferred lighter backgrounds, and the Indian textile markets responded to this by producing more and more fabric with cream backgrounds, rather than darker colours.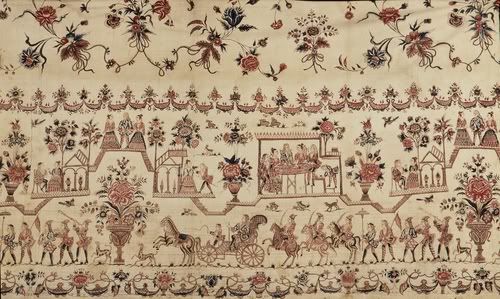 18th century fragment of a petticoat, produced in India for the European market. Note the strong European influence with the images Elizabethan courtiers combined with exotic motifs. Collection of the Met
In addition to the black and red on cream colour combination, Indian textile artists produced more expensive polychromatic floral prints on cotton, inspired by the vastly more expensive hand-painted Chinese silks.
This 1770-1790 waistcoat fragment could have been produced with 2 printings, an initial one to achieve the red and black, and a second one to apply the blue, making a relatively cheap and easy fabric to produce. Collection of the Met
Madame de Pompadour at her Tambour, 1763-64, Drouaise. Reinette is shown in a gown of expensive hand painted Chinese silk of the type that Indian textile artists would try to imitate.
Hand painted cotton from India, such as the fabric used in this 1770-1780 caracao and petticoat, was a slightly cheaper alternative to the more expensive Chinese silk. Collection of the V&A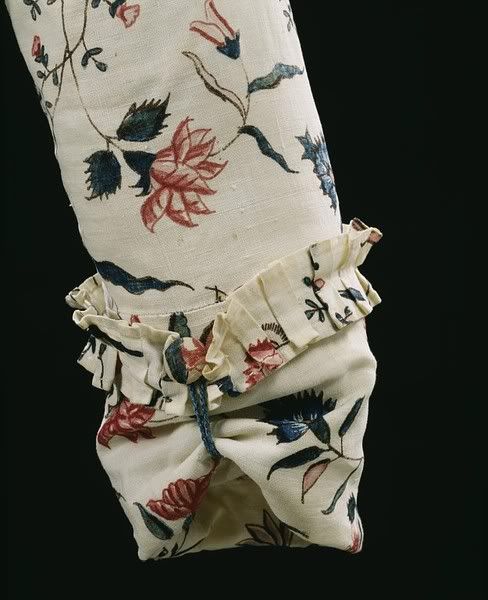 Detail of the fabric. The red and blue colour scheme is achieved using the complex processes of resist-dyeing (for the blue) and mordant-dyeing (for the red), which also involve repeated stages of bleaching and rinsing.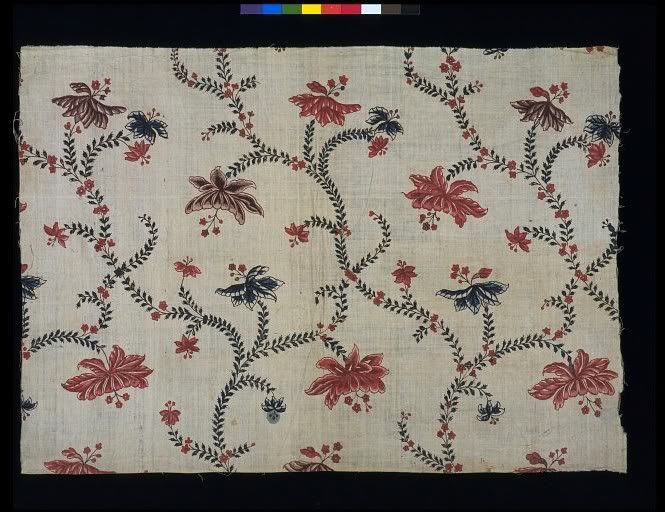 And finally, the cheapest way to achieve the desired look was with block printed Indian cotton, which produced a stiffer and less naturalistic, but still attractive, result. This fabric is ca 1795-1799 and is in the collection of the V&A.
These particular types of pattern large floral patterns, whether on silk or cotton, are known as chintz. Some chintz is calico (if it is on cotton and block printed), but not all calico is chintz (depending on pattern) and not all chintz is calico (hand-painted and silk chintzes aren't calico).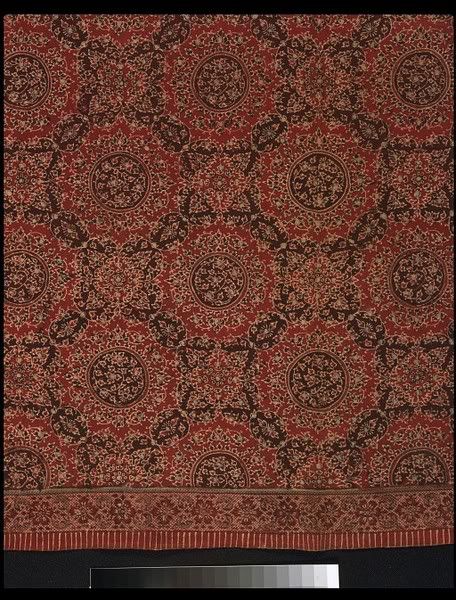 West Indian calico which is not a chintz produced for the Indonesian market. The same textile artists also produced chintz. Circa 1780, collection of the V&A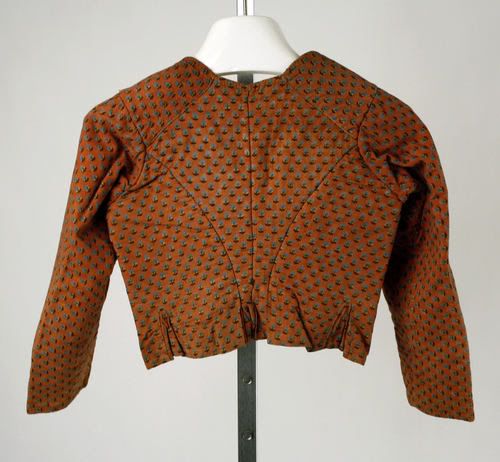 1790s basque in calico which is not chintz. Collection of the Met
I leave you, dear readers, in the second half of the 18th century, with chintz and calico firmly established as the informal fabric of choice for the fashionable elite of Europe, and the soon-to-be independent colonies across the Atlantic.
Next week I will discuss how calico came to refer to different fabrics in the Americas and in Europe.