Stays? Transitional stays? Jumps? Just another chemise?
I know most costumers wear stays, because making a pair of jumps or transitional stays just for chemise a la reines is a hassle.
I've been studying lots of chemise paintings, and trying to determine what the wearers are wearing underneath. I've sorted images of chemise a la reines into three categories: stays (quite firm); jumps (some support); and au natural which is well…unsupported.
What do you think? Have I got it right? I've arranged each category from earliest to latest
Stays:
There seems to be quite a rigid line below the bust, so stays. Perhaps strapless ones?
A very interesting variant on a chemise a la reine. I'm not sure I have figured out what is happening with the bodice, but the models extreme slimness, with the slight bulge of bust at the top indicates that stays were worn underneath.
Seems like fairly heavy stays. The line of her torso and bodice is quite rigid, and the way she is leaning on her husband is a comfortable, and instinctive, body position if you are wearing stays.
The way the chemise falls over the sash and then goes straight up from their looks just like what my chemise looks like over stays on me.  Also, that brooch looks quite heavy, and would probably be supported much better if it was pinned through to stays.
The primitive style of the portrait makes it hard to tell for certain, but the bodice is very stiff and rigid. The robe and belt worn over the chemise are most interesting. I wonder if this was a particularly Polish style? And I am rueing the black and red striped silk kimono that I didn't buy a few months ago because I figured I would never have anything to make from it…
It's hard to tell exactly what this dress is – it seems to be a transition between a chemise and a wrap front robe.  Notice the open front with the lacy petticoat.  It's also hard to tell what Anna is wearing under her dress, but there does seem to be a distinctly straight line of the back and a bust-cliff, indicative of stays or firm jumps.  The waistline suggests they are short stays/jumps.
Jumps
Unless Vigée-Lebrun had 18th century bust enlargement before all her other portraits were done, she was wearing some type of undergarment for this one!
This chemise might be worn au natural, but there seems to be some support to the bust, though it is too soft and round for full stays
I'm think either very soft jumps or strapless stays that end right at the nipple. There is a very distinct roundness to her bosom and a sinking that you just don't get with anything that extends further up.
It's hard to tell exactly, but it looks to me like the sitter was a fairly small busted woman wearing fairly good support, but not quite as structured as full stays. (eta. And Wikipedia backs me up, describing this is a more formal portrait of Polignac than the one I have identified as unstayed below – Thanks Minerve!)
As you can see, minor restraint. Isn't the finishing details around the neck fascinating? It's like a transition from a chemise a la reine to the later Regency frocks.
Fairly robust jumps. Her torso is quite flat and lifted, but still retains some roundness
Au Natural
Angelica might be wearing a very light pair of jumps, the type that divides the bust.  Or she is under-garmentless.
I don't think she is wearing anything. Her bosom is very soft and round, and the plunging neckline would reveal most undergarments.
The fabric is so soft across the bust, and the neckline is so plunging, that it doesn't seem likely that she was wearing anything more than a chemise in the way of undergarments.
Her bust seems too round to be confined in any sort of undergarment
I think the nipples are enough evidence that the models chemise a la reine variant is not worn with undergarments!
It's hard to tell with so much of her chest covered, but her bust seems so soft and round that it must be unsupported.
You just don't get a bust like that if you are wearing stays or jumps!
I know this is an odd variant of a chemise a la reine, but I still thought it was too interesting not too include.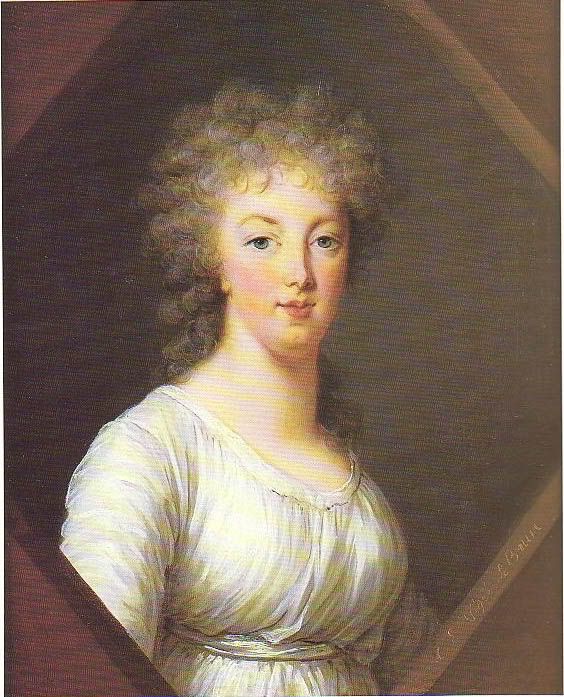 I really doubt she is wearing any type of under-support, but as this is a ca 1800 posthumous portrait of Marie Antoinette, you can't depend on it for historical accuracy
Conclusion:
Anything goes? Whatever you seem most comfortable in?
OK, jumps or transitional stays seem to be most common, but in a pinch both full stays and a chemise a la reine with a chemise or nothing at all seems to have been acceptable (though I think you would have to be very bold and artistic to skip any type of undergarment at all!)