The links between ancient Greek and Roman fashion and the fashions of the turn of the 19th century are incredible clear.
I love this image. The artist tried to cram every possible classical influence possible in. Its got diadems, greek keys, Pompeiian borders, neoclassical chairs.
Miss Elisabeth looked perfectly classical in the Madame Recaimer gown. Definitely more Lizzie Bennet than Madame Recaimer, but glorious nonetheless.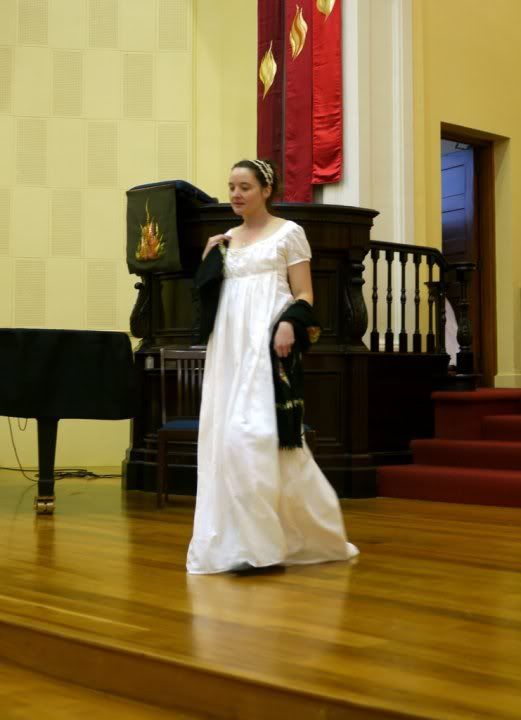 Her hair was bound with filets of leaf patterned trim, and she carried my Afghani shawl, a very close relative to the 19th century paisley shawls from Kashmir, as textiles go.
Madame Ornata and Miss Elisabeth discuss music. Madame Ornata wasn't in the talk, but she came in costume which was an excellent opportunity for people to see what stays look like.
You should know that not only is Miss Elisabeth a fabulous model, she is also a fantastic seamstress and crafter in her own right. You can find her gorgeous bags and bangles on
felt.co.nz
and (if you are scared of trying to change NZ dollars)
etsy.com
. Or you could just read
her blog
.
Miss Elisabeth blogs about what is going on in the handmade community in NZ, and it's pretty amazing. It's such a fantastic, vibrant time to be a crafter.