The US had Five and Dime shops, and now Dollar Stores, but things are a bit pricier in New Zealand, so we have the $2 Shop.
The $2 Shop sells everything for $2 (and yes, there are $2 coins in NZ), and some things are 2 for $2.
The Good:
The $2 Shop has a bit of everything, from crafting supplies to stationary to wrapping paper to hardware to jewellery to makeup to household goods. So it's not a bad place to look if you want something and aren't sure where to buy it (which happened to me a lot when I first moved to NZ).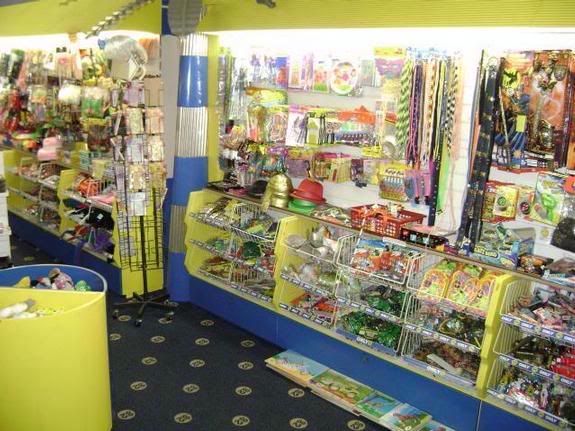 A little bit of everything. And I DIDN'T take this picture! (see below for why)
Some of the stuff at the $2 Shop is pretty amazing in it's own right, like gilded peacock feathers, or an amazingly good deal, like the wide array of attractive drawer pulls. Considering that drawer pulls start at $8 each at every other shop, $2 is an great bargain if you want to quickly update a dresser.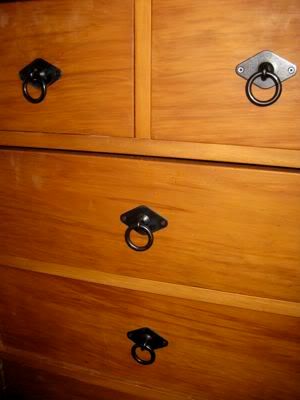 $2 drawer pulls on a rimu dresser I refinished.
The Bad:
First, the $2 Shop won't let you take photographs in the store. Not even for review purposes. I'm not sure what they are afraid of, it's not like someone is going to use it to find out what they charge for stuff and beat their prices (tee hee, get it? get it?), nor are they such a juicy target for a large scale robbery that anyone would be scoping out the premises. They can't be concerned about knock-offs of their plastic tiki souvenirs – they are already 2 for $2 so they can't get any cheaper!
Whatever the reason, I wasn't able to take any images in the store. Which is bad. And dumb. You should write them and tell them how bad and dumb this policy is.
The other main bads are that 1) you are buying cheap plastic crap made in China under questionable conditions 2) who knows exactly what goes into the cheap plastic crap and how much lead is in the paint and 3) the $2 Shop is a madhouse around Christmas, Halloween etc with everyone buying cheap plastic crap for the holidays.
The Ugly:
Well, unfortunately I wasn't able to take pictures of some of the uglier items, because I sure wasn't going to buy anything just to take a picture of it!
But rest assured that the $2 Shop has a wide variety of seriously ugly. And some not so ugly. But a lot of ugly. Some of it amusingly so.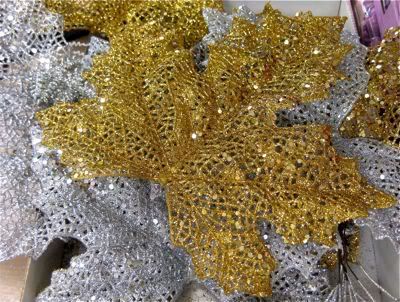 These are kind of ugly. And kind of cool. Whimsicle effery ugly-cool.
The Costuming:
There are all sorts of fun things that you could use for costuming in the $2 shop, from the aforementioned gilded peacock feathers, to beads and ribbons and trims and faux flowers and cheap straw and felt hats to use as bases. Some of the things they have are a bit surprising and inexplicable, and some of them change all the time.
Who knows what these little birds and birds nest were intended to be: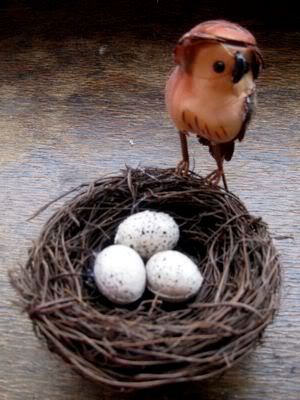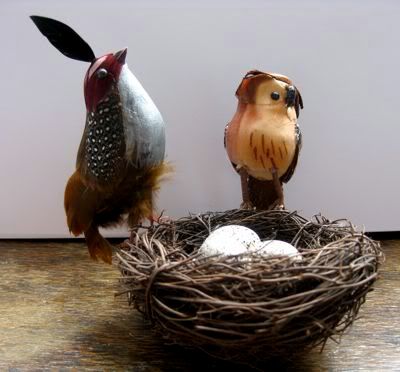 I'm going to use them in 18th c hairstyles, or to trim hats. I think the owl is too cute!
And of course, there is lots of stuff that isn't so obviously costume-y that could be used, from items in the hardware section (how many of you have ended up using lengths of chain on Elizabethan costume? Come on, fess up now!), to little figurines that could be pulled apart for jewellery.
The randomly really exciting and then totally crappy:
I found scalloped craft scissors at the $2 Shop! I'd been looking for them forever, but Spotlight stopped carrying them, and the local scrapbooking store says they are out of fashion.
I was so excited.
Yeah. The scissors are more than a little bit crap. Once opened, they don't close. I need to pony up and order a good pair off the internet.
The verdict:
Like
Spotlight
, a necessary evil. More fun than Spotlight though, and a better buy for your (2) dollar.
Also, the $2 Shop has one of the worlds stickiest, and thus most irritating, jingles. My sister visited NZ over 3 years ago and can still sing it.