Cuba Mall, Wellington
What it is:
Wellington's only specialist bead and jewellery making store. Stockists of all sorts of beads, findings, as well as ready made jewellery and a few other pretty items.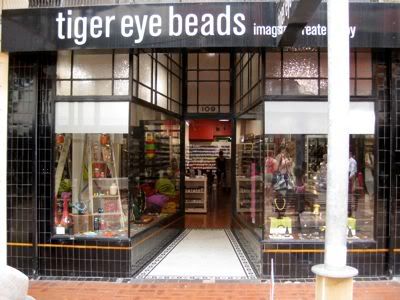 The Good
Tiger Eye Beads stocks a wide variety of beading pogey bait in almost every colour of the rainbow, and all the material to put the pogey bait together into something yummy. And, if you are like me and are just no good at putting beads together in an assortment that results in gorgeous jewellery, they also have a selection of ready-made jewellery to tempt you.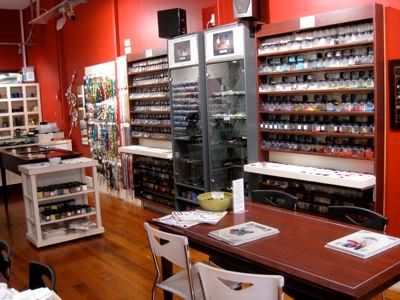 Pretty pogey bait
In order to support your jewellery making endeavours, they have necklace trays and jewellery tools and tables so for you to work on, so you could easily spend an afternoon shopping and crafting in the store.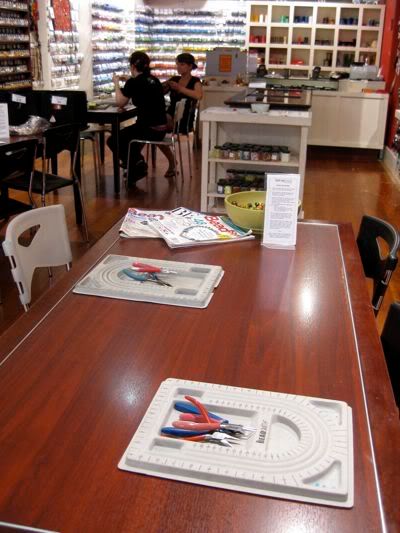 Helpful staff and welcoming work-stations.
The staff are cheerful and friendly and helpful, and will suggest things and help you look for just the right colour of something.
Not only can you craft in store, but they are child friendly, so you can take your personal dibbuns in to create a necklace as a special treat – there was a little girl their making a birthday necklace with her uncle when I went in (so cute! so envious! All my uncles did was show me their collections of frozen roadkill!). Or, if watching a kid make a necklace is too exhausting for you, just sign the dibbuns up for beading classes at the school holidays.
And, just in case you are like me and only like kids as long as they are well behaved, rest assured that I have never seen an ill-behaved out-of-control kid in TEB. The rotten ones probably get told to go outside and play in the bucket fountain.
Finally, TEB has a great website, which is always nice and helpful.  
The Bad
TEB has a rather poor selection of some surprisingly basic jewellery and beading essentials. I found when doing my Luna Moth dress that their selection of seed beads in all shades of purple is very sparse, and that they have almost no clear seed beads, which seems a terrible oversight.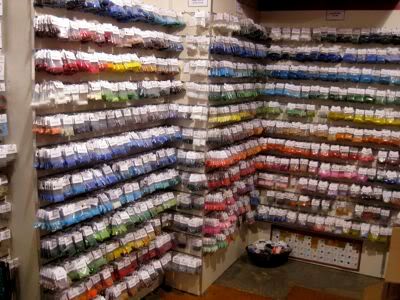 ROY G BI…..???? Where are the violets?
I also wanted to buy a beading needle the last time I was in, and all they had were 4 inch long necklace needles, which are great if you want to string a lot of beads together, but hopeless for sewing tiny seed beads to dresses, or for making elaborate bead patterns. How can a shop be out of all but one kind of needles?!?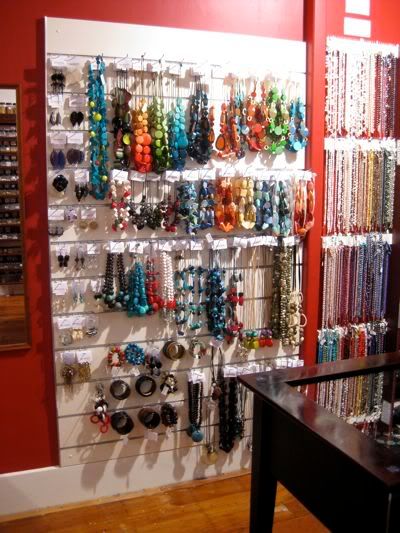 Pre-made necklaces and bangles, and strings of semi-precious stones.
Finally, they don't have much in the way of sterling silver fixings, and have no sterling silver chain at all. Poor planning on their fault – I spent a small fortune on sterling silver chain the last time I was in the jewellery district in NYC
The Ugly
TEB is fully aware that it is Wellingtons only specialist beading and jewellery making store, and charges you a premium for the privilege of being able to walk into a store, look at a lot of beads in person, and buy only a small amount of the kind of beads you want.
On the bright side, I couldn't find a single actual thing in the store that qualified as ugly (though that seems to be an apt description for every piece of jewellery I put together from the store!).
The Verdict
If you plan on doing huge amounts of beading or jewellery making (or are just a serial embellisher like Madame Ornata), you are probably going to need to find an online source for your beading needs. If you are like me, and only use beads occasionally, or just want to make one fun piece of jewellery, than Tigers Eye Beads is a great resource, and it is well worth your while to suck up the premium cost for the privilege of buying a small amount right when you need it.
It would be good if they beefed up their supply of beading basics though!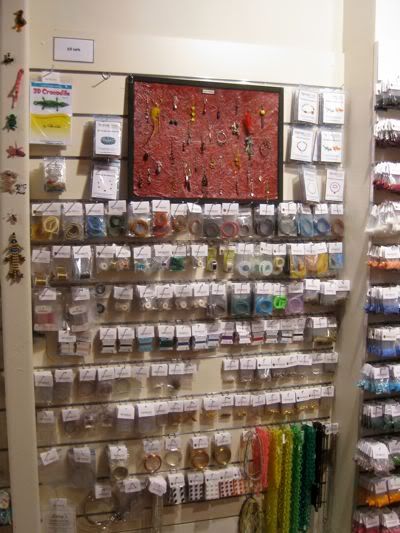 Wires, strings and other bead accessories.