The Idea and Inspiration:
The Meander, Greek key, Greek fret — whatever you call the design, I love it.   The enormous fan pleated skirts of Janet Arnold's 1861 Tea Dress seemed the perfect frame for this striking pattern.   A gorgeous $1 a metre sale fabric in my stash and hundreds of metres of black lace from Nana sealed the deal.
Janet Arnold's pattern: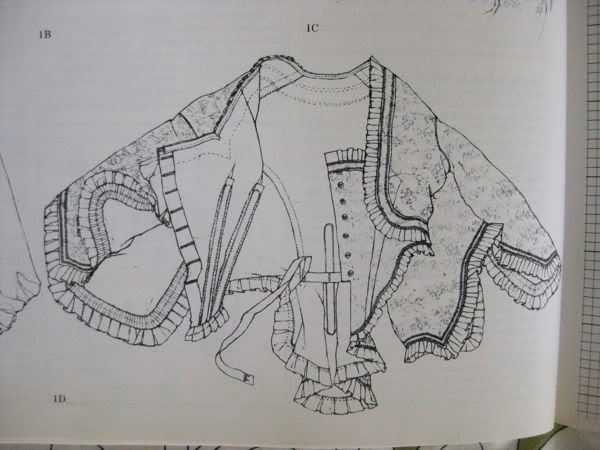 and this dress:
Fabric and Materials:
Mid-weight Egyptian cotton with a faint lace print in pink on white, trimmed with black nylon lace.   Jacket lined in black and white striped cotton canvas, and trimmed with recycled black kimono silk.
Research and references:
Janet Arnold's Patterns of Fashion 1660-1860
Undergarments:
The Dress Diary:
Figuring out the Greek key design
How to make Greek Keys, a tutorial
Trimming the skirt with Greek Keys
Finishing the Greek keys on the skirt
Felicity helps with the Greek Tea dress
Drafting, draping and fitting the jacket
The Greek Key dress at Pompeii to Paris
The Greek Key Dress at the Massey Memorial
The Greek Key Dress in the Park
Engageantes to go with the dress
The Greek Key Dress at the Massey Memorial 2