The Idea and Inspiration:
A dress based on Janet Arnold's 1871 afternoon dress with detachable gilet pattern.   The dress was inspired by a lucky find of lots of reasonably period accurate pink fabrics at a very reasonable price.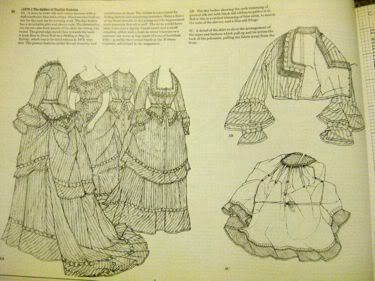 The outfit was also intended to capture something of the mood and silhouette of the dress in Renoir's Woman with an umbrella and a child, 1873, without being a direct replica.
Fabric and Materials:
Rose pink sateen, coral pink striped sateen, and cranberry red silk.   Plastic boning, metal hooks to fasten, decorative vintage buttons on bodice and overskirt.
Undergarments:
1870s bustle based on an image in Corsets and Crinolines
Research and Resources:
Janet Arnold, Patterns of Fashion 1860-1940
Norah Waugh, Corsets and Crinolines
The Dress Diary:
At the Capturing the Mode talk
Posts featuring the dress on Sarah's Livejournal:  http://dianavilliers.livejournal.com/