So, in case you were wondering why there were no posts at all for 5 days last week, it's because I escaped on a 'no internet, no worries' weekend with a bunch of fantastic friends, including the wonderful Theresa who was over from Melbourne, Chiara who is finally back from the States, and other wonderful buddies who you may recognise from photoshoots and music videos.
We took four and a half days, skipped over the channel to the South Island, and sunned ourselves in aptly named Golden Bay.  ('sunned' meaning subjected ourselves to small amounts of outdoor time after liberal application of sunscreen – the only person who got even a tiny bit burnt was me.  I forgot to put sunscreen on my part and my scalp got a bit pink and sore).
It was supposed to be a 'no internet' weekend, but some people just didn't get the 'no technology' memo:
Still, there were plenty of long walks down country roads in the middle of nowhere:
And lazy cup-of-tea mornings on porches overlooking the sea:
And visits to the beach:
Where we found sand graffiti of a rather uninspired nature, so we improved it.  We like squids.  Cephalopods rule.
We also  visited Te Waikoropupu (The Water of Dancing Sands) springs, which are the largest springs in the Southern Hemisphere, and have the clearest water in the world after that found under the Ross Ice Shelf in Antarctica (and since you aren't likely to get a chance to see that water, this is effectively the clearest).
The springs look shallow, but they are really incredibly deep.
They are also gobsmackingly, stunningly gorgeous, like so much of New Zealand, so I'm going to show you lots of pictures of the springs.
Also, there were baby duckies.  I like ducks.
Beautiful springs + baby duckies = happy Dreamstress
In addition to ducks, we saw coos (and ships!  But not the kind on the sea)
And we picked strawberries:
And I saw watermelons growing, which I've never seen before:
Speaking of new food-stuffs, I also tried a pickled egg.  I think this photo should give you a good idea of what I (and everyone else) thought of them: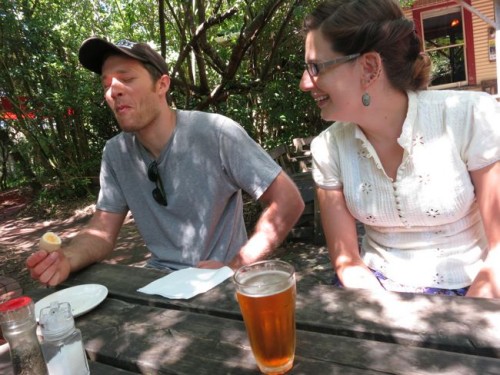 Much yummier were birthday barbecues cooked in an adorable little barbecue gazebo:
And Rosy Glow chocolates made in a rosy-glow house (seriously, that house is a chocolate shop too):
Good times were had by all.
It's a good thing we only wanted to relax though, because there weren't any jobs:
Ah, lovely times away with lovely friends.  Good to be home and back in the thick of things though!