I've been so busy teaching and writing lately that I haven't been taking any commissions, but when S. (remember her adorable yellow & nautical '30s playsuits?) contacted me asking if I would make her a couple of sundresses from '50s patterns in her collection, I just couldn't say no.
S. is such a delight to work with, and I love her aesthetic, and the sundresses promised to be a fun, easy project.
They were finished a couple of weeks ago, but I've been too busy to blog about them, and they are both primarily white, so while they are too late in date to qualify for the Historical Sew Fortnightly, the white fortnight seemed an appropriate time to show them off.
I love both dresses and keep going back and forth over which is my favourite.  Is it the all-white frock (how I do love a good all-white frock!) with red sash and ric-rac trim?
I mean, that stiff pleated skirt…the perky sash…
The sleeveless bodice with its 'necklace' of ric-rac…
It looks cute without the sash too!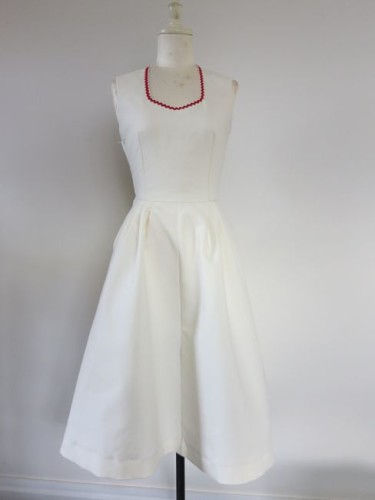 But the best part?  The hidden ric-rac hem!  Isn't it cute?  I do love a good bit of hidden colour, and a fun finish.
And as much as I love the red & white frock, I adore the second sundress, a belted affair in lavender and white.
Isn't the plain and patterned skirt divine?  I think its the cleverest thing ever and I'm going to use the technique to showcase some of my beautiful '50s fabrics that I haven't sewn up because I don't have enough to make a full dress.
And the ric-rac is just the perfect way to tie it all together.  I spent so much time finding ric-rac in the perfect shade of lavender for this dress!
So yes, fun, easy, very rewarding commission.  The only problem is that now I want to make exact replicas for me!
And for a fun update, here is S in her frocks enjoying an English summer: