As part of my Fortnight in 1916 project, one of my goals was to make a garment using period techniques and my Singer 27 machine, just as a woman would have done in 1916.
As you can see, I succeeded!  It was quite an interesting experience, and I did learn quite a bit about sewing in the period.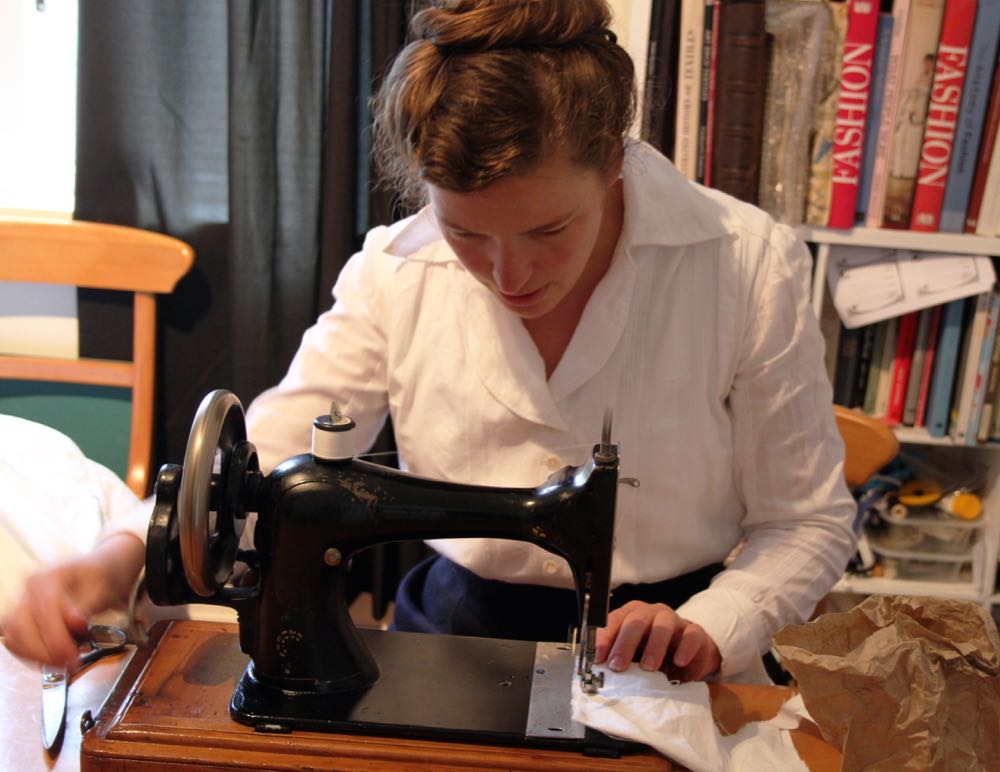 For the blouse pattern, I took a pattern from an original 1914-16 blouse in my collection:
When I purchased the original  blouse  it was unfinished – the vestee part in front was only loosely basted in, and there was no front fastenings.  I secured the vestee, and added hooks as a  less invasive alternative to  buttons and buttonholes.
I've worn it once, as it's extremely robust, and I really wanted to understand the fit.
As my original was unfinished, it made it easy to study the construction.  I'll do a full post on the original shortly, rather than focusing on that now, but will note  two  of the interesting clues that it did yield.  First,  it was made from a commercial pattern as there are tell-tale notch marks in the seams.  Second, it was also sewn on a vibrating shuttle machine, as you can tell from the way the stitches interlock.
So, my reproduction is  right on track as the type of thing a home sewer in 1916 would have made.
I simplified the pattern slightly from the original: omitting the front vest, which a common style seen in fashion plates and patterns in NZ in 1914-16.  Here, for example, is a dress pattern with an identical bodice.
I had intended to make a second version with front vest within the Fortnight, but one of the things that I found in the Fortnight was that everything too SO MUCH TIME, so unfortunately that didn't happen.
The original blouse is made from a midweight (heavier than a quilting cotton) cotton with a jacquard woven foliate pattern.  After searching, and searching, and failing to find anything even remotely similar, I settled on a check-and-seersucker cotton (from the glorious Lynne) that I already had in stash.  It's not completely accurate to the period, as I'm not familiar with any references to seersucker blouses in the 1910s, but it should at least sew and wear in a similar fashion to the original fabric.
So, the sewing!
Sewing on a hand-crank vibrating shuttle machine turned out to be much easier, more fun, and relaxing than I had anticipated.
It definitely helped that I am an experienced seamstress, so didn't have to struggle to control the fabric one-handed, but even with that aside, it wasn't hard to crank and sew at the same time.
There is a little bit of wibbling to the seams, and I had a bit of a problem with the thread getting soiled at first due to the recent oiling, despite all the practice fabric I ran through.
Things I learned about the sewing itself:
Vibrating shuttle mechanisms create a VERY strong interlock.  The stitching was extremely difficult to unpick.  It now makes sense why a garment would be completely hand-basted and checked for fit before you sew it together.
Normal vibrating shuttle stitches cannot be gathered without making the top tension very loose – and if you make it even the tiniest bit too loose you get horrid bobbles and knots on the bottom.  My original blouse was hand-gathered, which now makes sense, and is what I ended up doing.
It's very hard to maintain a 5/8″  (1.5cm") seam allowance, or even a 4/8″ on a hand crank, which explains why some of my 19th and early 20th century patterns have 3/8″ seam allowances on many seams.  The smaller seams aren't just to save fabric: they make sense with the machine.
As mentioned, I found the sewing to be easier than expected.  In fact, it was actually really fun, and relaxing.  The first week was quite hard, as sitting in my corset wasn't comfortable yet, but once I got used to that, I really enjoyed every aspect of being on the rotary machine.
Interestingly, I found it much easier to do small bits of sewing in around the rest of my task.  Waiting for a kettle to boil?  Sew two seams.  Have half an hour while the laundry soaks?  Set in the collar.
Partly because the garment lent itself so well to segmented sewing, and partly because there was no mental block of turning on a machine, I got a lot more done in small bits, whereas usually I struggle to get any sewing done unless I have at least an hour to work with.
While many period sewers must have tried to clear large spaces of time for sewing, especially for bigger projects like dresses, or if a sewing machine had to be gotten out and then put away, it also makes sense that a lot of sewing was done around all the other household tasks (so many household tasks…).
Confession time: I cheated on the buttonholes.  They were  done with a modern machine.  When I find fabric I'm really happy with, I'll hand sew them.
Sadly, the blouse turned out a size large  for me.  I was so paranoid about making it too snug, that I over-compensated.
Sewing on the Singer 27 is something from 1916 I intend to carry into my everyday life.  It's certainly not the machine for everything, but for anything within that period it makes an enjoyable difference to a modern machine, and does actually effect the finished result enough to be measurably different.
There are no photos of me in this blouse yet, but I'll be wearing it at Costume College, and will hopefully have some soon.
Oh, and it fits with the July HSF challenge!
What the item is:  a 1914-1916 blouse
The Challenge:  #7  Monochrome
Fabric/Materials:  1.5m of white  100% cotton  seersucker stripe (free!)
Pattern:  My own, based on an extant blouse (which was, itself, made from a commercial pattern, so somewhere out there is a pattern for my blouse), with alterations based on other garments and patterns.
Year:  1914-1916
Notions:  shell buttons, cotton thread.
How historically accurate is it?  The fabric, buttonholes and buttons are a bit iffy, but the pattern is perfect, and it's sewn on a period machine, so 80%  
Hours to complete:  About 6
First worn:  At least 3 times during my Fortnight in 1916.
Total cost:  Under $2 (unless I count the cost of the sewing machine or the original blouse 😉 )