I took a break from teaching and sewing and breaking my brain over the stays pattern to plant some trees today.
Tree planting has been on my to-do list all winter. It's a way to be literally hands-on helping the environment.
Tree planting in NZ is a winter event: you want to get them in the ground while there is plenty of water, and take advantage of the spring growth spurt to get them rooted in before the dry summer.
I missed the early winter events because of colds, but got in for the last of the planting today. There weren't as many planting events as I'd hoped in Wellington (I feel like we should be desperately planting trees in every possible space…maybe next year), but I found Conservation Volunteers New Zealand, and signed up for a planting.
Sixty willing volunteers showed up bright and early this morning at Tawatawa Reserve in Owhiro/Island Bay, bundled up in layers of wool and waterproof jackets, feet encased in proper shoes, and spades in hand.
We came from all walks of life: there were lonely solos like me, and couples doing it as a weekend activity, families with kids, church groups and school groups, people from Extinction Rebellion, and retirees who do this as a hobby (and had done it almost 40 times this winter alone!). All come together to create a bit of beauty and hope in an increasingly scary world.
After getting our initial briefing, we trotted into the reserve, uphill and down, until we arrived at our object: 1,000 natives, ngaio and wharariki, hebe and mānuka (possibly kānuka, but I'm pretty sure it was mānuka), karamu, tororaro and others, all ready for us to plant:
We had a mihi (introduction) and karakia (prayer), and then picked up as many plants as we could carry, and walked on to our planting site: a steep slope looking out over the island that gives Island Bay its name:
I was slightly worried about how chillblained my hands were going to get, as we're having one of the coldest snaps of winter, but blissfully, CV provided wonderfully warm gloves. (If you wear gloves and your me-made pants are silk and wool (even if they look like sweatpants) it qualifies as a Costumers for Climate Action event. Maybe next year I'll come in medieval gear and put them to the test as working clothes ;-))
Despite the cold, you stay quite warm scrambling around on a rough hillside, digging holes and planting trees!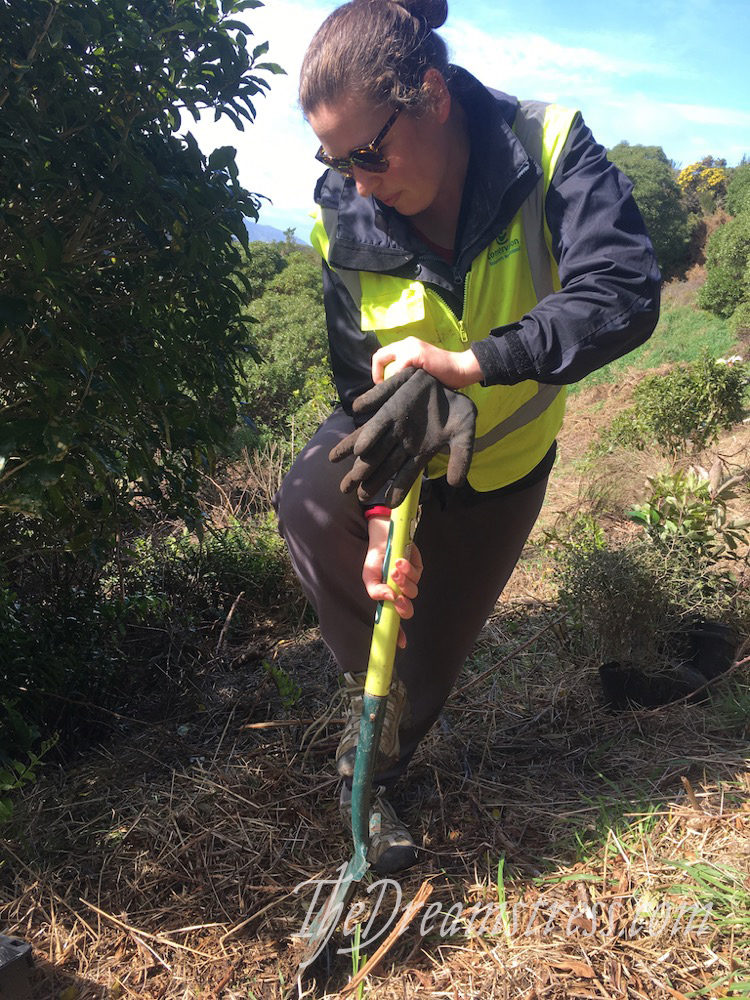 Not just trees though: we planted a wide variety of natives, to create a diverse forest that would support a host of birds and enhance the overall biodiversity of the area. The photos show me planting a wharariki, a mountain flax, which has flowers that a number of birds love.

I carried over 50 plants up the hill to the steepest spot (they asked who was a bit of a mountain goat and I thought, yep, that's me), planted 33 plants, and helped secure as many poorly-planted ones again. A days work well done! And a wonderful feeling, helping out, and watching a community come together.
It was amazing to stop on my trips up and down the hill, to watch the buzz of activity: everyone intent on their own small bit.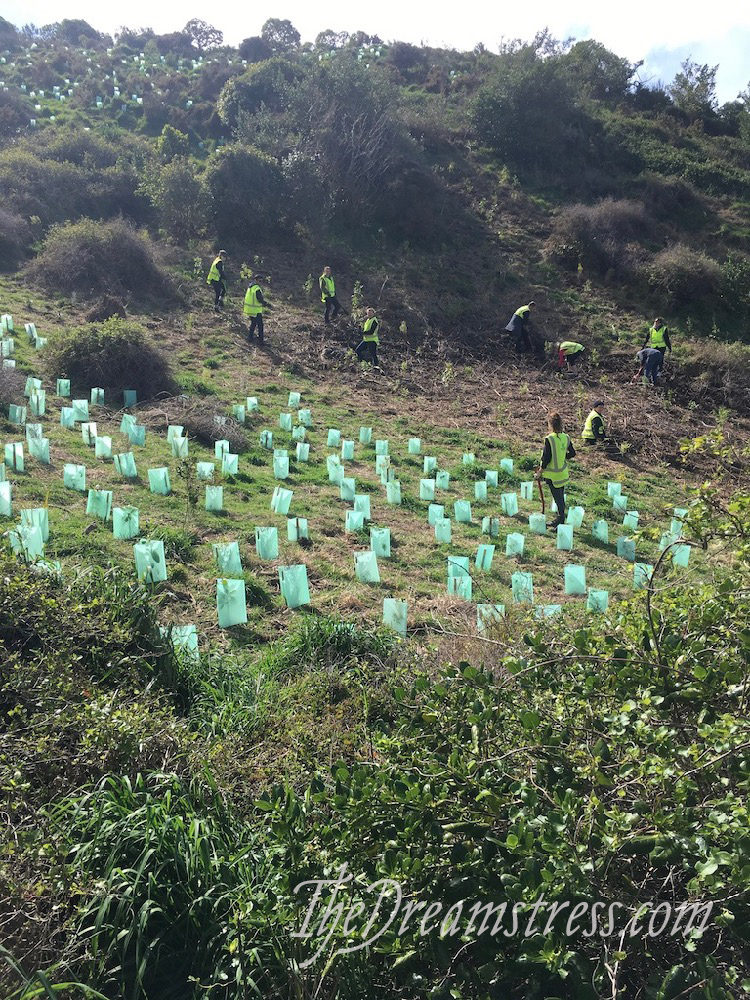 This was my last tree of the day: a lovely ngaio (very fitting for me!) that I carefully tucked in behind an established bush, to give it shelter from the wind while it gets its start in life.
And at the end of the day, as I was quality checking the planting, and securing in any that were a bit loose, a juvenile tūī showed up to check out the forest we were creating for his great-grandchicks, and tried out his song, in anticipation of the day when these hills will be full of it.