This week on Rate the Dress we're looking at a garment from the end of WWI, featuring a very modern application of a very old technique: embroidery.
Votes on last weeks dress fell into two camps. Camp #1 felt that the dress was the epitome of all that was best in 1780s fashion, and rated it 9-10. Camp #2 felt it was a little weird and unbalanced and basically hated the trim – but that it was still an OK dress, so you rated it 6-7.5.
The Total: 8.6 out of 10
And, as happens with two divided camps, a rating that reflects neither: there wasn't a single rating for 8 or 8.5! Yet here we are…
This week: a late 1910s dress with very modern embroidery
I've had this dress on my 'to-be-rated' list for a long time. This week seemed the perfect time to bring it out. One of the criticisms of last week's dress is that it was too old fashioned in its choice of fabric. This dress is very modern in cut, fabric, and embellishment.
The Goldstein Museum of Design dates this dress to 1915, but I don't think it's quite that forward thinking and revolutionary. I would date it to 1918-22. The slimmer skirt, very slightly dropped waist, short sleeves, and flat collar are all in keeping with a very late 'teens-early 20s date. The real giveaway is the tabard effect at the back of the dress.
This slightly odd variant trend was very a la mode 1918-22, and appeared both in caped variations at the back of the dress, as in this example, and as apron-like hangings at the front. Most fashion plates and patterns show the tabard worn under the belt or sash, so this loose variation is unusual – or styled incorrectly. It may be as fashion-forward as the rest of the dress, and anticipate the many cape effects seen in 20s fashions.
Speaking of fashion forward, let's talk about that embroidery! It's a very simple concept, used to great visual effect. Rectangles of satin stitch in black or ivory are interspersed with cutwork/broderie anglaise rectangles.
The resulting pattern is both a nod to the beading lace seen on so many pieces of Edwardian lingerie, and a extremely modern touch that evokes Cubist art and skyscrapers (and anticipates computer programmes).
Note the clever placement of the embroidery across the bodice: mirroring the hem decoration, and minimising the bust.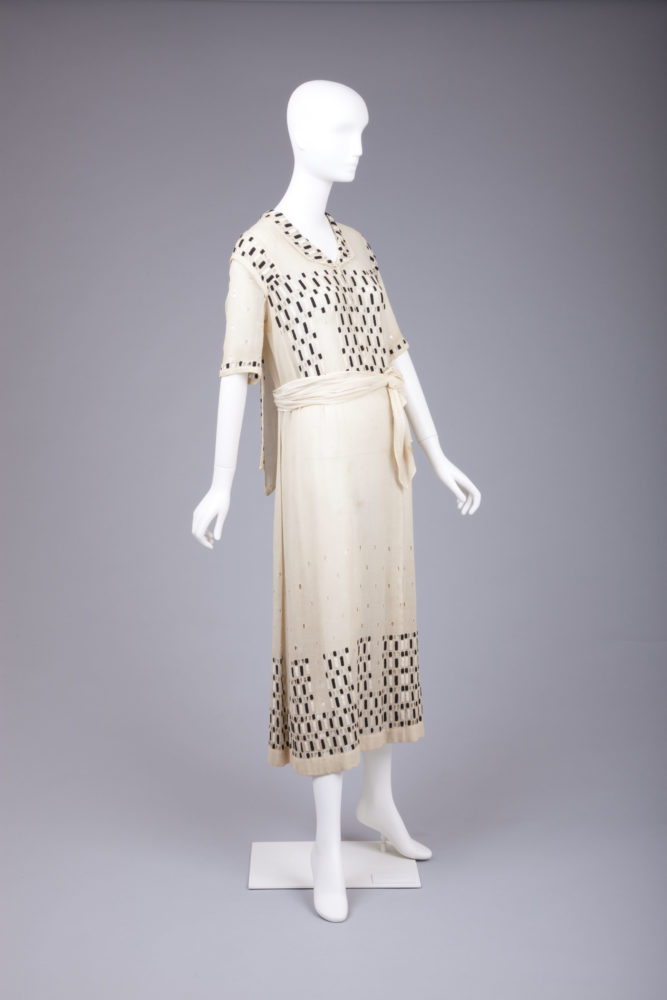 I don't feel that the display is quite doing the dress justice. The mannequin is a little too tall and long in the torso for the dress. It's also a garment that would be brought to life with the right accessories: it needs stockings and shoes, a hat and a parasol. They aren't exact duplicates, but here's some ideas of how the dress might have been styled in its time.
Note the wrapped sash on the white with blue, and the pink numbers, and the vest effect at the shoulders on the green plaid and blue dress with the poppy hat – elements you see in the dress we're looking at. The pale apricot dress has a tabard bodice.
Slim skirts and flat collars for summer 1918:
It may be 1919, but hems are still almost at the ankles, although short sleeves are in:
See the flat collars, and the slightly dropped waist, with sash effect on the red and white number:
What do you think? Is this fashion forward done right?
Rate the Dress on a Scale of 1 to 10
A reminder about rating — feel free to be critical if you don't like a thing, but make sure that your comments aren't actually insulting to those who do like a garment. Phrase criticism as your opinion, rather than a flat fact. Our different tastes are what make Rate the Dress so interesting. It's no fun when a comment implies that anyone who doesn't agree with it, or who would wear a garment, is totally lacking in taste.
As usual, nothing more complicated than a .5. I also hugely appreciate it if you only do one rating, and set it on a line at the very end of your comment.