After pulling apart and reworking the 1813 Kashmiri gown to considerable degrees, I'm now pleased to announce that it is finished!
Or within an hour of finished.  I still need to decide if I prefer the sleeve swags on the shoulder or dropped, and if I want trim on the shoulders as in my fashion plate, and if I want the button trim you can see in the plate where the bust meets the sleeve swags.
So what do you think?  Sleeve swags on the shoulders: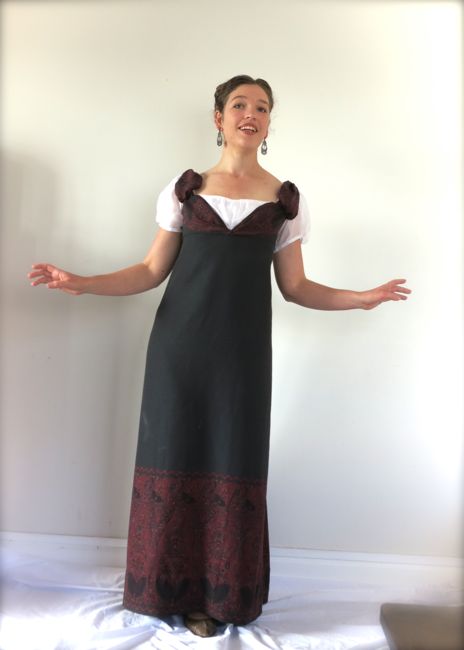 Or dropped:
I forgot to pin on the cameo brooch for the photos, so you'll just have to imagine it in and tell me if I should do gold clips or buttons or something at the join of bodice and sleeve swag.
And what about the ruffles/puffs you can see around the neckline in the fashion plate.  Should I have those?
The important thing though, is that the dress is done, and done properly, and that all the issues I had with it are fixed.  The back, while still low, is considerably higher, the centre back is level with the centre front, the hem is now even, the back pleats look spectacular (if I do say so myself), and the sleeves are working.
Most importantly, I actually like the dress!  It was an interesting excersize in balancing historical accuracy with modern availability and fashion plate fantasy with extant reality.
I know these photos are quite dark and soft-focus (it's been dark and rainy and really hard to get photos).  I'll post more detail images tomorrow and try  to do a proper photoshoot very soon.
Just the Facts Ma'am:
The Challenge:  Bi/Tri/Quadri/Quin/Sex/Septi/Octo/Nona/Centennial
Fabric:  2 1.5 metre lengths of wool twill with an early 19th century inspired paisley pattern, linen for bodice, silk for sleeve and bodice overlay.
Pattern:  Mainly the 1805-09 gown featured in Janet Arnold, with reference to other extent gown patterns from 1810-15
Year: 1813
Notions:  Thread, hooks for the back of the bodice, a cameo inspired brooch for the bodice front.
How historically accurate is it?:  I'd say 7/10. It's entirely hand sewn and constructed in a period-accurate fashion, but in an effort to balance the needs of the fabric and the effect of the fashion plate some of the details are not backed up by extant examples.
Hours to complete:  Somewhere around 40.  Way more than it should have taken!
First worn:    When mostly done for a photoshoot on Sat 12 Jan
Total cost:  I think I paid $25 for each of the panels, so $50 plus say $5 each for the bits of silk and linen I used = $60