After fixing up my Little Bit of Red dress in September, of course I had to actually wear it at Art Deco Weekend this year, despite a few moments of wailing "but I've already worn it…."
To doll it up a little, I added a quick, fun, embellished accessory, which is my 'easy' entry for the HSF Embellish challenge: a trimmed 1930s hat (I'm working on a more elaborate Embellish item too).
My hat started life as a woven fedora a bit like these.  I damped my hat, reshaped the crown and brim, and pinned up the back of the brim so the hat could fit down snuggly over my hair pinned up in a chignon.  Re-shaped, it looks like this:
Even a minimalist like myself thought that was a bit plain, so embellishment time.  I found some midnight blue and red velvet ribbon at an op shop, and had a bag of buttons on me.  A bit of winding, pleating, and sewing later, I had a trimmed hat.
Just what the hat and dress needed!
I like the trim, but I am in LOVE with the hat.  It went with all my dresses (you'll see it re-trimmed for two more), was super comfortable, stayed in place in the briskest wind Napier could offer, and the shape is perfect for the early 1930s.  I'm now on the hunt for similar hats to reshape
I had such fun wearing it!  (Oh, and check out Rach's dress, which she made in my Garden Party Frock class.)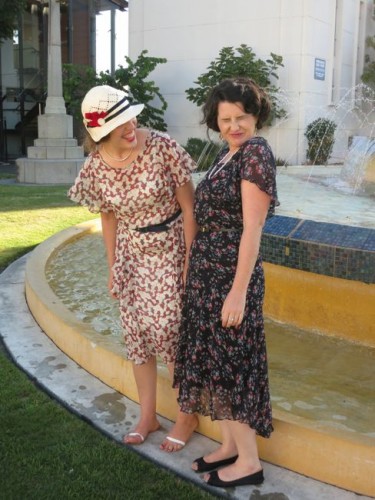 So yes, it's super simple, it took me barely any time, but sometimes a little bit of embellishment does make all the difference.  I think I'm going to call this the Little Bit of Ribbon hat.
The Challenge:  #4  Embellish
Fabric:  None
Pattern:  None
Year:  ca.  1932
Notions: 30cm red velvet ribbon, 1m blue velvet ribbon, both rayon, one button
How historically accurate is it?  At the best, plausible.  The hat shape is correct, the materials aren't, the trim materials are borderline.
Hours to complete:  1 hour (to reshape the hat), 5 minutes to trim.
First worn:  Sat 16 Feb at Napier's Art Deco Weekend
Total cost:  $1.50 for the ribbons, hat was a gift, button was inherited.