All around the Wellington coast the roads are spotted with penguin crossing signs.
No.  I'm not making that up.  We lived only a couple of hundred meters from one for years.
People told me about seeing them in the rocks, or (less ideally) having them nest under your house (apparently penguin intimacy is something you'd rather not experience at close quarters).
The penguins you get in Wellington are Little Blue Penguins, the tiniest species of penguin, and I was desperate to see one.  Sadly, in all the years I've been in Wellington, and for all our proximity to the signs, I'd never manage a glimpse. Finally, a couple of weekends ago, I managed to see a Little Blue Penguin.
It was sooooo cute!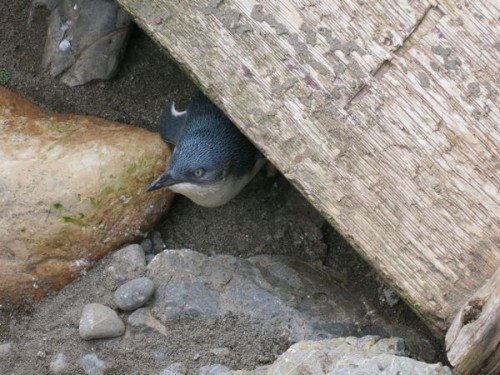 It saw me too.
Thought about it for a moment:
Yeah.  Nah.
Those people things aren't all they are cracked up to be.  I'm over this.
It was over me, but I wasn't over it.  It was adorable and I wanted to see it again!
I guess I'll have to go back to the zoo again soon 😉
In other blue news, you know  how blue jeans sometimes come with a label that says not to sit on light coloured furniture in them because you might stain the furniture blue? It turns out that if you have a light coloured cat and indigo dyed fabric, the inverse is also true.
It's strange, but pretty cute.
I might have to re-name her Blueberry, and then she and Walnut can get together and make muffins (sadly, despite their obviously superior sewing kitty genes, neither of them will be making kittens).
Luckily the vet wasn't too worried about it, though she did say we should avoid a repeat of the experience.
And it's fading, so soon enough Felicity will be back to her bright, white self.  At least this was much less painful and scary than her last bit of textile experimentation.
So, here is my public service announcement for the week:  Don't leave indigo dyed fabric where your cat can find it and sleep on it (and DON'T leave needles where your cat might eat them).