My tutorial on how to dye fabric shoes has been one of the most popular posts on this blog, and I thought another post on shoe care might be of use.
I recently acquired a pair of darling fabric shoes with fabric linings, but they were a bit grubby and needed cleaning.
They came with a little strap and bow detail, but I didn't like it and took it off.
Once I took it off you could really see how grubby the shoes were, and how desperately they needed a clean:
Clearly you can't put leather-lined shoes through the wash, as most tutorials say to do for fabric shoes (they shouldn't by the way, you should never wash any type of shoes in the washing machine as it will destroy the glue that attaches the sole to the fabric).
Here is how to clean fabric shoes properly and safely, whether they are leather lined, or just full fabric.
You will need:
Your fabric shoes – this method works best for flat fabric shoes, it is not recommended for velvet or brocade shoes.

Lukewarm water
A soft toothbrush
Delicate liquid laundry detergent (I'm using Earthwise fragrance-free delicate laundry detergent)
Paper towels
A bowl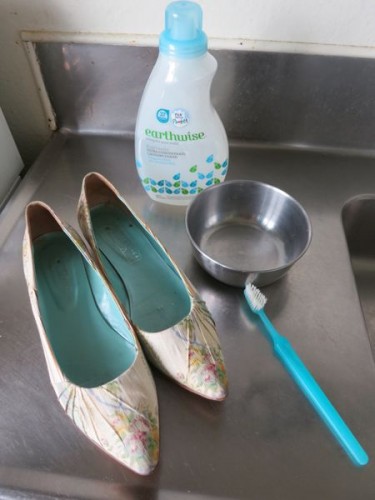 Fill your bowl with lukewarm water, and put a bit of laundry detergent straight on your toothbrush:
Swish your toothbrush around in your bowl of lukewarm water, until the laundry detergent is well dissolved in the water:
Shake most of the water off of your toothbrush.  You want to clean the shoes while keeping them as dry as possible, so it's important to get most of the water off of your toothbrush, so the shoe gets barely damp. With your damp toothbrush, scrub the soiled areas of your shoes, using back-and-forth strokes that follow the grainline of the fabric.  This will create a bit of sudsing on the surface of your shoe.
Brush and scrub the entire surface of your shoe, scrubbing most on any areas that are heavily soiled, and dipping your toothbrush back in the bowl to dampen it as needed.  Your shoes will get damp – you just want to use as little water as possible.
You can see that my shoes are looking cleaner already:
Once your shoes are thoroughly scrubbed and looking much cleaner, rinse your bowl and toothbrush, and re-fill the bowl with clean, non-soapy water.
Brush the toothbrush until it is barely, barely damp, and then, still brushing vertically, use it to brush from the back of the shoe toward the front with short, brisk strokes which brush any excess detergent off the shoe.  You can see all the spray that has flicked off of mine on to the sink:
Keep rinsing your toothbrush to get rid of excess detergent as you brush off the detergent, and then tapping it as dry as possible.
Once your shoes are fully brushed, pat and wipe them down inside and out with a paper towel to get rid of any extra dampness:
Then wad up a few pieces of paper towel, and use them to stuff the shoe to help it hold its shape, and to collect any extra moisture:
Then put your shoes to dry in a well ventilated area, away from direct heat and sun.
Once they are fully dry, you can appreciate how much cleaner and prettier they look!
I am  so  pleased with how much better my shoes look.  It's pretty subtle in photographs, but so obvious in person!
I hope this was helpful!  It certainly made a difference with mine.
Do come back tomorrow and see what else I am going to do to them to make them even more fabulous