I love Wellington: it is an amazing little city, with fascinating stuff happening all the time. The one thing that I really miss based on other cities I have lived in is a historical costuming community. I long for Tissot inspired picnics in the garden, and grand Victorian fancy dress balls, and scintillating18th  century French salons happening every other weekend. We have the occasional fantastic event, and I've organised a few myself, but there are only so many I can plan a year without completely wearing myself out.
It's getting better: there is a nascent steampunk community, and my classes are producing corseteers, and every time I go out in an outfit I meet someone new who is fascinated and has always wanted to wear hoopskirts and bustles, or who has already dabbled in making their own.
Really though, the things that keep me sane as a historical costumer in (relative) isolation are the online community, which keeps me connected and motiated, and having a delightful group of friends who are either interested in historical (and not quite as historical) costuming, or willing to indulge my interest in it!
Case in point: last Saturday the darling Madame O treated a group of us to afternoon tea at the Wellesley Club, and suggested that people dress up. No theme, just whatever struck your fancy!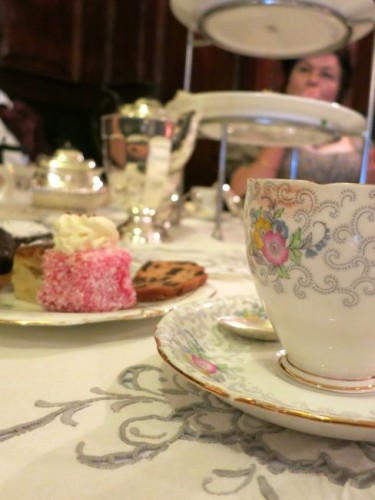 I'd hoped to debut Polly / Oliver, but I got it stuck in my head that the tea was on Sunday, and when it turned out to be on Saturday and I hadn't planned my time for that (and had an extra 5 hours of cornelli work to do on the skirt) so instead I threw a few random wardrobe pieces together to wear with the Chinoiserie skirt.
A knit merino top with a bit of lace tucked in the neckline and my Little Bit of Magic cape aren't quite circa 1903, but they looked very effective paired with the Chinoiserie skirt, and were perfect for sitting and sipping tea and eating profiteroles and cucumber sandwiches.
We giggled and chatted and discussing sewing and feminism and what one wore during that time of the month, historically speaking (jumping off from the discussion we've been having on the HSF facebook page), and the effectiveness of Regency stays, and deconstructed tea, and how much the taxidermied buffalo head on the wall of the Wellesley Club looks like Benedict Cumberbatch.
He totally does. We call him Benedict CumberBison.
After devouring all the sandwiches and lamingtons and tart au citron and getting refills of tea and milk we surveyed the devastation:
And took some photos:
I talked Sarah the Photographer into posing with CumberBison:
And my Muff 2.0 (actually, she did that all on her own!):
And documented Mrs C's fabulous reverse-applique mitts:
And (hurrah) Madame O was nice enough to indulge my vanity and take quite a few pictures of how pretty the chinoiserie skirt is. It is very pretty.
Even with the blob!