A month ago Sabine came out with Short Stays Studies 2.0, and a new short stays pattern based on a pair of wrapped short stays (corset a la paresseuse – corset for the lazy) she identified at Centraal Museum, Utrecht.   Cue massive excitement.
So much excitement, that the very day she published her research, I downloaded the pattern, scaled it up to my measurements based on her guidelines, and printed it out.  The pattern was very well drafted – super easy to scale up, and very easy to put together.
Then I did a quick toile, tried it on, and voilà   – super easy impressive uplift!
I made a few tiny changes to the pattern based on my toile – longer shoulder straps (not nearly long enough as it turned out), rounded edges to all the straps, and eyelets to lace through and fasten the front wrap, rather than a hook, so the stays would be more adjustable for size (Sabine even suggests that ties rather than hooks  may have been how the stays originally fastened).
With the toile sorted  I cut out the corset (with the lack of boning, these really were probably called corsets not stays) pieces – one layer in glazed cotton, one layer in midweight raime.  Gussets, side seams, eyelets, and then lots, and lots, and lots, and lots, and lots of binding.
They took way longer than expected, thanks to my flu and all that binding (why does sewing binding take so long?), so they were finished today – just in time for the Shape and Support HSF challenge.
Unfortunately, this is what they look like:
The falling off the shoulder isn't a pattern problem – everything falls off my shoulder – I have scoliosis and am seriously lopsided.  The bust though, that's an issue:
The bust, despite using the exact same gussets that worked so well in my toile, gapes terribly.
And it doesn't provide any real uplift.  My bust keeps trying to slip down, so the gussets sit halfway up the bust.  Ouch.
The back wrap looks great though, even in blurry, terrible, self-timer photos:
Other than the back though, not  a success.  So, grumpy, grumpy dreamstress.  I had a play to see if I could improve things (without having to take out and re-do the gussets).
First quick fix: I worked a second pair of lacing holes where the straps attach at the bust, so that the straps would be more secure, less likely to slip off my shoulders, and would provide more  lift for my bust:
Then I remembered that I'd fitted the toile over a modern singlet, not a chemise.  Would that make a difference?
As a matter of fact, yes!  Massive improvement.  Uplift, cleavage, high round bosom.  (Well, more  uplift, cleavage, and high round bosom than usual.  I don't have a lot to work with.)  Unfortunately, wearing the stays with a knit singlet certainly isn't period!  I shouldn't have cheated and fitted my toile over one.
I'm still not particularly impressed with how they fit my body though, and unfortunately they aren't very comfortable.  The straps dig into my shoulders, and the wrap gives me a backache.
I think these are a really interesting garment, but for me, they didn't work particularly well.
I could probably improve them a bit with pattern alterations, particularly to the gusset area, but some of the biggest problems are simply the result of my figure, and can't be corrected.  Anything that wraps that tightly  across my lower ribs is going to hurt and exacerbate my scoliosis.
The search for Regency corsets/stays  that are comfortable and provide me with the right shape continues.  Time to to try Sabine's other Regency Short Stays patterns, and some of the other Regency patterns out there!
They do look good laid flat though: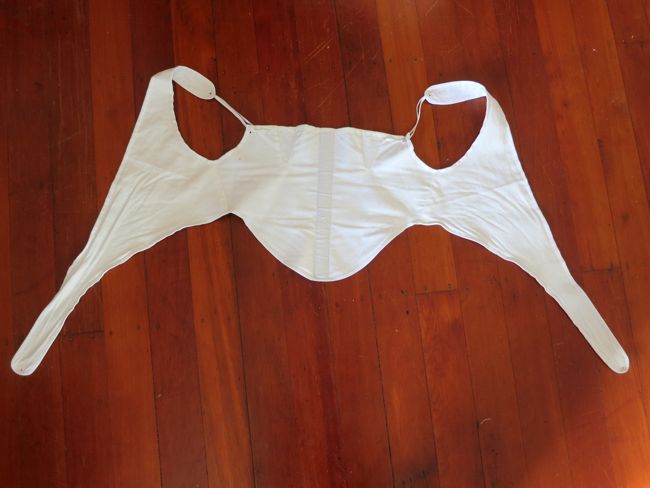 The Challenge:  #12  —  Shape & Support
Fabric: 1/2 metre polished cotton, 1/2 metre raime
Pattern:  Sabine of Kleidung um 1800s  corset a la Paresseuse pattern, based on an original at the Centraal Museum

Year:  1805-20
Notions:  Cotton twill tape in 3 sizes, linen and cotton thread, one wooden ruler.      
How historically accurate is it?   I followed the pattern very closely, but scaled it up to my measurements.  My materials are reasonably period accurate (though the ramie would have been nettle cloth), and they are entirely hand sewn.  My alterations are all in line with what might have been done in period (and Sabine even mentions that the corset may have originally tied, not hooked).  So 90%
Hours to complete:  9 hours
First worn:  For photos.  Unless I find a model that fits it better than I, it's unlikely to see much use, because backache: Owww!
Thank you so much Sabine for the pattern and research!  I'm gutted that my version isn't really working on me, but enjoyed making them and the hand-on research  nonetheless.