For my Historical Sew Fortnightly 'The Politics of Fashion' challenge I present a carry-on from my Art submissions.  I've knocked off another little bit of Manet's Nana's outfit by making high heeled  1877 evening shoes.
Like Nana's shoes, mine feature very high Louis heels, a black velvet or suede ground (mine are faux suede), and gold decorations on the toes  – I went for gold lace with gold beading.
I made my shoes by taking a pair of 1990s shoes that had the right basic silhouette, and (most importantly) the right heel: a high Louis heel.
Unfortunately, they were cut far too high in the foot, so I had to cut them down.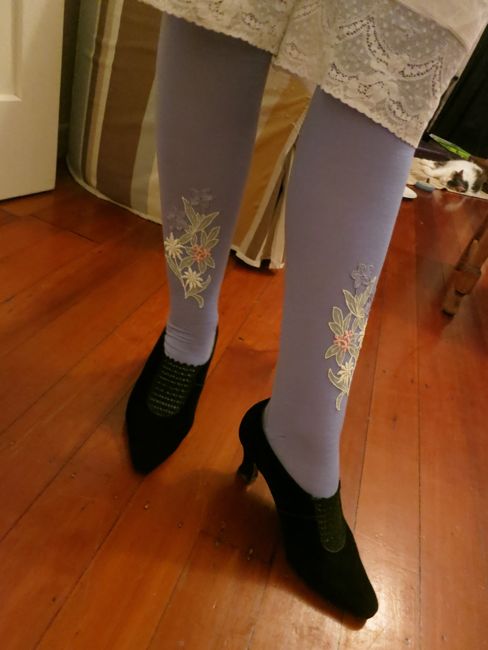 Then I bound the edges (an endeavor that required pliers to pull the needles through, bent one and broke two) where I had cut them.
Next, it was time for the lace.  Unfortunately, I didn't have any suitable gold lace in the stash because I de-stashed my 1990s gold bridal lace bits because (duh) they were 1990s gold bridal lace bits, and when was I ever going to find a reason to use them?  (for this, apparently).  So I had to make-do.  I rummaged around in my lace, and found these cute handkerchief corner pieces:
As you have noticed, they are white.  So, trusty Elmer's metallic opaque paint markers in gold to the rescue.  FOUR HOURS of painstakingly painting bits of lace gold later (at hour two and a half I realised I could have just spent 10 minutes popping to the hardware store and buying gold spray paint, and then another 10 spraying them (Plus the flattering bonus that I still get carded when I buy spray paint) and I would have got the same result), I had beautiful gold lace – much more restrained and antique than the disdained  90s lace would have been.
Then I sewed the lace to the shoes (more pliers, but I managed not to break any needles), layering two handkerchief corners over each other on each shoe.
Then I beaded (pliers), using antique gold beads, half of which wouldn't go through any needle that was remotely strong enough to go through the shoes, because that's the kind of project this was.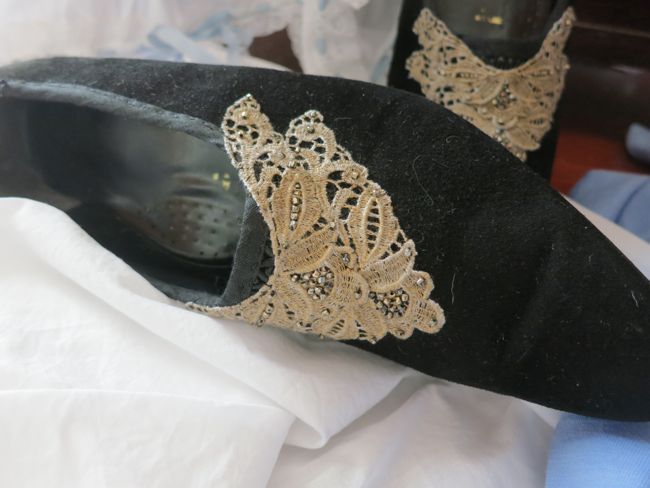 But don't they look pretty?
So how are my shoes related to politics?  It's all about the heels: Louis heels.
A Louis heel is a moderately high heel (short Louis heels are called baby Louis heels, though this term wasn't used until at least the 1950s) that curves in at the midpoint of the heel, and flares out again at the heel tip.  The sole of a Louis heeled shoe extends down the front breast of the heel, rather than stopping where the heel meets the sole, as in other heel styles.
Here is a pair of 1870s-80s shoes with Louis heels:
And a pair without:
A distinction is sometimes made between the construction of the Louis heel, with the extended sole, and the style of a Louis heel, with the curved silhouette.  If you wish to make a distinction between the construction and the style, the former is called a Louis heel, and the latter a Louis XV heel/shoe, or a Pompadour heel/shoe.
Louis heels are clearly named after a French monarch, but which one is not clear.  A number of modern sources point to Louis XIV – the Sun King.  After all, he famously engaged in a battle with his brother for who could wear the higher, more extravagant shoe, he even more famously instituted the tradition of red high heeled shoes that only those with royal dispensation  could wear, and finally, he was the patron of the first shoe superstar: Nicolas Lestage.  The Sun King loved his shoes, and dozens of portraits show his showing off his elegant calves and fancy footwear.  However, these portraits clearly show that Louis XIV wasn't wearing Louis heels:
Even for women, Louis heels only come into fashion in the last decades of his reign.