This winter I picked up an early 1920s 'Bestway' Initial Transfer catalogue.  All the transfers are long since gone, but I wanted it for the delicious illustrations anyway!  And it's a great piece of social history: the presentation of the models; the comparisons between 'ideal' drawings, and the reality of humans; the use of exoticism in setting the scene for the undergarments; and simple the changing vocabulary.
Here are the bits from the catalogue that focus on undergarments.  I'll post the initialed sportswear separately.  Enjoy!
Like the lovely lady on the cover, lifting her slip to show her embroidered drawers (and a rather fabulous, if quite large, pair of shoes!)
Or the pages with all the different styles of initials, and instructions on working them up.  Obviously I'm most taken with the second one down from the top right corner!
Though the dove holding an initial, and the nickname topped with a bow are very  sweet indeed:
One thing that caught my attention immediately was how not-perfect many of their examples are.  I feel so much better about my embroidery skills looking at them!
There are also illustrations of all the way the monograms may be applied.
I think this slip, very simple in cut, but for the vandyked hem, is just fabulous:
And this is a great look at a bob.  Not so sure about that slip.  The side gathers are a bit odd….

And here is a close up of that initial frame I love so much!  Kitty even has a properly fluffy tail, and long, long whiskers!
These cami-knickers are just divine, though having a circular monogram, 'specially pleasing' or not, on both  busts is rather pushing the point a bit!

It's interesting that the terms used throughout the magazine are 'underwear', undies', 'knickers' and 'cami-knickers'.  Chemise and petticoat are still used, but gone are the days of 'drawers'.
I really like this extremely severe pair of top and knickers.  And I LOVE her headpiece!  And her mules!  And her cushion, which inadvertently looks like a really awesome Colossal Squid.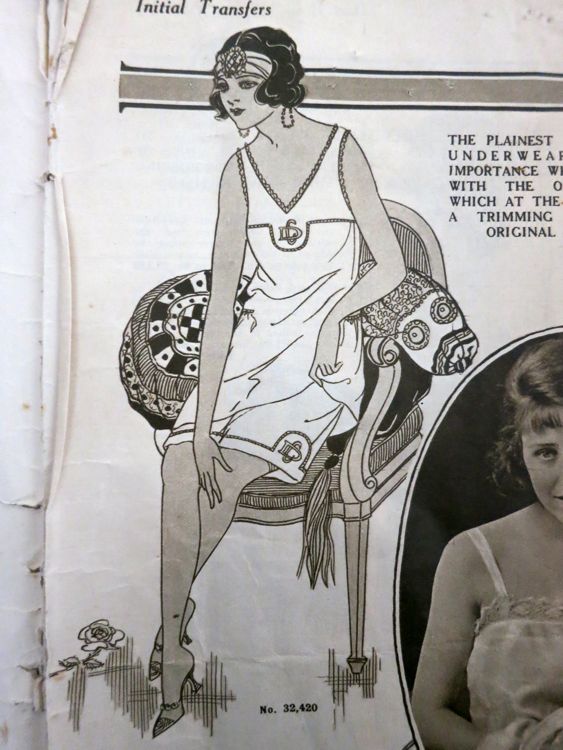 The oriental influence of  Poiret and the Ballet Russes is really clear in the illustrations.  And, of course, anything 'exotic' makes even the simplest undergarments titillating.

Interesting to compare the difference between the illustrated bobs and bodies, and the reality on a model: