I really wanted to post something today, but wasn't sure what.  When in doubt, what could be better than costume deliciousness?
Two months ago (has it been two months already!) I shared with you the first piece of Karen's gift.
If anything, I love this piece even more, though it's hard to pick between two such glorious items!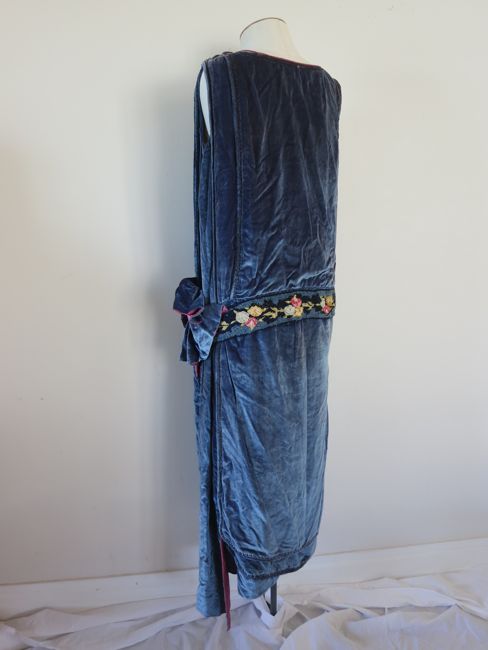 This velvet dress dates from the mid 20s, and bears a label with the name Mrs Marina Downing, 22 East Sixty-Fifth St, New York.  Presumably Mrs Downing was the dressmaker.
The dress is primarily in petrol blue silk velvet (be still my heart!) with flashes of cerise pink silk satin around the neck and in the hip trim.
How fabulous!
There is simple metallic embroidery around the neck, down the left side, and around the hem.  It's just another touch of detail and handiwork  on the frock, and lends a nice shock of coarseness and permanency to a garment that could otherwise look too sweet and delicate.  It's like an amuse bouche for the dress.
The dropped waist is highlighted with a wide beaded band with little ribbonwork pansies
There is also another bunch of ribbon flowers sewn to the skirt, but the workmanship is very inferior, and the placement quite random, so I suspect it was a later addition to hide a spot or hole (which you can possibly see in the twist of the stem)
The asymmetry of the dress is further highlighted with rows of piping down the proper left side, with the same subtle metallic embroidery that highlights the neckline and the layers of hem.
The dress fastening is hidden under the left-side piping.  You unhook the shoulder:
And open up the side, revealing the lining of ivory silk tissue and silk crepe de chine, and the support layers of silk net:
A wide band of silk petersham (with the dressmakers label) fastens around the hips, supporting the weight of the skirt.  It's covered by the lining, fastening with domes (snaps).
Then the hip swag wraps over it all, and fastens with more domes, further disguising the closure from the outside.
It's a classic example of the subtle, hidden closures that were used high-end clothes in the first quarter of the 20th century, before zip fastenings became common.
The whole dress just makes my heart happy, both from an aesthetic viewpoint, and from a dressmaker and historian viewpoint.  Such exquisite workmanship!  So many well-thought out details!  And those colours!