Despite being a self-confessed magpie, I've gone for something quite subtle for the 'All that Glitters' HSF challenge: a pair of bodies (Elizabethan stays/corset) in gilt linen.
The linen is the same fabric that I used for my 1770s silver linen stays, because I have a LOT of that linen, and couldn't find a single other piece of fabric in stash that said 'make me into a pair of bodies'.  Sometimes you just have to listen to the fabric.  So now I own two historical corsets in gilt linen.
Gilt linen is a slightly dubious fabric choice for a  16th c.  pair of bodies, but I've made these as a very nice working toile (I've even, gasp.shock.horror, used metal grommets for the back lacing), so I'm OK with a bit of inaccuracy.  And they do look rather smashing in it!
When I tried the mostly-completed pair of bodies on I realised that 1) I actually really love them (I had extreme doubts about Elizabethan fashion in the first place, and the un-boned bust sections of these stays in particular), and 2) they look like something that would have been worn as part of an Elizabethan masquerade costume for Hippolyta, Queen of the Amazons.
Golden (well, gilt) girdle?  Yep.  Armor like?  That too.  Suggestion of bound/removed breasts?  Check.  Now I just need a really awesome bow & arrow and an Elizabethan masquerade to go to!
The unboned bust sections that I was so dubious about are fantastic.  They make the bodies  so much more comfortable than a fully boned pair would be, and provide uplift without squashing my modest bust into oblivion.
The bodies have a vintage Japanese wooden ruler as a busk, and are primarily boned with cable ties.
Cable ties are cheap, accessible, one of the best modern approximation of  whalebone, and (most importantly) I already  had a couple hundred in stash from a bulk-buy a few years back, and sewing from stash is definitely a consideration at the moment.  When I make a 'real' pair of bodies that is fully hand-sewn in perfectly period fabrics I'll try  reed with this pattern.  Arnold indicates that the originals were boned in whalebone.
And hand-sew my eyelets, though Arnold notes that the lacing holes on Dorothea's bodies are strengthened with metal washers.  Maybe I'll oversew my eyelets with thread.  (Bonus: can you see where I gave up on lacing myself and got Mr D to finish the lacing?  Seriously.)
In Mr D's defense, he did happily take photos of me in the bodies over a shift, over my Mariana Victoria skirt (yay!  It's been worn!), and with my farthingale.
It looks quite festive with the farthingale.  Like I'm dressed up as an Elizabethan Christmas tree.
A bit of a comedown from Queen of the Amazons though!
The pattern is almost entirely Pfalzgrafen Dorothea Sabina's 1598 pair of bodies as diagramed in Janet Arnold's Patterns of Fashion 1560-1620, but when I got to the finishing the very last bit (the waist tabs) I checked  The Tudor Tailor's version of the pattern to see how they did it, and realised that Arnold gives 3 tabs (small, medium and large) per side for the pattern, and TT gives four identical tabs.  I suspect that Arnold's version is more accurate to the original, but went with the TT four tabs anyway, because it worked out better on my body proportions.
The Challenge: #24  All that Glitters
Fabric:  1m of gilt linen ($9), 1m of white linen ($2, thrifted), 1m of brown linen ($2, Fabric-a-Brac)
Pattern:  Pfalzgrafen Dorothea Sabina's pair of bodies as diagramed in Janet Arnold's Patterns of Fashion 1560-1620, with slight reference to The Tudor Tailors version of the pattern.
Year:  1590s
Notions:  cotton thread, cable ties ($12) and metal boning ($5), metal grommets ($5), cotton lacing ($4).
How historically accurate is it?:  The fabric is questionable (similar-ish fabrics did exist, but probably were not used for pair of bodies), and I've combined machine and hand sewing, and used metal grommets (plus cable ties, but obviously we can't get whalebone today).  Maybe 60%
Hours to complete:  At least 12.  Even with machine sewing shortcuts, there is a lot of handsewing in these.  I've been plugging away at them since mid November.
First worn:  Wed Dec 3, without waist tabs,  to demonstrate Elizabethan underclothes to a bunch of Year 9 (US 8th graders), and then again on Jan 1st for the photoshoot, properly finished.
Total cost:  NZ$40 or thereabouts.
And, how could I do a post without including Felicity?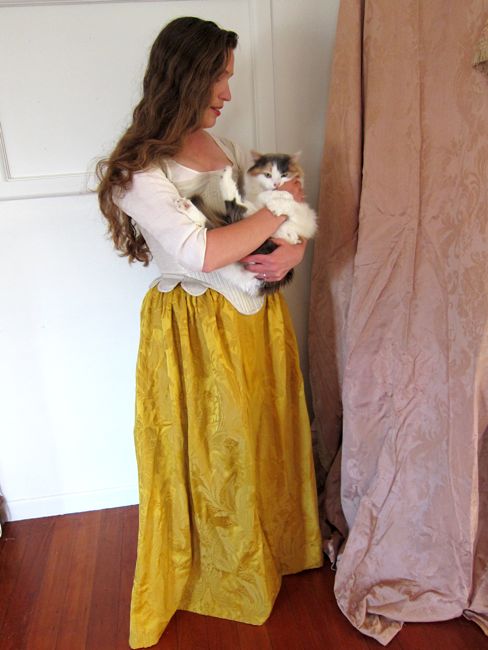 According to her fluffiness, I'd better figure out how, because she objected to this photoshoot by the simple but expedient method of attempting to chew my hand off until I put her down!