I have made lots of versions of the Henrietta Maria: linen dresses that I put on every day in the high heat of February, crepe tops that are my go-to pairing with jeans, and pretty chiffon frocks for looking summer dressy.  But this particular version may be my favourite.
It's the Henrietta Maria dress in black wool-viscose crepe, with a bit of extra length to the hem, and slightly bigger tucks in the sleeve hems, so that I can push the hems up over my elbows and they will stay.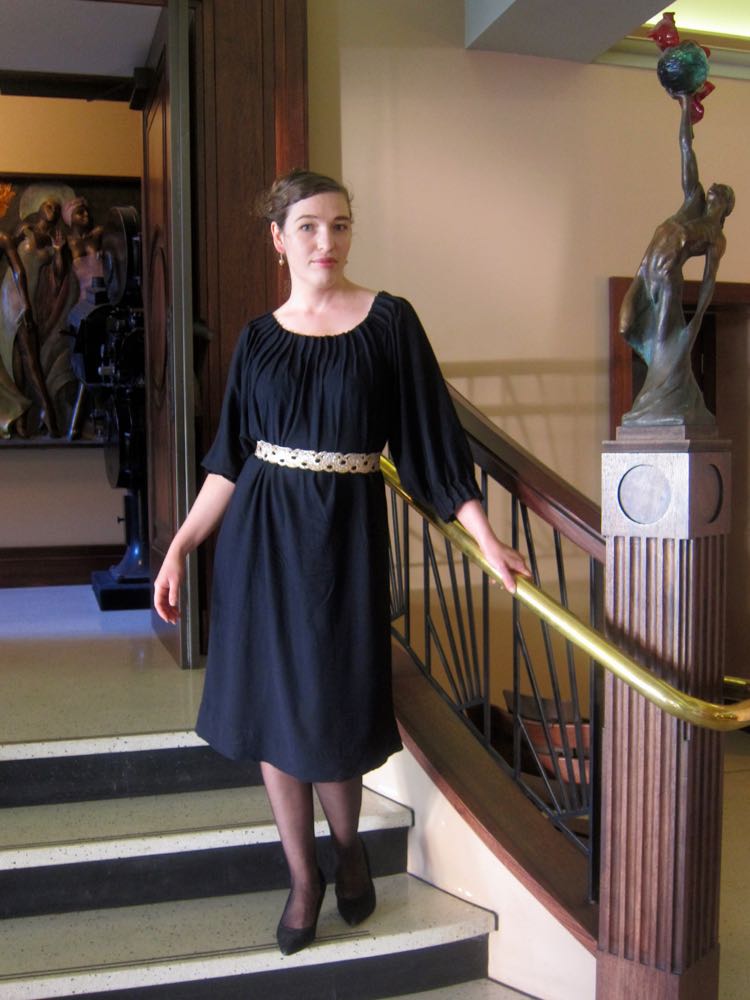 I actually finished it in December, at the start of the 'get Henrietta Maria perfectly pattern-ready' marathon, and it's done its fair share of wardrobe duties since then.
I've worn it with a narrow black or brown leather belt to business meetings, and with black satin sashes to anniversary dinners with Mr D.  It glams up for cocktail parties with a sparkly gold belt (shown above), and lends an air of artsy sophistication for public speaking with a velvet sash.
It's the perfect little black dress for days when I  want to feel  elegant and attractive but don't want to have to worry about wearing fussy undergarments or whether my stomach is showing.  So, basically, it's the best dress ever.
Despite the amount of wear it's had, I've never managed to photograph this version.  To show it off, Emily of EverSoScrumptious and I headed to the Roxy Cinema – Wellington's Art Deco-meets-modern-glam-with-a-quirky-twist theatre.  What better place to showcase a Scroop dress?
A glass of celebrator ginger beer made taking photos  just that bit more glam and fun – and at the end of it I wasn't even in a hurry to get changed back into something more comfortable – because I already was.  Hurrah!
Thanks Emily, and thanks to the Roxy for kindly allowing us to take photos.
And, of course, if you want to make your own version you can get the pattern at Scroop Patterns!