It's been a long, long time since I've done a 'Textiles on Thursday' post and shown you a textile from my collection, so it's time to remedy that.
For today, a fun, simple piece: an early  1920s brassiere / camisole:
The brassiere is made of silk moire-taffeta with a jacquard woven pattern of morning glories.
It's trimmed with  a wide lace border at the top edge, which has been scooped  down and hemmed  under the arms:
There are  vertical lines of lace over the front bust:
And edging of beading at top and bottom.  Originally it would have had narrow silk ribbon running through the beading, to gather the brassiere in above and below the bust:
The brassiere was held up by silk ribbon straps, with jacquard-woven patterns of harebells (one hopes that this is well after Victorian flower symbolism has been well left behind: otherwise this is a most un-promising garment, with morning glories for love in vain, and harebells for grief!)
It measures 10″ deep at the centre front and back (8″ + a 1″ wide lace at top and bottom), dipping to 8″ under the arms, and 43″ inches around (44″ flat, with a 1″ overlap at CF).  Based on  the amount of gathering possible with the lace beading, and where the straps are set around the diameter, it was meant to be worn by someone with at least a 40″ bust circumference.
The ribbon for the straps is 2″ wide, and 10.5″ long, from attachment point to attachment point.  There is 10″ between the straps (so 12″ from the midpoint of the strap) at CB, and 9.5″ at CF.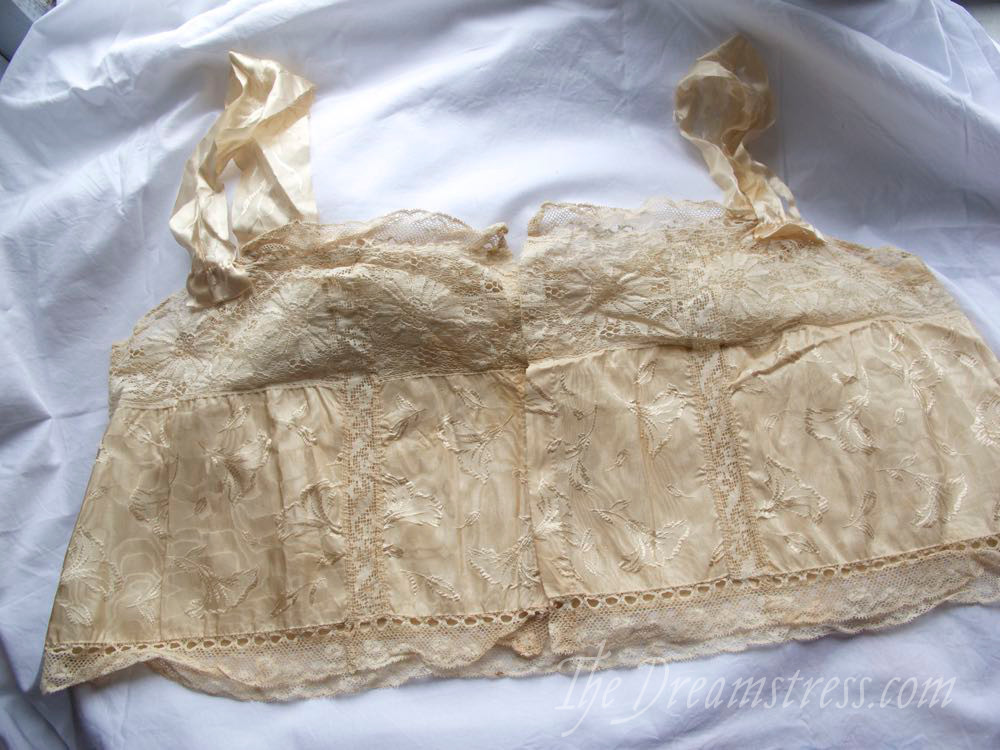 It is entirely hand-sewn, with a combination of running stitches, running back-stitches, and tiny whip stitches:
Sewing machines had been in common use for over half a century by the time this brassiere was made, and the woman who made this may have had one.   Despite the availability of machines, until at least the 1930s, certain items, such as very delicate lingerie and elaborate baby clothes, were still almost always hand-sewn.  This was in part because almost all the stitching used in an item like this brassiere  would be hard to replicate on a home sewing machine of the 1920s, and the item was so small it would be just as fast to hand sew as to machine stitch.  It was also  because the ready availability of machines gave hand-sewing a certain cachet, making it more likely to be seen on special, ceremonial items, like christening gowns and wedding lingerie.  Period writings also indicate that hand-sewing was seen as pure: appropriate for babies and brides.  In Anne's House of Dreams, in preparation for her first baby Anne and her friends all make items for the expected arrival "every stitch…handwork" and "desecrated by no touch of machinery".
The brassiere has clearly been worn: there is sweat staining evident under the arms:
However, there is no visible mode of closing the centre front, except for tying the ribbons together, and no signs that it was pinned or basted closed:
It's a lovely little item: a wonderful example of how beautifully made so many vintage textiles are, and how a small scrap of really gorgeous fabric can become something wearable, and amazing.