I was very excited when the intro guide to our cottage for our Sew & Eat Historical Retreat said that we could put all the food scraps in a bin for the pigs. I'm always a fan of anything that keeps food out of the rubbish (food waste is a huge contributor to climate change – food rotting without air creates carbon).
I was even more excited when we arrived, and it turned out that the pigs were pet kunekune pigs, not farm porkers destined for the slaughterhouse. And we could feed them and pet them!
Happiness!
Kunekune pigs are descended from domestic pigs that were brought to New Zealand from Asia by whalers or traders in the early 19th century. They are now a unique breed of their own, from isolation, or crossbreeding, or because the breeds they descended from have since gone extinct (as has happened with so many breeds of domestic farm animals in the last 200 years).
Kune means plump in te reo Māori, and when you double up a word in Māori, it doubles the meaning, so kunekune means really plump – fat and round and roly-poly. And that's definitely what kunekune pigs are!
In addition to being adorably round, kunekune have thick bristle coats, little dangly wattles hanging from their lower jaw, the sweetest smiles, and absolutely adorable personalities. They are particularly sweet, chilled, friendly, pigs. They make fabulous pets, but don't make particularly good eating pigs.
They are quite small as a pig breed goes (topping out at 200kg compared to the 400kg that many farm breeds reach), and take a long time to come to their full size (2-3 years, compared to 6-12 months). In modern farming the goal is to get your animal as big as possible as fast as possible. Kunekunes fail this test in every way – which almost led to the total disappearance of the breed.
As farmers focused on better yields in the post WWII era, and traditional Māori farming became less and less common, kunekune pigs fell out of favour. By the late 1970s they were almost extinct, with as few as 50 left. A couple of conservationists, including the man behind Staglands here in Wellington, noticed that the breed was at risk, and gathered all the purebreeds they could find, and rescued the breed.
They were much luckier than many breeds: dozens of varieties of pigs across Europe (and I think, Asia, though there is less information on that) disappeared in the 2nd half of the 20th century, as farming became standardised and farmers focused on ultimate yields and animals that could withstand large scale industrial farming operations, rather than animals bred for the specific weather and land conditions of their area. The same thing happened to huge amounts of plant and animal varieties, severely impacting the diversity of agricultural varieties.
Today kunekune pigs are super popular as pets on farms and lifestyle blocks, both here in NZ and overseas. I met my first kunekunes when I was first in NZ as a student. We stayed at a backpackers in the Far North that had a litter of piglets during the term break. Pretty much the cutest thing you've ever seen!
Fully grown kunekune aren't quite as cute, but they are still pretty wonderful. The two on our farm were named Bert & Ernie. They had a huge lovely lush paddock to root around in (kunekune are possible the only true grazing pigs that can survive on grass alone, like a sheep or cow), trees and a barn to shelter in, and were pretty much pigs in clover.
Despite all the grass, they were delighted to be fed additional treats, running across the paddock to their trough if you beat on the food bucket.
We fed them at the start of one walk, and left the bucket hanging on a holly tree.
We came back to get it later in the day, and Miss Priscilla decided she wanted to see the piggies again. So she beat on the bucket, and the boys rushed out of the barn and across the paddock, eager for another round of goodies.
(just look at that happy piggieface, sure it's about to get a treat!)
But of course, there were no treats, just an empty bucket!
And some sad, sad piggies…
(just look at that disappointed face, wondering where its treat is!)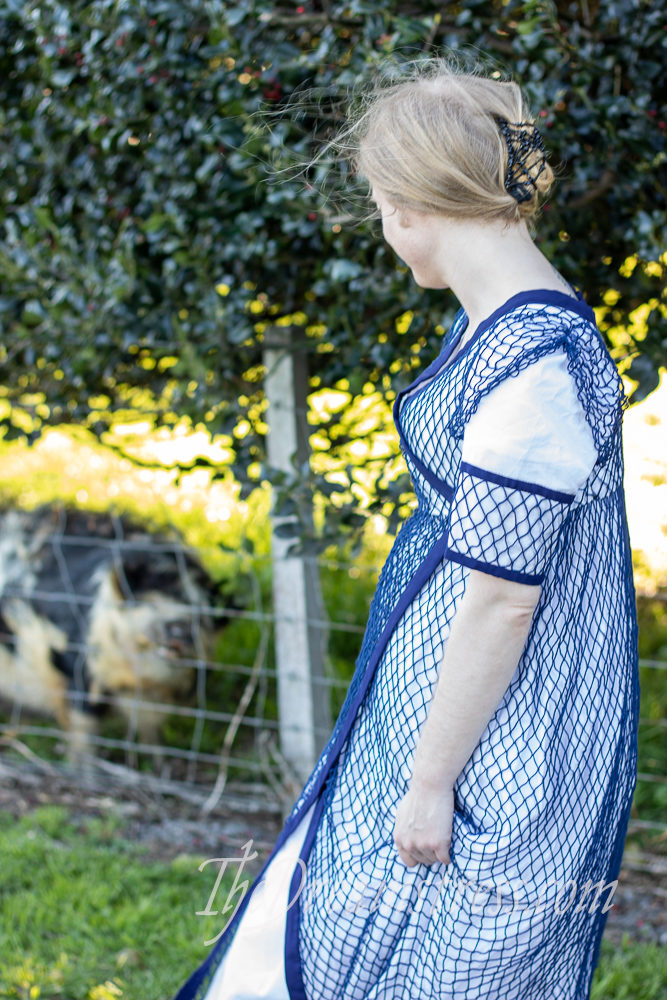 So after teasing Priscilla mercilessly for being horrible and deceitful, we had to go back to the cottage and cut up a couple of apples for Bert and Ernie, and then trot back up the lane and feed them so they wouldn't think we were awful and untrustworthy…
And then we got to feed them properly, and I got to give them scratchies and snuggles.
Spending time with a pig breed that has been in NZ since the (late) Regency era while wearing Regency clothes seems quite appropriate, even if the fashions and the pigs never interacted in their own time.
Also, the piggies were just so cute and lovely!
Happy piggies, happy me!