Yellow is the colour I reach for when I want to be happy, but green is my go-to for calmness and de-stressing. It's been a crazy couple of weeks in my life. Some of it has been good stress, with fun adventures, and the start of the new school year at Toi Whakaari the New Zealand Drama School. There's also been some less happy stress, with a spike in my ever-present-but-mostly-under-control-most-of-the-time-climate-anxiety, and worries about the coronavirus (people I know who are in the know are very worried, and that's even more worrying…).
So this week I want to be calm. And while some think historical fashion is frivolous, I'd strongly argue against that. Clothes are a universal need that links almost everyone on the planet. What we wore tells us a lot about where we've come from as a society, and where we can learn from that. And looking at old garments is a very low climate impact way to de-stress! So here's to pretty (or not – that's what RTD is all about!) frocks. This week in 'de-stress green' (at least for me – maybe green is your stress colour, like mine is purple. For your sake I hope not)
It's a good thing I wasn't aiming to de-stress you with last week's pick, because that's the opposite of the effect the dress had on most of you. A few of you really liked it, but most of you thought the tasselled skirt was a terrible decision that had nothing to do with the bodice.
The Total: 6.3 out of 10
Not great, but I'm sure the dress can just shake, shake, shake it off!
This week: 1780s pick ups and pleats
This week's pick is a late 18th century concoction in palest mint green.
When this dress was sold by Kerry Taylor Auctions it was identified as a Robe a La Circassienne, based on the similarity of the skirt to a fashion plate of a Circassienne.
However, while it's not entirely clear what 18th c fashion writers meant by a 'circassienne', fashion plates described as 'circassienne' all appear to show garments that have the same general shape as this one, but with more elaborate 'Orientalist' trimmings, with fur or tassels. You can read more about them here (sadly, the images no longer appear to be working).
So this dress is one of the many late 18th century dresses that doesn't fit perfectly into a category.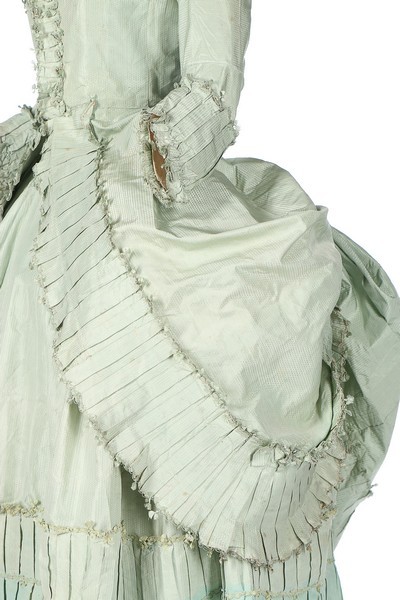 So what do you think? Does it make you as happy as a perfect scoop of peppermint icecream, or does it leave you a little cold?
Rate the Dress on a Scale of 1 to 10
A reminder about rating — feel free to be critical if you don't like a thing, but make sure that your comments aren't actually insulting to those who do like a garment. Phrase criticism as your opinion, rather than a flat fact. Our different tastes are what make Rate the Dress so interesting. It's no fun when a comment implies that anyone who doesn't agree with it, or who would wear a garment, is totally lacking in taste.
(as usual, nothing more complicated than a .5. I also hugely appreciate it if you only do one rating, and set it on a line at the very end of your comment