The Idea and Inspiration: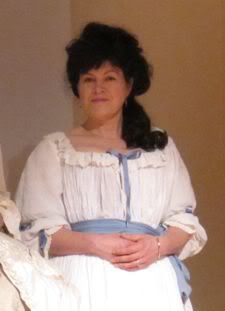 A fully gathered, simple cotton chemise a la reine, based on French styles in the 1780s.
I used a number of extent sources for the trimmings of the dress, most notably Vigee-Lebrun's paintings of women of the French court in chemise a la reines.
Fabric and Materials:
Light cotton gauze with a very soft hand, tea-dyed to mute the original bright white colour.
Sash of recycled silk kimono crepe, trimmings of synthetic velvet and satin ribbon.
The Dress Diary:
A voile petticoat for a chemise a la reine
An organza petticoat for a chemise a la reine
Chemise a la reine Attempt 1 — the muumuu from hell
Chemise a la reine Attempt 1 — the thought process
Chemise a la reine Attempt 1 — the blouse
Chemise a la reine Attempt 1 — the skirt
Attempt 2 – Try-on without the sleeves and collar
Gathering the chemise a la reine and the first full try-on
Musings on what to wear under a chemise a la reine
The first wearing, at the Pompeii to Paris talk
Madame Ornata in the chemise at Pompeii to Paris II
The chemise a la reine on me (finally!)  
The chemise a la reine at the Botanical Gardens
Inspiration images:
Research and references:
Teresa (Ithlwyn's) dress diary
Waugh, Norah.  The Cut of Women's Clothes: 1600-1930.  Faber and Faber: London.  1968