I wish I had waited another three years before I got married.  Not because I didn't want to get married when I did, but because the choices and inspiration for wedding dresses would have been so much better.
Every single dress I saw was either 1) a boring strapless A-line princess dress, or 2) a stunning, but completely age and temperament inappropriate, slinky, backless, cleavage plunging temptress frock or 3) something with a corset bodice and a mildly interesting skirt, visually acceptable but climate unsuitable.
So I decided that despite writing a thesis, preparing to immigrate to New Zealand, planning a wedding, moving from the Bay Area to New York to Hawaii to New Zealand within the space of 6 months, and working almost full time through all of it, I decided there was no cure for it, I was going to have to make my own dress.
Three things had a huge influence on the design of my wedding dress.
1) A good friend told me "It's hard to dance with 9 pounds of tulle attached to your bottom half."
2) I got given a number of vintage 1930s patterns, and
3) I spent waaaaaaaay too much time at the Chanel exhibition at the Metropolitan Museum of Art in NYC.
So the design I came up with was very simple, very 1930s, and more Chanel than was good for me.
I based it off this early 1930s pattern: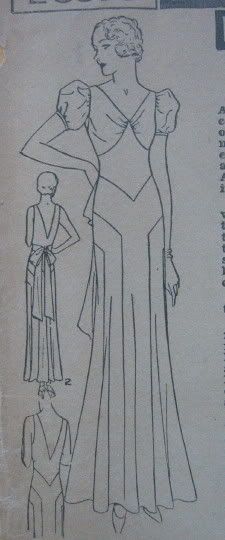 My mum saw it and said "It looks like a pencil"
Thanks Mum.
Good thing the only advice I won't take from you is fashion advice.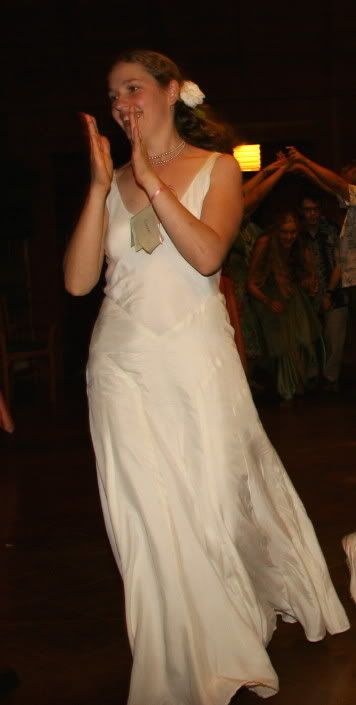 Anyway, I'm pretty sure I didn't look like a pencil in my dress
Immediately after the wedding, I regretted the simplicity of the pattern.  I wished I had gone for something bigger, more spectacular, and something with more of a train.
With the wisdom of a few years of retrospect, I love my dress.  I'll have plenty of other excuses to wear uncomfortable, spectacular frocks, your wedding is one day when you should be comfortable.