Last week's poll was really interesting and enlightening for me.
The poll question was "What is your favourite Dreamstress dress?"
It's not a question I would ever have dared ask on my own, but Elise suggested it when I asked for poll ideas (thanks Elise!) and I thought it was a great suggestion.
The most interesting thing that I learned from the poll is that there isn't a clear favourite: the votes were widely distributed across all the garments.
The most popular was the Juno Victorian Goddess dress, with 16% of you choosing it as your favourite.  I'm not surprised: it's a gorgeous dress, it looks amazing on the models who have worn it, and there are photos that show it off well.
It's not actually among my favourite dresses, mostly because I didn't make it for me, and it doesn't fit me, so I'm a little detached from it.
The runner up was Ninon's dress, with 12.5% of the votes.  That is one of my favourites!
It was closely followed by the 1880s Japonisme ensemble, with 10.7% of the vote.  I was reminded that I haven't worn that in ages, and I do love it: it's definitely time to pull it out for a photoshoot!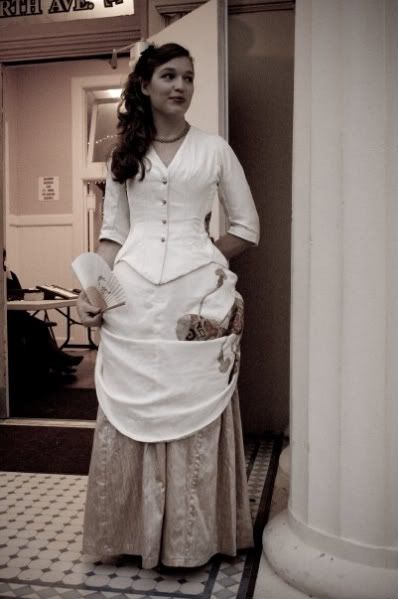 The 1878 Jeanne Samary dress and the 1910 Luna Moth frock both got 8.9% of the vote – time to do a photoshoot of the first, and a finish the second!
The thing that really surprised me is that the 1780s Lady Anne Darcy robe a la francaise only got one vote: in person it is the dress that people rave over.  It makes the audience spontaneously applaud when it appears.  If only photography could capture movement!
I did notice in all of this that the coloured dresses get more votes than the white ones.  Sigh  Apparently not everyone shares my obsession with neutrals!
I guess it is good that my next half dozen or so frocks that I have planned are all vivid colours.  Mostly vivid green now that I think about it.  I hope you like greens!