A few weekends ago I attended a lovely Steampunk themed afternoon tea organized by the fabulous Emily of Ever So Scrumptious.
I didn't make anything new outfit-wise for the the tea, but it was the perfect opportunity for me to wear the 1883 in Every Way pleated skirt myself for the first time.
Some people did manage to make new outfits – Sarah had just finished her fantastic striped Victorian ensemble.  I own some of the same fabric.  It's fascinating stuff – silk cotton, green in some lights, blue in others, and distinctly brown in others.
Afternoon tea was held at the Wellesley Hotel, a fantastic old hotel with great staircases, a beautiful atmospheric lobby, and a fascinating collection of art – and taxidermy.
Every time I'm at the Wellesley I discover something new.  This visit's find was their records of the atmospheric measurements in Wellington, including the record for the day of the Wahine  disaster.
Check out the plummet in atmospheric pressure.  They say it was the worst extratropical cyclone in New Zealand's history, and the reading supports it.
Right, back to fabulous steampunkery.  And tea.  Mmmmm…tea.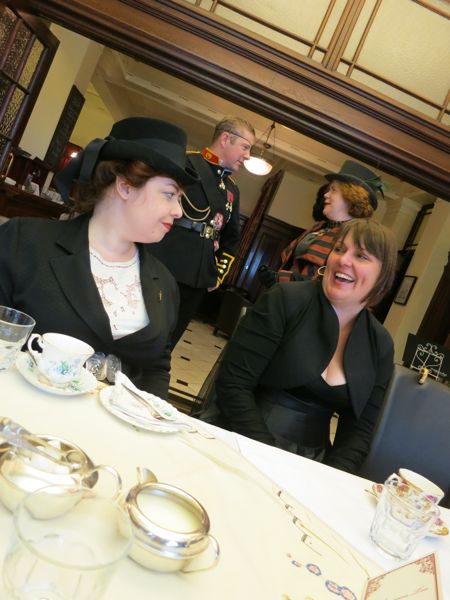 And guys in steampunk-esque military uniforms.  I think we should replace business suits with steampunk esque military uniforms as the standard dress for me.  The world would be so much more elegant.
Of course, if you look at the track records of societies where significant portions of the men wore military uniforms, it wasn't a good idea.  Sigh.  Scratch that.  We'll have to find another way to achieve male sartorial elegance.
Speaking of sartorial elegance, and Friday's post, I was slightly lacking.  The saturday of the steampunk tea was not a good day for me – I woke up at 2am with a rare migraine, and spent two hours in the shower before trying to go back to bed with every available painkiller.  Up until an hour before the tea I wasn't sure if I could sit upright and keep any food down.  Hiding under the covers was way more important than ironing the skirt, so my pleats were less than precise.   And you know what?  I'm totally OK with that.  At least I managed to make it out to the tea, and spend time with my friends.
I did have to sit facing away from the lights and windows, and wasn't as perky as usual, but the painkillers and caffeine finally took effect, and by the time we toured the hotel after tea I was quite chipper.
I LOVE that lobby.  I want to move into it.
And the twisting staircase?  Fabulous.


That's me, at the very bottom with the grand piano.  Waving goodbye.
Goodbye!