Here is a bit of a confession about the Historical Sew Fortnightly 'Silver Screen' challenge: film & TV costumes  don't do a lot for me.  Or, more accurately, they don't do a lot compared to extant garments.  There are SO many original pieces that make my heart go pitter patter, but when I watch period dramas  it's very rare for me to love something and want to recreate it.  Sometimes a film makes me love a period, and then I go looking for original pieces in that period, but there are only a few costumes I really want to recreate, and even then I suspect I'd tweak.  I'm a tweaker!
Luckily tweaking is practically  mandatory for the Silver Screen challenge, because we're supposed to historically accuratise the costume we choose.  And also luckily there is an onscreen costume that has always fascinated me, that I had fabric for (or close enough), and that fit perfectly into my sewing schedule.
My screen choice comes from everyone's favourite non-BBC period miniseries: the 1980s Anne of Green Gables.
Nope.  Not an Anne dress.  I've always been fascinated by this blouse that Marilla wears:
Check out the stripe placement on the sleeves:
Nice!
It's not exactly in-character for Marilla, because that bias placement uses every bit as much fabric as the puffed sleeves that she refuses to give Anne because they are so wasteful, but it's very effective onscreen.
Marilla wears at least two versions of the blouse.  A pale grey and white one when Anne first arrives: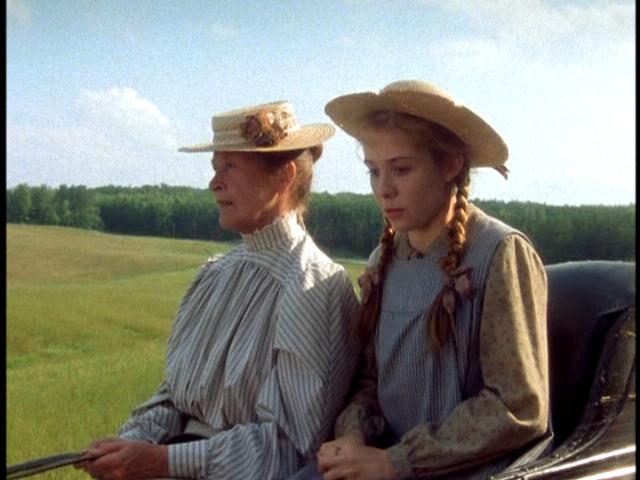 And a lilac and purple one that shows up in a number of scenes, both as a 'best' shirt under a suit, and for everyday wear:
I think the blouse is just fabulous, and there are certainly plenty of examples of turn-of-the-century blouses in striped fabrics (as in this photograph with a friend of the Mansfield/Beauchamp family), though they tend to be more formal shirts, rather than gathered blouses.  I've even seen the chevron sleeve placement, but only on formal garments in silk, so it's more of a 'historically possible' in a cotton shirt, than a documented feature.
I used Wearing History's Edwardian blouse pattern as the basis for my blouse, hacking it to add a yoke, and more fullness.
And I am pretty darn pleased with the end result!
I didn't have an even stripe, and I couldn't find a suitable fabric with a similar one, so I went for a wide and narrow stripe in blue and grey (and, to be perfectly honest, I think it's even better than the original!).
To control the extra fullness, and to avoid bulk at the waist, I used the peplum piece from Wearing History's Camisole pattern, cut the blouse short, and gathered it to it.  Now my front gathers will always sit exactly as I want them  to, with no extra bulk.  This is a documented period technique, and has instantly become my favourite hack of the Edwardian blouse pattern.
The blouse has already featured in two photoshoots: on 'Alice' the maid at the Katherine Mansfield House Museum, and is modelled here by my friend Stella in Pukekura Park, New Plymouth.  We know from Mansfield's stories that Alice liked a bit of flair to her clothes, so she would have appreciated the sleeves on this.  And Stella may be quite a bit younger and more fashionable than Marilla, but the Anne books mention borrowing patterns from neighbors  (as poor Anne found out out to her dismay when she was sent through the 'Haunted Woods' to borrow one), so even the younger members of Avonlea may have worn blouses made from Marilla's blouse. (I know!  I'm skipping between the miniseries and two different literary worlds with abandon!)
The shirt looks fabulous  on both my models, which I am so pleased about, because there was a good chance that this could end up being frumpy.
The Challenge:  Silver Screen
The Onscreen Inspiration:  Marilla's Blouse from 1985's Anne of Green Gables.
Fabric:  2m  Striped cotton shirting ($4 from Fabric-a-Brac)
Pattern:  Wearing History's Edwardian Blouse pattern, modified  to add a yoke, and a peplum waist.
Year:  ca. 1900
Notions:  buttons (50 cents), thread  (50 cents)
How historically accurate is it?:  The pattern and construction are  quite accurate, I've yet to find a documented example of the chevron sleeves on this type of blouse.
Hours to complete:  5
First worn:  Sun 18th October, for a photoshoot at the Katherine Mansfield Birthplace, and then again Sun 25th October, for an Anne of Green Gables inspired photoshoot in New Plymouth's Pukekura Park
Total cost:  $6