As a blogger, it's tempting to only show you my successes: things that turn out perfectly, and look beautiful.*  But that's not fair to you, or me: it creates an unrealistic expectation of life, and how well you think you should do at any given project.  As a reader, I get frustrated with blogs that are only about perfection and glamour: I find myself comparing myself, and feeling insufficient, but I also find myself bored, because while you can definitely learn from seeing other people's amazing successes, I think you often learn a lot more from seeing their mistakes (for one thing, you learn how to avoid them!).
So this, dear readers, is a post about a sewing project for my Fortnight in 1916 that has most definitely not been a success – but which I have learned a great deal from, and which you may also learn something from!
I've showed you my black and white 1916 longline corset, and mentioned that it was made directly from a pattern,  without being altered to fit me, so that it acted like a ready-to-wear corset, which is what most New Zealand women were wearing in 1916.
Here is the ironic part: it has turned out to fit me almost perfectly, and is extremely comfortable.
The custom-fitted corset I made?  Not so much.  Here is what it looks like after one wear:
(ergh is a perfectly reasonable response here).
Here is the stupid and hubris-filled parts:
Yes, the corset pattern was custom-fitted, in that I made it for myself.  Seven years ago.  When I was just a teeny bit slimmer.
And by a teeny bit, I mean 3 inches in the hips.  But no problem, right?  I'll just leave a lacing gap, because it was designed without one.
And the corset itself was cut and started over three years ago, and then got abandoned for various reasons.  When I started seriously planning for the Fortnight in 1916, it seemed like a perfect excuse to pull it out and finish it.
As I finished it, I realised that the reason I'd abandoned it was because of poor fabric choice:  The damask is pretty, but too weak, and soils easily.  "Oh well" I thought "It's only two weeks: 7 wears…if it dies at the end, at least I will have finished it."
So, I finished it, and because I wasn't too fussed with it, I boned it in cable ties.  To give the fabric  some extra support, I put in a nice, firm waist-stay.
As it was my 'comfortable' 'properly-fitted' corset, I chose to wear it on laundry day for the first time.  It wasn't bad when I put it on in the morning, and wasn't bad for doing laundry: the corset actually provided very nice back support for all the scrubbing and lifting and carrying.  I did, as mentioned, pull a weird muscle around my collarbone hanging laundry on the line, but I'm not sure that was the corset's fault.
So, all in all, for most of the day, the corset wasn't an issue.  Snugger than the black and white one, but not painful.
And then I got in the car to drive to teach my evening lesson, and less than three minutes down the road, I knew I was in trouble.  There was a very odd pinching sensation at my waist, and the corset was lifting and pushing up under my rib-cage.  I could breath, but it wasn't fun, and no matter what position I sat in, I could not get comfortable.  I knew that something was wrong, but couldn't do anything about it.
As soon as I parked and got out of the car for class I was alright, and I focused on teaching and managed to compose myself and be fine.  But the ride home was also a nightmare, and as soon as I got home I divested myself of my  layers and ripped the corset off, to discover livid red-purple marks across the sides of my waist.  I have creases with the black and white corset, and with other corsets, but I've never had marks like this before.
The corset itself was in terrible condition.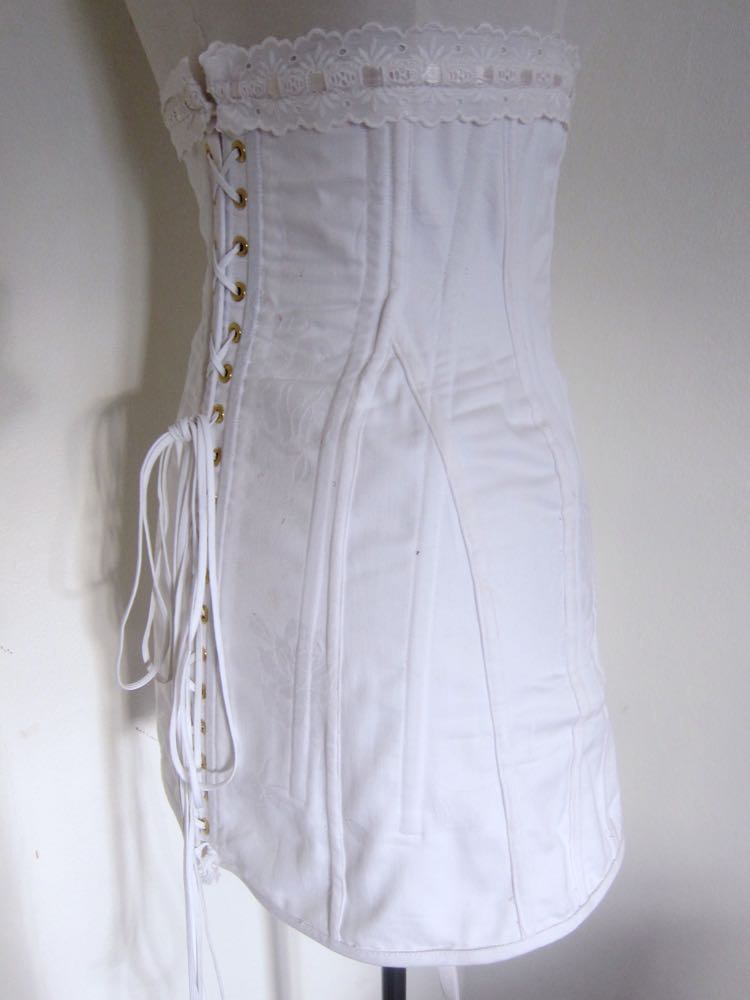 The busk had ripped out of one side of the front (apparently when I started it three years ago I flat lined everything except the front busk area – why I did this I don't know, but I can't believe I was that stupid!):
And the cable ties had warped and bent:
 And all in all, it did not look spiffy.
Neither did I when I inspected myself after my sponge-bath the next morning.  (please excuse my cold, purple, extremely unflattering skin):
It doesn't look too bad in the photos, but those are essentially blood blisters: welts under the skin from the corset.  I've worn many corsets that reduced my waist significantly more than that one, but I've never had marks from the corset over 12 hours after taking it off (and, three days later, they are still there).
As far as I can figure out, what happened in the car is that the corset busk and bones were a little too long, and when I sat down, they tried to shift up, but couldn't, because the waist stay held the corset so snuggly at my waist.  So the corset held on to my waist skin, and lifted that up and my waist + corset ended up shoved under my ribcage.
So what can we take from this:
The poor choice of fabric, and my change in size over time were things I knew were a problem, but which I  hubristically** ignored, because I didn't want to deal with the work of fixing them.
I'm definitely going to be re-thinking the use of cable ties for 1910s corsets in the future – every example of a longline corset in NZ is boned with metal, and I think that plastic, while it's better at imitating whalebone in many ways, simply doesn't hold up enough with extensive wear.  I'm going to try a corset with German plastic boning, and see if that does better.  (yay, research!).
I'm also going to test-drive (literally) corsets before committing to a car ride in future.  Best to know ahead of time that anything over 5 minutes is torture!
I'm almost pleased with the rip at the front busk, because at least two of the extent 1910s corsets in NZ show mends in exactly this area.  Mine happened too quickly, because the fabric was insufficient, but even with strong fabric, if you're really doing work in a corset (laundry!), it's a weak spot.
So, I am now down to one corset for the duration of my fortnight, but I also learned quite a bit about corsetmaking and wearing, and learning  was the intention of the fortnight, so I have no regrets there.
I'm down to one corset, but I can get by just fine with one for two weeks.    Lying in bed the night of the incident, I thought of the 1916 woman I was representing, and what it would have mean to her if her corset had turned out to be hideously painful to wear.
During the war a corset was (for most women), a necessity, but also a significant monetary outlay.  So if you bought one that felt alright in the shop, and for the first few hours, but turned out to be very uncomfortable, and to even cause welts, there is nothing you could do.  We live in an era of such wealth, and easy disposability and replaceability.  But for so many women, a mistake like that would have been days of chaffing and discomfort.
* It's also tempting to never admit to mistakes on the internet, because as soon as you do people assume you are bloody stupid and point out the most basic stuff to you.  I try to breath and think of it as a public service: if someone is that desperate to be right they must need a lot of reassurance 😉
** A moment of celebration for the fact that this  is, indeed, a real word.