When I teach costume and fashion history one of my primary goals is to show that fashion doesn't exist in a vacuum. Clothing is changed by what's going on in the world, and what people wear can also change politics, trade, and world events.
So I start every lecture with a timeline of major world events in the era I'm discussing, and reference back to those events as I lecture.
I'm teaching Costume History for the Costume Construction Course at Toi Whakaari online for the next wee bit, and I'm trying not to make my students have to sit through hours of camera lectures a day – so I'm mixing up lectures, blog posts, quizzes, and other formats.
I'm also trying to take advantage of the benefits of online teaching, rather than using it as a poor substitute for in-person. One place where a blog post is better than a lecture is links. And timelines with lots of links are the perfect thing to put online.
The Victorian Era:
Choosing themes for lectures is always difficult: do you cover fashion history century by century; break it thematically by design era (which inevitably favours one country over another);, or go by larger themes? Every method has drawbacks and benefits. As a teacher I primarily choose thematically by design era (Renaissance, Baroque, Rococo to Neoclassical etc), and supplement with individual lectures on more specific themes, like the Industrial Revolution, which goes from 1580-20th century, and Boteh/Paisley, which goes from BC to the modern era.
I've used the Victorian Era as the theme for a lecture because it's a commonly used term for a fashion era (albeit one that covers a whole range of fashions) in English, and does a reasonably good job of covering a specific set of changes and events which impact the fashions of that era.
While every era flows on from the previous, and has elements of transition, the Victorian era has a number of topical themes that do make it distinct from the 18th century and Georgian era, and which affect what people wear. These include: the increasing dominance of the middle classes; the change from a mainly rural to a mainly urban population; increases in the speed of transport and travel; changing attitudes towards morality and modesty; the industrial revolution reaching its peak, with a whole host of new technologies and products as a result of that; significant increases in education and literacy, plus significant increases in magazines and newspapers which disseminated fashion information.
Early Victorian – 1832-50
The Victorian era can be defined as the specific years of Queen Victoria's reign (1837-1901), but some of the events which would define the era were already in motion in the early 1830s.
1830-1849: July Monarchy in France. The Orleans cousin line of the old French monarchy ruled for almost two decades. The era is characterised by the increased influence of the bourgeoise, bankers and industrialists, and by French imperialism, particularly in Africa & the Middle East (Algeria). The burnous is one fashion item that can trace its Western lineage to the Orleans monarchy.
The UK Reform Act of 1832: clarified the UK's election process and who was allowed to vote, and is sometimes considered the political beginning of the Victorian Era, as well as the beginnings of modern democracy in the UK.

How this affected fashion: Many tradesmen saw the Act as giving them the right to vote and a say in politics, leading to more industry input into laws, and increasing the social standing of the making classes, eventually eroding some of the visible fashion distinctions between the makers and the buyers. Additionally, the Act was the first in England to specifically give the rights to voting only to 'Males', which helped to spark the women's suffrage movement.

20 June 1837: Victoria becomes Queen of England.

1839-42: the First Opium War between UK & China (Qing Dynasty) is inextricably linked to fashion. Demand for Chinese silks, porcelains, decorative arts (like the elegant brise fan below, created in China for the Western market), & tea created a trade imbalance from the 18thc onwards, with too much (in the opinion of the West) European money flowing in to China. To counteract it, the UK began growing opium in Bangladesh and smuggling it into China, reversing the flow of money out of China, and causing a rising problem with opium addiction in China. China's attempts to protest and stop the smuggling caused the war (which they lost) and changed the balance of power in Asia in ways that are still affecting us today.

How this affected fashion: it increased the flow of Chinese goods to Western markets, and eroded Chinese society, decreasing the quality of those goods. Over the course of the 19thc Chinese items for the Western market, including fabrics and fashion items, would go from premium luxury items to affordable, but increasingly poorly made, items.
6 Feb 1840: the Treaty of Waitangi  is signed between some Maori and the British, and NZ becomes a British colony.

How this affected fashion: it allowed increased Western colonisation of New Zealand, importing European fashions. It also allowed the exploitation of New Zealand's native resources to feed the Western demand for exotic animal accessories, like the kiwi feather muff below:
10 Feb 1840: Queen Victoria marries Albert of Saxe-Gothburg

How this affected fashion: Not only did Queen Victoria's choice of a white wedding dress (in contrast to the cloth of gold or silver usually worn by royal brides) solidify a trend for white wedding dresses, her close relationship with her husband, and focus on family life and children supported a middle class idea of morality and home life, with a focus on church and the woman as 'the angel in the house'. Her family will inspire many fashion trends, from kilts and tartan, to sailor suits for children.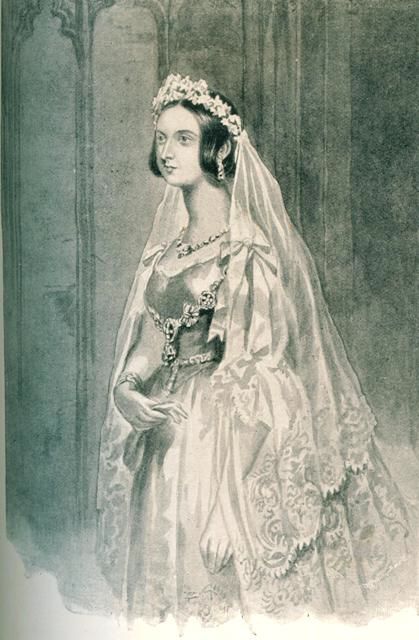 1840s: the idea of 'Manifest Destiny' takes root in the US, leading to US imperialism. 'Manifest destiny' is based on the principal that [white, European based] American ideals are superior to all others, American is 'destined' to expand Westward, shaping the rest of the world based on their ideals. While the idea never had majority support, it was used to justify war with Mexico, the acquisition of Oregon, the Spanish American war, the overthrow of the Hawaiian monarchy and acquisition of Hawaii. It can be argued that the idea of Manifest Destiny led to the Korean and Vietnam wars, and impacts American foreign policy to this day.

1841: NZ leaves Colony of New South Wales and becomes the separate Colony of NZ

1845-1849: Great Famine/Irish Potato Famine – 1 million Irish die, another million emigrate (out of a population of ca. 8 million)  

How this affected fashion: the Irish diaspora changes the cultural makeup of Canada, the US, Australia & New Zealand, among other countries. In many places Irish emigrants end up working in the sweatshops of the industrial revolution, making clothes for the growing middle class. The calamity also leads to a rise in Irish nationalism, both within the country, and among the diaspora, leading to a romanticisation of Irish traditions and history, which affected all the arts, including fashion, resulting in garments like this clover bedecked gown:
1845-47: train travel becomes widespread in the UK, revolutionising transport & leisure

How this affected fashion: in so many ways it's hard to count! Goods were able to move quickly from one place to another. People were able to take vacations to the seaside, leading to a rise in bathing costumes and nautical inspired fashions. Races and other large one day events became major fashion and social focal points. There is an increase in clothing suitable for certain places (country vs. city, mountains vs. seaside)
1846-1848: Mexican-American war over Texas.
 
1846-60: The third cholera pandemic originates in India (possibly as early as 1837) and causes over a million deaths worldwide. It leads to increased awareness of the links between sanitation and disease, and better public sanitation works, better sewers, etc.

1847: Women & children in England given the right to the 10 hour working day

How this affected fashion: the increase in workers rights in the UK will spread out to Western countries over the next few decades, blurring the divides between the maker and consumer classes in terms of what they wear and do. Increased workers rights in factories also tempt women away from service, decreasing the amount of household staff available to hire, and encouraging clothing styles that you can care for and put on by yourself.

1847: Black Americans (primarily ex-slaves) establish Liberia in Africa  

1848-1851: Second French Empire, republican empire between Orleans monarchy & Louis Napoleon Bonaparte's coup
Mid Victorian – 1851-79
1853: the United States pressures Japan into opening its borders to the West by sending Commodore Perry and American warships to threaten the country.

How this affected fashion: Japonism! Or, the fashion for all things Japanese inspired, from Japanese fabrics to kimono based pattern cutting.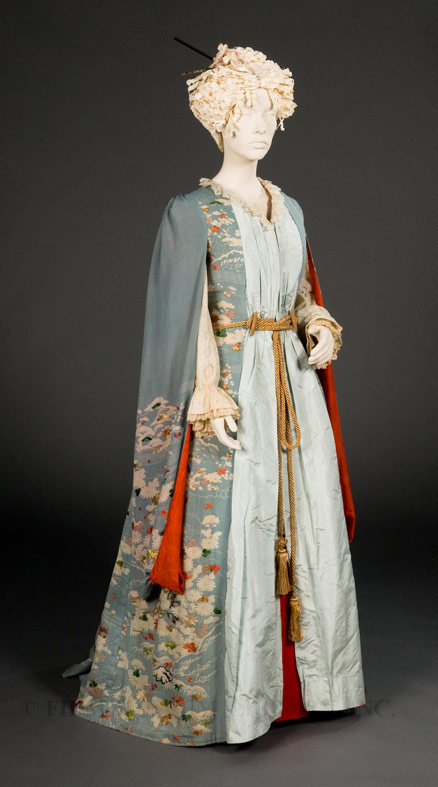 Oct 1853-Feb 1856: Crimean War is Russia vs. Eng, France, & the Ottoman Empire. Russia technically looses, but nobody really benefits from the war.

How this affected fashion: the cardigan, from the 7th Earl of Cardigan, who needed a warm, easy to put on, easy to wear garment for those cold Crimean winters. Cardigans gradually became acceptable for a wide range of occasions, leading to modern knitwear.
1856: NZ becomes self-governing  

1856-60: Second Opium War  

1857: Indian Rebellion against the British East India company results in the British government taking over, and the start of the British Raj.

How this affected fashion: Europe had been obsessed with Indian fabrics from the early 17th century. Indian chintzes were widely used in fashionable 18th century dress, Kashmiri 'paisley' shawls were a serious status symbol in ca, 1800s dress, and ubiquitous items for the first half of the 19th century. The British takeover of India and Victoria's crowning as 'Empress of India' brought in a new wave of Indian inspired textiles and fashions – particularly embroidered items.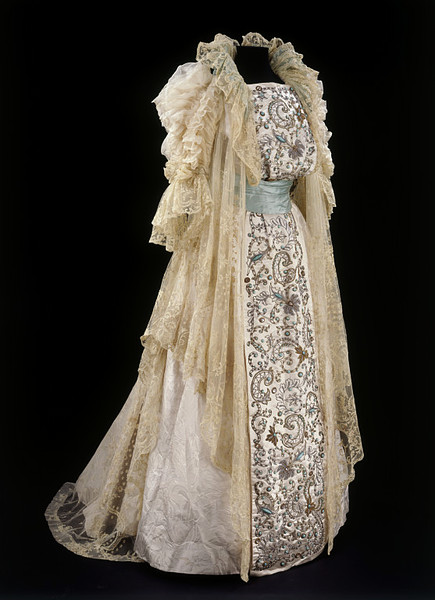 1860-1872: New Zealand Wars  
1861: Prince Albert (Queen Victoria's husband) dies.    

How this affected fashion: Victoria famously went into mourning and wore black for the rest of her life. Mourning attire, and an increasingly elaborate description of what to wear for mourning depending on how close you had been to the deceased, and how long it had been since they died, became de rigueur for anyone with pretensions to gentility.
1861-65: the American Civil War

How this affected fashion: the Northern blockade of the South limited access to cotton in Europe, encouraging cotton production in India. In the years prior to the Civil War it had also made cotton an ethical talking point: one of the first modern examples of people choosing not to wear a garment for ethical reasons. Some historians have also argued that the increased fashionability of the paisley design in the 1850s and 1860s was because of its link to India, rather than the American south.
1862: American Homestead act gives settlers 160 acres in the American West.

1867: British North American becomes the Dominion of Canada.

1870-91: Education becomes free for children under 10 in the UK

1871: Banks Holiday Act ensures public holidays in the UK

1876: Invention of the telephone
Late Victorian – 1880-1901
1896: Republicans come into majority power in the US & stay there for 16 years, use the concept of 'manifest destiny' to include overseas expansion. Aka, rise of American Imperialism

1898: the US annexes Hawai'i.

1898: Spanish-American War  

1899 – 1902: the Second Boer War (Boer War) sees the UK annex South Africa  

22 January 1901: Queen Victoria dies