We are so excited to announce the arrival of  the Amalia Jacket pattern: a fashionable late 18th century jacket pattern:
We know it's been a long wait for the second Scroop Patterns + Virgil's Fine Goods collaboration, but we think it will have been worth it.
We put so much work into this pattern to make it as well fitted, historically accurate, easy to make, and fun to wear as possible. Hopefully you'll like the result!
The Amalia Jacket pattern features two views, with different front, sleeve, and skirt options. Mix and match the views for a whole range of looks.
The detailed historically accurate sewing instructions cover everything you need to make your own beautiful versions, from first fitting to final trimming. There's even a guide to making sleeve ruffles, tuckers, and fichu!
The pattern comes in bust sizes 30″-52″ (76-132cm). To help you get the perfect fit there's a 7-page fitting and pattern alteration guide.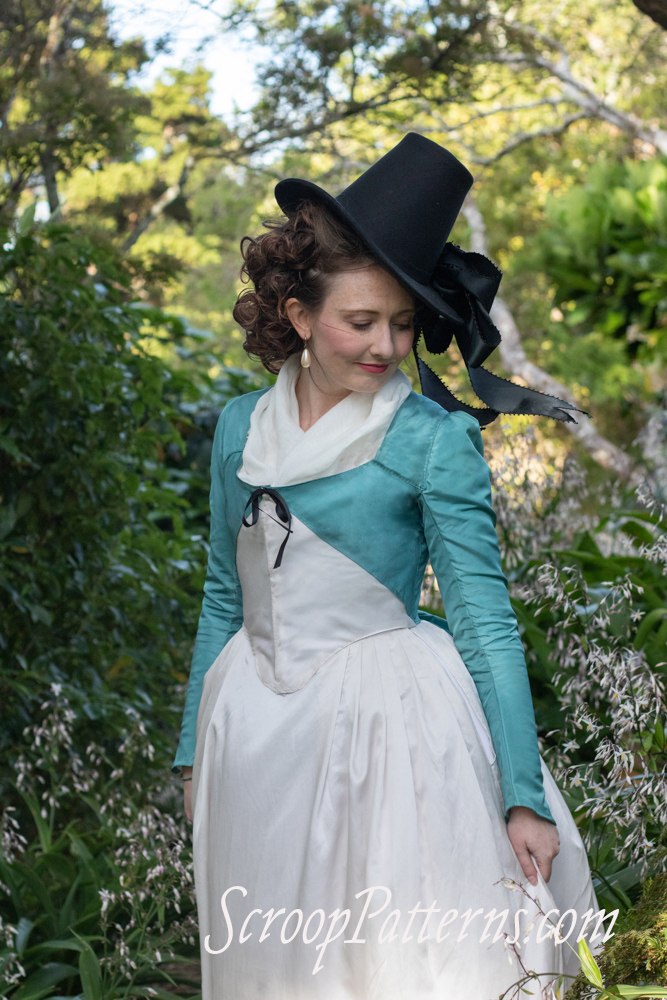 Both views feature a fitted bodice designed to be pinned closed at the front, curved side and back seams which flare out in pleats on the jacket's skirt, and slim two-piece sleeves.
The sleeves may be snug, but clever patternmaking means they don't restrict movement.
Thanks to Amber's historical knowledge the patterns are filled with meticulous historical details that will help you get the late 1770s-1790s look just right, like the three-quarter instead of elbow length sleeves, and the slightly higher neckline seen in many extant garments of this era.
View A  has a longer skirt joined to the bodice at the waist with box pleats at the back and knife pleats at the sides. It has a smooth one-piece bodice front, and the fashionable three-quarter length sleeves of the 1780s.  
View B features a shorter 'pierrot' style skirt. It has a two-piece cutaway front, and full length sleeves with vents at the wrist.
The Amalia Jacket is the second collaboration between Scroop Patterns and Virgil's Fine Goods. Our patterns combine Amber of Virgil's Fine Goods' extensive mantua making skills with my patternmaking skills.
Our goal is to bring you easy-to-use historical patterns with comprehensive size ranges and detailed historically-accurate instructions. The patterns are available as downloadable print-at-home patterns, to make historical sewing more accessible to sewists everywhere, and as paper patterns through Virgil's Fine Goods and other stores.
We're super proud of this pattern, and are so excited to see your versions!
Check back tomorrow to see all the gorgeous tester versions! Their makes are so inspiring. They combined views, used our trim suggestions, and styled the jackets to their own taste.