The Idea and Inspiration: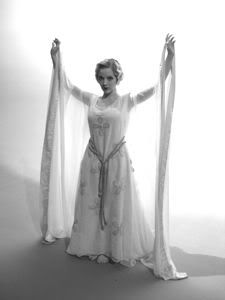 Andrew was producing a music video for New Zealand band PorcelainToy based on the original zombie horror film: 1932's White Zombie, starring Bela Lugosi and Madge Bellamy.  He contacted me to make Madge Bellamy's main costume, a medieval inspired shroud, for PorcelainToy singer Elizabeth de la Ray to wear as Madge.  It was a wonderful project allowing me to combine 1930s period-accurate techniques with an imaginative take on medieval frocks, and assist as the costumer on-set for the shoot.
I also ended up making a simple 'tropical whites' jacket for Emile de la Ray to wear in the shoot.
Fabric and Materials:
Silk-cotton with a delustred satin finish underslip, silk chiffon over-robe, trimmed with gilded linen, embroidery, vintage pearls, and finished with a rope sash.
Emile's jacket of cotton muslin/calico.
The Dress Diary:
The White Zombie dress in motion
Emile in the jacket as a zombie killer
The finished dress: