Christmas this year has not gone according to plan.  It's been full of family, and love, and goodies, and delicious food, and bits of fun, but far too much sadness, and I'm not ready to talk about it properly on the blog.  Instead I just thought I'd keep things cheerful and show you the lovely things that I was given for Christmas or bought at my favourite antiques store with holiday money.  It was a very vintage Christmas for me.
From Mr D, a fabulous vintage handbag from Japan.  The Japanese import shop I love so imported a few in, all in different colours, and I told Mr D about them, and he went in and picked his favourite.  I love the way this combines a Western aesthetic with a very typically Japanese fabric – a silk with little tiny dots arranged in scales.
From my darling Mother-in-law, this gorgeous necklace:
Did you guess what is so exciting about it? It's made from Roman glass dated to between 60-200 AD.  (I do have my doubts about the ethical implications of buying Roman glass beads, but I haven't researched it, I might be completely wrong, and I adore my gift, and I'm so tickled that MIL picked something so perfect, and it's certainly better than Emily's Egyptian princess necklace).
From a very thoughtful aunt-in-law, from the collection of a great-aunt-in-law, these sublime 1940s buttons.  We suspect they may have come off a wedding dress:
And these sweet metal buttons:
From my personal purchases with Christmas monies, an utterly scrummy pair of 1930s shoes in fantastic condition that fit like they were made for me. They are soooo amazing on, and so comfortable.  They just don't make shoes like this anymore!
I just love the little heart twist detail on the front: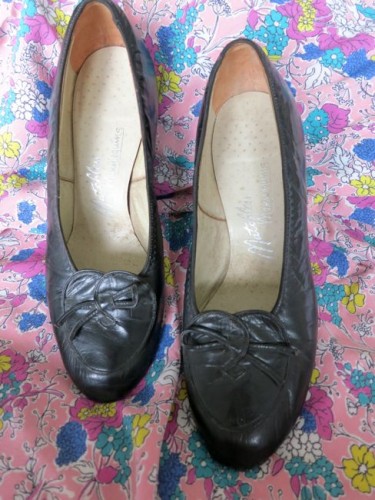 I photographed the shoes and buttons and my Roman glass beads on a 4.5 yard length of late '30s-early 40s cotton.  The pink is not usually my favourite shade, but I love all the accent colours, and it's so hard to find original cottons of that era.
Also not in my usual favourite colours is this 4.5 yard length of 1940s rayon.  The fuschia and yellow are favourites, I just generally avoid brown.  Despite this, the overall effect of this was just too delicious to pass up on though:
More in my usual colour scheme is this gorgeous 1940s handbag.  I've got some perfect reproduction '40s fabric in all these colours.  And wouldn't it go perfectly with my Aloha Ka Manini blouse and tomato red '40s shorts made from the same pattern as my Nostalgia shorts (or, for that matter, the aloha shirt I am wearing with the Nostalgia shorts)?
Keeping with my 1940s theme, five late 1940s Wife and Home (and good needlework) Magazines.
Aren't the cover illustrations divine?  They make modern magazine covers look even more cheap and dreadful.
For now I'm using the magazines and the pogey bait as distraction from when everything going on gets to be too much.  Once the sadness has faded these things will make me think of the best of this Christmas, and all the happiness and love that can come out of hard times.
I hope your Christmas was full of only the good parts – family and love and good times and good food and beautiful and useful things.