It's that time again!  (slightly late, as usual).  Time to reflect on 2017, and look forward to 2018.
When I first looked back at 2017,  I was kind of depressed.  I accomplished a maximum of 4 of the 10 goals I set for myself.  And honestly, I'm not totally happy with 2 of the 4.  🙁
At first I was really depressed thinking about how little I got done.  The more I started writing this post, and breaking down what I actually did in 2017 the happier I felt.  It wasn't what I planned, but I did really well, and I coped with a lot of unexpected hiccups and stress.
If I'm learning anything as I get older, and slightly wiser, it's that I expect too much of myself all the time.  The more I can learn to let go, accept my limitations, and be content with what I do achieve, the happier I'll be.  I'm learning to do that.
I'm getting better at reminding myself that launching one pattern is more work than the most elaborate, amazing, perfect, and beautiful historical outfit I've ever made.  So basically, this year I made four things that were better than one Ninon dress.  That's pretty good!
I'm also learning to take care of myself, and to put me first.  It's hard.  It's hard on me.  It's hard on friends and family.  Some of them have years of experience of me I'd bend over backwards and twist myself into knots to make things work for them.  Me saying "sorry, can't do, I need a day to rest" is a bit of a shock.  Also a relief to most of them!
2017 in sum:
What went well:
I'm incredibly happy with the three pattern launches I did for Scroop Patterns.  I love the Ngaio Blouse, the Fantail Skirt: Historical & Modern, and the Rilla Corset.  They all represent an incredible step in research, design, and processes.  And they have all been getting extremely good reviews (yay!).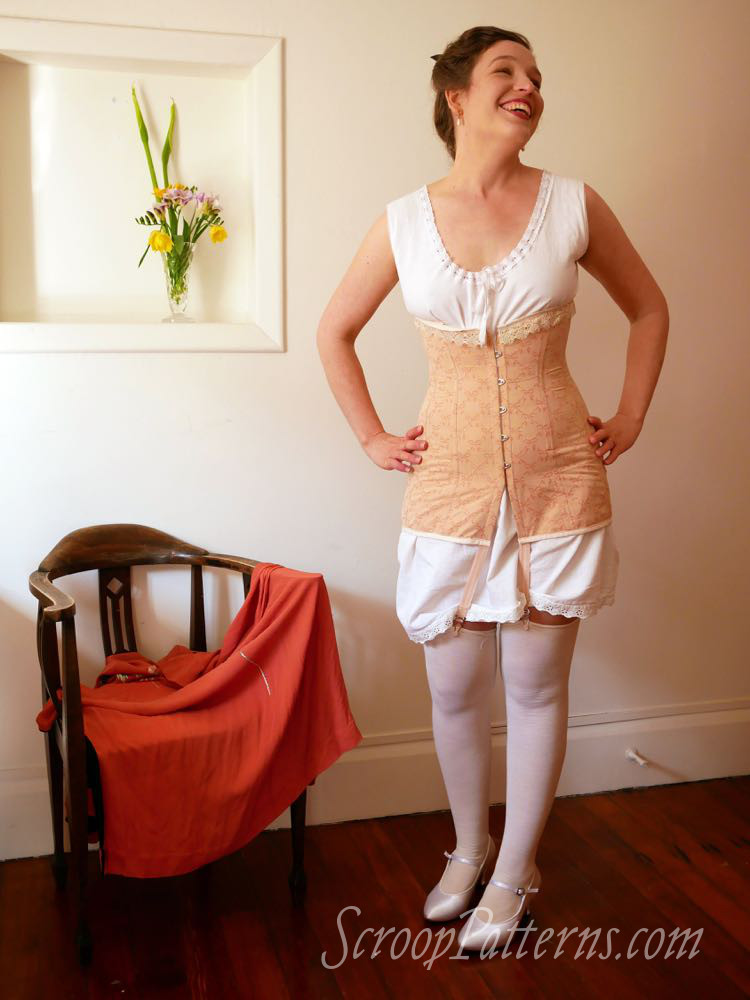 What didn't:
My pattern mojo fizzled after July, and I only got out 1/2 of the patterns I had on my 2017 schedule.  Boo.
I am reminding myself that the three patterns I did get our were all pretty darn impressive patterns as indie patterns go, and I could easily have put out 10 camisole and sack dress patterns in the same time it took for just the Ngaio, Fantail & Rilla.  Quality not quantity.
And I did work on patterns stuff from Aug-Sept, so you'll see that all come to fruition in 2018!
Other than the Rilla samples I made, I don't love most of my historical sewing for 2017. 🙁  Sad but true.
2017 Sewing:
Wardrobe (and a few gifts):
A preppy Scroop Miramar (plus 3 more I didn't blog)
A dress for my mother
A Scroop Fantail for my mother
4x 18th century inspired pockets for my mother
2 further Ngaio blouses for myself.
At least 3 T-shirts
Total: at least 24 items
Historical + Costuming:
A 14th century shift (HSF 2017 #1)
One pair of 1910s combinations, and two petti-slips (HSF 2017 #2)
An experimental 1800s petticoat (HSF 2017 #4)
3x pairs of stockings
Total: 12 items
Plus 2x Rilla Corset Samples, 3x Fantail Skirt samples, 4x Ngaio blouse samples.
So, that's 48 items, and I can think of at least 10 more fully finished sample items I can't talk about yet.  And I finished an ENORMOUS set of curtains for our bedroom, so that's pretty good!  So much better than I'd thought!
2018 in Sum:
What's going to happen in 2018:
OK, first, the big sad news:
I'm not going to make it to Costume College 2018.  I'm absolutely gutted, because I love the theme, and I love the event, and I love, love, love the people.  I've made so many amazing friends, and gotten to spend time with old friends.  It's magic.
It's also super expensive.  I need to go visit my parents, and Mr D & I are due for a vacation together.  I also need to upgrade/replace a bunch of computer equipment this year.
Between the expenses and all the time off, I just can't swing it.
I'm going to miss the event so much, and it's making me feel really costume-isolated, but hopefully it will clear up space for me to do other fun things.
2018 Goals:
Finish & launch all the Scroop Patterns I meant to get done in 2017
Launch at least three further Scroop Patterns
Make at least 1 historical outfit that I love in every way: even if it's as simple as a 1 hour dress.
Finish three costuming UFOs.  I've already got a good start on the Frou Frou Française, so I'm getting there.  If I love one of my finished UFOs, that can count for #3.  So can a pattern sample for Scroop.
Make really good Regency stays.
That's it.  If I get more done, hooray!  Taking care of me is most important.