Welcome to a long, involved story about how a hat went through many design permutations before it finally became a lovely thing that I enjoy wearing!
I originally (all the way back in April 2017…) started out wanting to make this Lily Elsie mushroom hat to wear with my Miss Muffet dress:
I began with a fairly generic straw sunhat I'd found at an op shop. I soaked it and re-shaped it over a hat-block and towels to get that mushroom shape. Somewhere there are photos of the process, but I just can't find them.
Update: I have found one of the original re-shaping photos! The curved-up back brim is based on a catalogue image from 1913:
And…it looked terrible on me.
So it went in the naughty pile.
And then I needed a hat to go with the 1918-19 Not Another Blue Dress, so it came back out, and I re-shaped it again intp a shape halfway between this painting:
And the bottom left hat:
And then added a dark blue ribbon under the brim, and started trimming it with flowers all over the crown like the hat worn with the blue gingham dress:
And it looked really cute, but not with the Not Another Blue Dress – which happily did look amazing with my Tricorne Revival hat! (so at least one costume orphan got another use!).
So half finished, it went back into the naughty pile.
With the Waitangi Day garden party coming up I decided I needed a really good garden party hat to wear with my new dress. Something lovely and spring-y. This hat was the right shape, but the dark blue ribbon and flowers weren't right.
So I pulled them off, and went back to the drawing board!
I assembled a pinterest board of mid-teens hats, and one of 1920s hats, and then started finding elements that I liked, and that I had the materials for.
I decided I really liked the fabric covered crowns you see with some teens & 20s hats. They are mostly shown with fabric brims, like the blue one in the top right, but there are definitely examples with straw brims and fabric crowns.
I had a scrap of silk crepe de chine from an end-of-bolt. It had tape marks and writing on it, but by cutting carefully I could cover the crown and make some lovely lush decorations.
The rosettes are made by cutting wide strips of crepe de chine on the bias using scalloped pinking shears. I then hand basted along one edge, gather the ribbon in, and then sewed a second line of stitches a bit out from the centre one, to create a floral centre, and to control the fullness of the 'flower'
I went through my entire ribbon stash, and couldn't find a better match for the under-brim ribbon (which hides the millinery wire, and is a very 10s-20s touch) than a satin ribbon.
The colour was right, but the satin ribbon looked terrible eased around the crown, because viscose satin simply doesn't ease. You can see every wobble and tiny sewn in crease in it.
The trip to Fernside Gardens gave me another chance to wear the hat, and a chance to fix the brim ribbon – and re-trim the hat to be a bit more 1910s instead of 20s.
I searched every store in Wellington, and finally found a cream petersham ribbon for the poor much-unpicked and re-sewn brim.
With the help of judicious amounts of steaming, pinning, and the assistance of a hairpin (my favourite finessing tool for really delicate sewing), I got the 3cm wide petersham tape to go on smoothly and perfectly: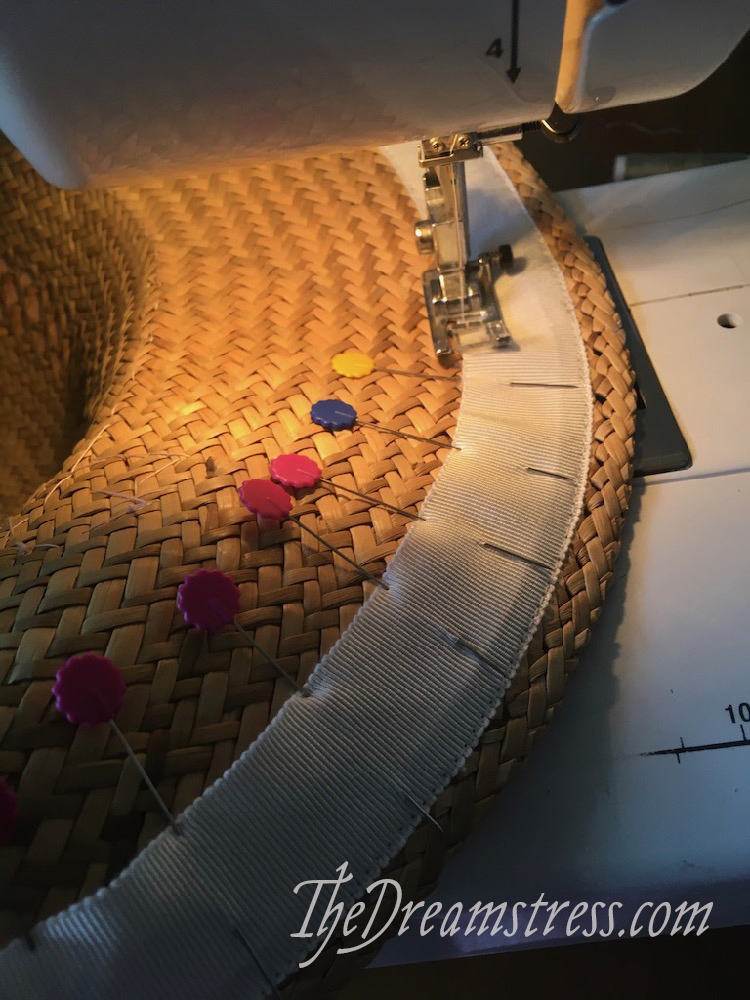 It's one of those things that you can only achieve through the wonderful shape-ability of natural fibre petersham.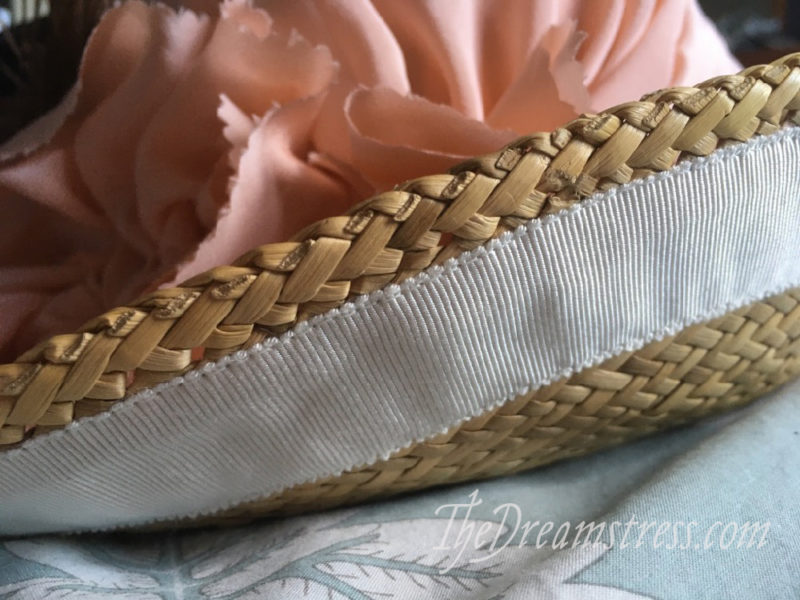 And how do you get a hat to look more Edwardian? Add feathers!
I had some vintage brown ostrich feathers in my stash, and the pinky brown hues worked perfectly with the peachy crepe-de-chine.
A swoosh of them across the back and up one side of the hat added just the right touch.
If needed, I can take them off again, and restore the hat to its more 20s look. I love it either way though!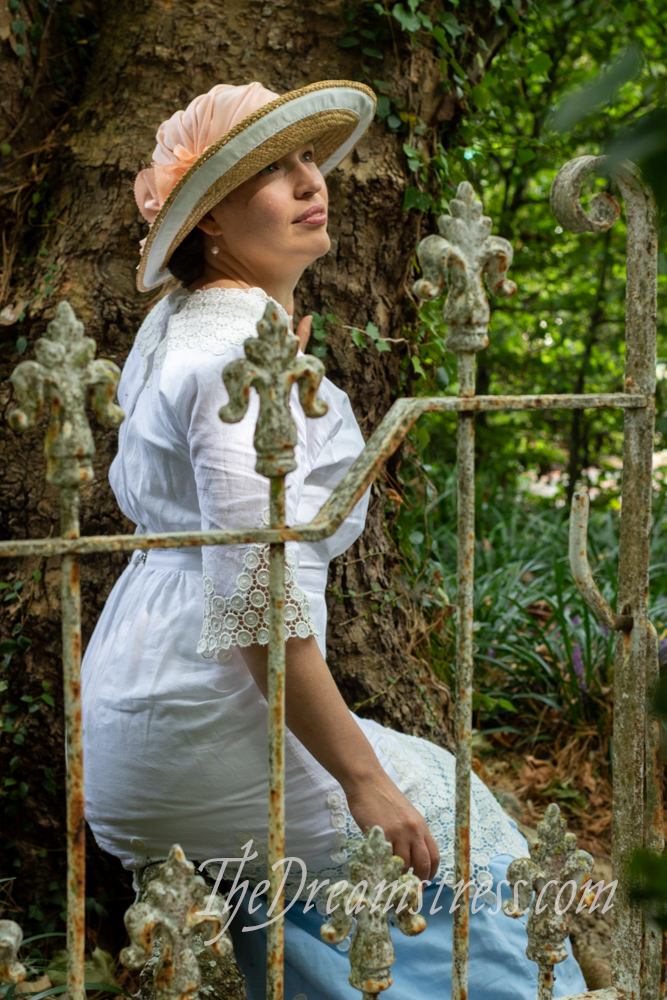 Many thanks to Miss A for additional pictures of me at Fernside Gardens (anything with a tiny logo is Miss A's)
Best of all, the hat fits perfectly into the Historical Sew Monthly February Challenge theme of 'Re-Use'
"Use thrifted materials or old garments or bedlinen to make a new garment. Mend, re-shape or re-trim an existing garment to prolong its life."
What the item is: A teens-early 20s hat
How it fits the challenge: The hat is re-shaped from standard sun-hat, bought at an op-shop. The millinery wire was repurposed from another old hat. It's trimmed with an end-of-bolt silk remnant that had tape glue and pen marks on it, and vintage ostrich feathers. The only totally new thing on it is the petersham ribbon.
Material: a straw hat, silk crepe de chine
Pattern: None, inspired by a bunch of 1910s & 20s photographs and fashion plates
Year: 1913-23
Notions: millinery wire, grosgrain ribbon, thread, ostrich feathers
How historically accurate is it? It's inspired by the general shape and trims of teens and 20s hats, but not based on a specific example. The construction is much more basic than most (although not all) hats of this era, and mostly I just kept tweaking and adding stuff till it looked good. A few elements are very accurate, but the overall look is plausible rather than totally accurate.
Hours to complete: 5-8, depending on whether you count all the re-shaping and trimmings before I got to a good result!
First worn: Feb 6, Waitangi Day, to a garden party at the Governor General's residence
Total cost: $12-ish. All bits were from stash and purchased years ago from op-shops, but that's my best guess.